SonexAus – Tony (Richo) Richardson Sonex 813
Tony Richardson
Sonex 813, TD, Dual-control, Jabiru 2200
Dynon D180, backup ASI, Duckworks HID Landing Light, Whelan LED strobes , Tracy Obrien axles, std. drum brakes
RAA AUS – 19-8213
Located Strathalbyn SA
6 August 2016
Weekend trip from Callington SA to Griffith NSW
22 May 16
Maintenance weekend. Lousy conditions forecast for Sunday made for an ideal day to spend working on a few issues with the aircraft.
At nearly 125 hours in the Jabiru supplied engine mount rubbers were sagging and I had some cowl contact points.
The bottom rubbers showed the most compression although there were some marks on the right hand top, left hand top was new looking, no compression marks at all.
The iridium plugs I fitted at about 50 hours have been giving some trouble with fouling, most notably the recent aborted takeoff at Horsham after a missfire barreling down the runway.
Also due a 25 hour oil change, looking pretty black.
Changing the engine mount rubbers involves disconnecting or unrestraining electrical connections, EHT and CHT harnesses, oil lines, the aerocarb, then moving the engine
forward enough to slide the old donuts off and fit new ones. When I originally ordered my kit I included a set of harder Sonex mounts, guaranteed not to sag.
I decided to fit these in the interim and go back to Jabiru ones if the vibration levels were too much from the engine.
The whole job took about 4 hours including changing plugs and oil.
I did have a bit of a hang up where I left a mount for the carb drip tray attached but easily detached with one nut whilst the engine was suspended on the crane.
The crane was a cheap unit at $230 complete with engine stand purchased off eBay. I figure if I have to do this several times it will pay for itself.. eventually.
Plus one can always use a bit of heavy lift capability around the shed. I used a hire one to put my lathe/mill on its stand.
I finished at 4pm and considered a test flight as the wind had dropped to about 8 knots but one look at the weather to the west, with a big black roll cloud
coming on over the Mt Lotfy ranges, convinced me to just pack up and close the hangar until next weekend.
Still a couple of jobs to be completed before the trip to Yarrawonga, I found a couple of 45°mandrel bent exhaust elbows that fit over the exhaust pipes.
These should hopefully direct some of the exhaust gasses away from the cowl. The fibreglass and paint downstream of the tunnels is getting pretty hot and and has deteriorated.
It will be painful to remove the bends prior to pulling the cowl and may add some stress to the muffler but I hope it lessens the heat damage in that area.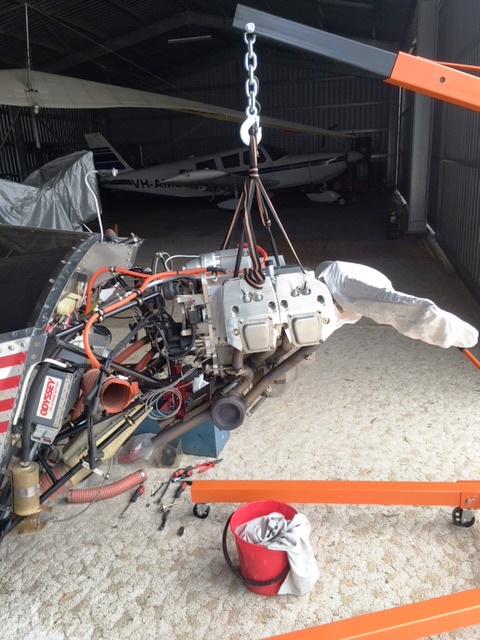 Engine doesn't weigh much, so wasn't too worried about it hanging in space.

Removed adel clamps for EGT and CHT. Disconnected starter cable, oil lines etc.
2 May 16
The Mistress gets a new tailwheel!
Tailwheel fitted and ready for test flight. No more dragging the pivot bolt in the dirt.
After whinging about the small standard tailwheel for so long, I finally got around to changing it over to a new Anson Engineering tailfork and 6″ pneumatic wheel.
The tailfork itself is a "bolt-on" to the original castor mount, it is lightweight but stronger than the standard weldment, and is designed for the custom Anson 6″ pneumatic tailwheel.
After weighing both weldments with wheels, the new assembly is actually lighter by about 200 grams.
A bonus for us Jabiru 2200 drivers, as we need less weight at the tail end for CG management.
To fit all that was required is undoing the 3/8″ vertical bolt and the steering rod pivot bolt.
A few months ago at the 100 hour service, I tried to remove the vertical bolt for inspection but found it had rusted in.
Since then I had been applying LB1 spray lubricant to keep it well lubed before each flight. This time the bolt slid out easily.. phew.
.
The tailfork was positioned over the pivot and the 3/8″ bolt inserted, there is some clearance for washers to be inserted to adjust the vertical freeplay.
I used a thick 3/8″ washers but needed a thinner version to take up the rest of the play. Bugger none in the tool box.
It was about this moment I also remembered that Peter had mentioned the bolt hole for the steering rod on this one was drilled to 1/4″.
Double bugger, as I meant to machine up a small brass bush before I ventured out to the airfield to reduce the hole size to 3/16″.
SO a quick trip back home to locate another washer and machine a bush.
No thin 3/8″ washers could be found in my spares drawers but a bush was easily machined to the required dimensions, o.k., back to the airfield!
Even though I had about .030″ of play vertically on the pivot bolt, I thought it would be ok to test and fit a thin washer later.
I thought the stock steering rod might have some alignment issues as it they are drilled for fit on the day, but it lined up perfectly in the bush I made, when everything was bolted together.
I had some minor problems with my technique inflating the pneumatic tyre.
As it holds very little volume of air, some invariably escapes when you remove the inflator adapter.
So one has to whip off the connection before air escapes. After a couple of goes I had it inflated to about 30 psi and holding!
As my aircraft has 5.00 x 5 mains its stance with the stock 4″ tailwheel was quite tail low.
Once lined up with the runway, one could not see the far end until part way down the runway with the tail becoming airborne.
I was expecting to have a little bit more forward visibility with the 6″ tailwheel.
Right, time for a test flight! A thorough preflight to check everything was in order and that I hadn't left any cotter pins out of the tailwheel bolts, was duly performed.
The trusty Jabiru 2200 fired up readily and we were ready for runup checks.
Rolling forward I thought the steering might be a wee bit heavier but the aircraft moved off a lot easier on the gravel hardstand.
Runups completed I taxiied out to Callington's Runway 16.
At this time of the year there are patches of sand that usually slow or even stop the aircraft if a the power is not advanced a little before reaching them.
This time we rolled through them effortlessly with idle power. The rear end was also much quieter traversing the lumps and bumps.
I definately have better forward visibility as I didn't need to weave quite as much for forward clearance.
I still needed to lean my head to the left to see down the LH glareshield, but it was much better than no visibility previously.
On reaching the 16 threshold I noticed that I also had a narrower turning circle, another bonus!
Lining up for a final hatches, harness, flaps 10°, engine temps and pressures good, I advanced the throttle and applied the usual right rudder pressure to keep track down the runway.
A slight crosswind from the right, the aircraft tracked straight and true with no twitchiness from the new tailwheel.
I thought I might tend to oversteer a little but no, all good.
The aircraft appeared to liftoff a lot sooner, probably because its closer to fying attitude and accelerates better with less rolling resistance over the runway surface.
As I was a bit low in fuel I set off for Goolwa for a full stop landing and top up of the tank.
Downwind checks complete I settled into the familiar routine of slowing down and positioning for the base turn onto the bitumen Runway 19 Goolwa.
(This wll be a good test methinks) Final approach was flown at 65kts and 20° flap at the last 300′.
The aircraft settled nicely in a 3 point attitude and I barely felt the tailwheel and mains touch.. boy thats rare!
The rollout was smooth and predictable with no annoying tail end rattle from the old hard rubber wheel.
Although we did tend to roll all the way to the cross runway without too much effort. 19 is slighty downhill as well,
so a few applications of the anaemic drum brakes were required before turnoff and taxi back to the bowser.
Takeoff from Goolwa was also uneventful, no problems tracking down the runway, quiet and smooth from the rear end, a direct headwind of about 5 knots helped getting away quickly.
On my return to Callington, my approach and landing were pretty much the same, barely felt the aircraft touch down.
Perhaps I was concentrating more than usual, keeping the approach on the numbers and mindful of not banging it in.
Rollout on the weeds and dirt was nice and smooth, and turning 180° was easily done well within the runway width to backtrack to the hangar.
Previously when turning 180°, one needed to have a wing over the farmers crop before commencing a turn and make it around without going bush.
Verdict..
The tailfork and custom wheel assembly is well designed and manufactured for strength and lightness.
Nice additons to the tailfork are welded washers on the fork ends for the axle bolt.
The wheel has 2 sealed bearings separated by a bush, which allows firm tightening of the axle bolt, without stopping rotation.
It is easily retrofitted to existing aircraft using the original castor pivot or Peter can supply a new robust pivot to match if required.
Peter even sent me some thinner washers by post to adjust the vertical free play, so great after sales service too!
All in all I believe the fitment of the Anson tailwheel assembly to be a geat success and a worthwhile modification to the aircraft.
Anson Engineering Tailwheel page
The custom wheel is 6″ in diameter

Bolted to the original pivot fitting on the tailspring.

Brass bushing steering rod pivot bolt (3/16″)

Using the stock steering rod, no adjustment was required maintain alignment.
Update 7 Jan 16
Not a great deal to report since August last year. With the onset of warmer weather November to present, I haven't ranged much further than the local area.
Prior to Christmas I did 2 flights to Aldinga returning via Cape Jervis, Goolwa and Strathalbyn.
On New Years day I thought I would be up at sparrow-fart for an early flight but the cloud base was solid at 1100-1200′ around Callington.
Circuit height is 1300′. Stayed close to the strip and did 3 circuits before packing up.
On the aircraft front, it is performing well. I completed a 100 hourly in early November. 110 hours on the Hobbs now.
Paint is getting a bit stone chipped here and there. Shows up more with white primer exposed underneath the dings!
Needs a polish too!
The most recent interesting thing was the up-down fuel vent broke off from vibration fatigue. It was replaced with a standard piece of 1/4″ tube open to airstream.
What is so interesting about that?
Well my fuel flow figures increased from 23Ltrs/hour to 25ltrs/hour on take-off and the EGTs didn't run away with WOT.
Previously I had to pull the power back to 2850-2900rpm to keep EGTs at or below 700C.
Now I can go to 3050+ before EGTs get to 700C. Engine "feels" better in cruise.
It appears the original vent was starving air to the tank and reducing fuel flow at high power settings.
The cross section of the1/4″ tube had been reduced somewhat when I joined the bits of tube together with some thin brass tubesquashed into adjoining slots.
If the Aussie dollar ever improves I'll get some AN5 hardware and make up a 5/16″ vent tube.
New Years Day.. cold and overcast

Overcast skies New Years day 2016

Flying down the valley to Runway 26. My new fuel probe sticks up pretty high!.
A few shots from the last trip around Cape Jervis 28 Dec 15

Climb out over Sellicks Beach after taking off at Aldinga Aerodrome.

Lady Bay beach, apparently Lynn Jarvis used to throw himself off this hill with a hang glider strapped to his back..!

Starfish Hill wind turbines just before Cape Jervis

Cape Jervis with Kangaroo Island in the distance.

Backstairs Passage is apparently a notorious stretch of water for boaties

Rosetta Head (The Bluff) and Encounter Bay. Turned inland to make my way into Goolwa after this photo.
Update 31 Aug 15
Great day for flying 30 Aug 15.
Finally got around to fitting an airflow staightener to the aerocarb inlet.
Two pieces of fibreglass sheet slotted together to form a cross, fitted into slots cut into the carb inlet elbow.
Glued in with 5 minute araldite, and shaped to fit inside the scat tubing from the air box.
The scat tubing is not a straight run from the airbox but changes direction 45° across to inlet.
So I think was quite turbulent and feeding more air to the RH bank.
Anyway it seems to have brought the EGT spread across 4 cylinders closer together.
After fitting the flow staightener I flew a couple of circuits to get the eye in, then off to Goolwa for fuel.
From Goolwa to Aldinga for lunch and chin wag with the big boys.
Hangar neighbour Tim in his giant SR Stinson and the Tiger Moth terrors from Hindmarsh Island also flew in.
During lunch the visiting blimp was noted limping along the beach at Aldinga. Much discussion ensued about an intercept sortie but no takers in the end, lol.
Couple of hours later, made the short trip back to Callington via Strathalbyn township.
Managed to get a blimp photo during the downwind departure from Aldinga. Apparently its cruise speed is 30 knots. Looked like it was just hanging for most of the time.
Callington airstrip looks amazing with it outlined by a canola crop, pretty easy to spot at the moment from a long way out at height.
Hopefully the weather will still be nice later in the week when I finally take some passengers up.
Cross piece glued into slot cut into the elbow. Made from fibreglass just in case it ever comes loose.

Der blimp, just hanging over the beach.

Callington airstrip from the north at 1900′. Easy to pick the only cross in the canola crop.

Back on the ground, camera doesn't really show the "vividness" of the yellow in the afternoon sun.
24 May 15
Old chook goes flying..
Well not quite, old chook bag goes flying.
Now that cooler flying weather is here, I decided it was time to load up the second seat with some weight,
and do a bit more test flying in preparation for taking a passenger.
Consulting my W&B spread-sheet I calculated that with 20 litres of fuel, 80Kgs of passenger weight, 0 Baggage, I'd end up with the MAC at just over 29%.
To make up the 80Kg, I found a couple of 20Kg cement bags in the shed and filled 2 empty chook feed bags with 20Kg of builders sand a-piece.
Who'd have thought one of my unfinished garden jobs would have an aircraft application!
After preflighting the aircraft, I placed the 2 cement bags into a chook feed bag and strapped them in.
Rather than go straight to 80Kg I thought it would be prudent to load to 40Kg first, with 30litres in the tank.
To keep the top bag from rolling sideways I placed a strap around it and the shoulder belts.
The first thing I noticed was the steering was a lot heavier as I moved off from the hangar.
Take-off roll was a bit longer of course, and angle of climb shallower. I reduced throttle on climbout to keep
EGT under control. Once flaps were up, and maintaining 80kts, the climb rate around 500′-700′ a minute.
Levelling off at 3500′ north of field, I slowed down for a stall. Not terribly different from solo, less back pressure to bring the nose up though.
Right wing drop at the stall, easily recovered. One stage of flap same.
A bit of nose down trim to maintain level flight at 100 kts. Headed back to the field to repeat with 80Kg.
Stuffing the extra bags into the cockpit and maintaining clearance from the stick was a challenge.
Couldnt get full back stick. I remoulded the bottom sand bag to make a big dent in the middle.
(The sand being wet held its shape for the remainder of the test.)
The drag on the tailwheel was much more noticable this time, the soft ground wasn't helping either.
Take-off roll took nearly 3/4 the length of the strip compared to less than half solo.
The grass was damp too. Climb out this time was 400- sometimes 500′ per minute at 80kts, once flap was up and the aircraft accelerated.
I could probably do better with another 1/8-1/4 turn richer on the aerocarb with the denser winter air.
It would allow more throttle, without the EGT going too high. At full throttle climbing 70Kts, the rpm is +3050 but EGT
and CHT #3 start climbing unless the nose is lowered and throttle pulled back to around 2950.
More nose down trim required this time to maintain level flight at 100kts, rather than the customary nose up solo with full fuel.
Could certainly tell there was more weight rearward. I climbed again to 3500′ for some stalls. Hassel checks complete I reduced throttle and slowed down.
The nose wanted to pitch up and I found myself holding slight forward stick to control it as the speed came back.
Right wing drop again, and easily recovered nose down, full power, left rudder.. or was it left rudder, nose down, full power?
Dropping 1 notch of flap, the nose wanted to come up faster as speed reduced, a little more forward pressure on the stick to keep
it from pitching up too fast. Familiar tail buffet at the stall, sounded like the tailwheel rattling too, right
wing drop again easily recovered.
Mental note to self that finals might need to start a little higher after base leg on the next landing, and be
careful with elevator at slower speeds.
Fuel used according to the Dynon was 10 litres so about 20 litres remaining in the tank at this point.
This would put me at 29% MAC. Final approach was at 70-75kts, I pulled 2nd stage flap a bit early and had to power on slightly to get good
clearance over the fence. On rollout I retracted 2nd stage of flap and powered up to go-around.. mmm.. things were happening a bit slower
getting off, a couple of bounces and we were away climbing out at 400′ per minute.
Definately have to be quicker on the flaps and power if we're going around with a 2200!
Second landing was much better with a wider circuit than I fly solo.
Overall a good excercise in understanding how the aircraft performs with rearward CG, and no complaints either from the old chook (bags).
Chook 1 locked and loaded. 40Kg for the first flight.

Chook 2 eventually locked and loaded. 80Kg for the second flight.
4 May 15
A few musings on my flight to and from Yarrawonga 2015
Richos trip to Yarrawonga
23 Mar 15
Long time no update. 47 hours to date, one or two more flights and a 50 hourly is due.
Flew down to Aldinga again on the 22 March via Goolwa for fuel.
Topped up with 46 litres and spoke to Peter Lovell. Peter is building a Onex, now 95% done 95% to go.
Didn't have time to go and inspect his project as I wanted to get to Aldinga earlier than later to meet up with Peter Bakker. Next time!
As I taxied past I took a quick photo and after a bit of overland travel soon launched back into a perfect autumn morning.
Its a blooming long taxi to the threshold of 01 at Goolwa!!
Short flight across to Aldinga, love flying over the Willunga escarpment with the southern Adelaide plains laid out in front.
Almost an "Apocalypse Now" moment.. well the "Flight of the Valkyries" music part.
No trouble with voltage regulators either this time around.
Wandered over to Peters hangar with Lynn and had a look at his aircraft. A bit of bad luck with the canopy blowing open the previous day and cracking it.
Note to self to always secure when on the ground. I've also been sconed with it being blown closed while I was leaning into the cockpit. Can't be too careful
with the things and a bit of wind.
Also had a look at Lynn's Dad's Joey motor glider in its trailer. A small but well built design by Lynn's Dad, powered by a pylon mounted converted victa mower engine.
Having seen it fly way back when I can report it did fly very well on such a small powerplant.
The aircraft is being donated to the Holbrook Ultralight museum to preserve it for prosperity.
For the return flight I decided to depart overhead and head down towards Myponga Beach, then come back around the Myponga reservoir and head back to Strathalbyn Airstrip.
It was quite pleasant until I passed over the ranges and onto the Strath plains and hit a pretty big pothole in the sky, kind of woke me up pretty good!
My flight bag and water bottles were suspended in space for a moment, as was I. Was the only one though, just lucky I guess.
Usually my bag is secured via the passenger seat belt but I'd left it off looking for some stuff earlier.
A couple of orbits over the Strath strip and no-one about I headed back to Callington.
On the way I did a recce run along Chauncy Line road Monarto. There is 75 acres of land for sale along there somewhere.
No, I didn't go low enough to spot the Real Estate sign but some parts look good enough for a strip.
Might be worth a drive next time I'm out that way, not that I have the funds right now but you never know lol.
Peter Lovell and his Onex. Looking good!

Approaching the Willunga escarpment. Aldinga is in the distance a little to the left of the canopy frame.

Climbing out of Aldinga over Sellicks Beach. Peter Bakkers house is down there somewhere, nice spot Peter!

Looking back towards Aldinga from the southern end of Myponga Reservoir. The ridge line runs from the sea across Willunga, McLaren Vale and melds into the Mt Lofty ranges
27 Jan 15
Sonex 813 unleashed.. well for a short time!
39 hours to date.
Finally received full registration back in the post 16 Jan 15. Unfortunately had to wait until after Christmas for it to be processed but them's the breaks.
Wasted no time in planning a flight a little further afield on the 17th Jan, a quick trip to Truro Flats to visit the old reprobates in residence. No disappointments there lol.
Ventured home for a quick stop off at Callington then down to Goolwa for refuel and a coke. Finally returned to Callington late afternoon.
With the Australia Day long weekend upon me, Saturday morning I decided to do a flight across to Aldinga for coffee and cake, and catch up with Karl Klocke CFI of Adelaide Biplanes.
Karl had dropped into Callington to check out the Sonex the weekend before while I was out.
Half way down the tacho started playing up, changing drastically from 2750 to 1800 to 0 to 2900 and all over the shop.
Engine noise was constant along with the other engine parameters, but I also noticed the batt charge light come on intermittently.. mmm suspect rectifier failure or wire break/burnt connector.
On the daily inspection that morning I had paid particular attention to all the alternator and rectifier connections so it was more likely the rectifier.
Considering I should be able to get help at Aldinga if I need tools etc., ETA 15 minutes, I pressed on, reduced DC power consumption down to just the radio and EFIS.
The Dynon has internal battery backup as well, so didn't consider I would run out of DC power suddenly and be blind deaf and dumb all at once.. touch wood.
Landed at Aldinga and had coffee with Karl, then pulled the cowl for a look. Nothing obvious, no burnt wires or connections, big-ass capacitor not bulged or weeping.
I use a small terminal block for the AC connections to the rectifier, rather than the Molex plug. No problems there either.
I also checked the continuity of the alternator at .8 ohms, and measured infinity to earth. Didn't have a manual in front of me but I suspected .8 ohms was
about right. (manual specifies .4 to 1.1 ohms)
The rectifier was an aftermarket Kubota item from the US which appeared to have gone U/S, most likely from heat as I don't have any cooling air playing on it.
Will have to fix that one.
On return to Callington I started to feel unwell, (ended up crook in bed Sunday 🙁 ) so I packed up and called it a day, hate that when the weather is still good!
But the aeroplane was technically U/S anyway!
Rather than buy another Kobota type regulator rectifier I thought I'd look into making my own unit.
Years ago I used to be a bit of an electronics whiz (in my own mind ha ha), making my own printed circuit boards and designing or modifying stuff like power supply circuits.
In fact yesterday I dug out an old system I made for a mate's Rotax 503 back in about 1991-2.
I opened up the diecast box I built it in and had a look at the guts. I used uA723 IC, 2N3055 and BUX80 output transitor and other assorted bits..
but buggered if I could remember actually etching the circuit board design, let alone locating a circuit diagram for it. The unit should be capable of putting out about 10 amps.
My mate reckoned it didn't work but I do remember bench testing it with a 50HZ variable AC supply and it the output was good.
Its possible the variable frequency of the Rotax AC output upset the stability, but I wasn't able to test that at the time.
The other scenario is he wired it up wrong and blew the output transistor!
More likely. ha ha.
Will have to reverse engineer the circuit and work out how it works to check it properly.
I noticed my old RAAF mate Bradley Mohr from Queensland has bought the manufacturing rights to the Klaus Grimm Powermate unit and is pumping them out again. (www.powermate.com.au)
Its output is limited to 8 Amps max though, nicer if it was 12-15 Amps @ 14.1VDC.
My total consumption with EFIS, Radio on transmit, Strobes, Landing light on and utility socket would be around 10Amps. Will have to speak with him to see if it can be modified.
Usually you add another parallel output device to increase current output.
I guess if I want to go flying sooner than later, I probably should obtain another Kubota unit and make sure it has blast cooling… as bad as they are electrically!
Another thought I had is to mount a 12VDC computer fan over it with a 50°C thermostat switch to cut in and provide supplementary air when it gets a bit warm.
Glad I have a 19 reg and not 24 !!!
A nice bit of grass to lay down on to remove the bottom pins! Felt like having a kip under there.Outside the Adelaide Biplane hangars at Aldinga Aerodrome SA

Abeam Mt Compass on the return journey, after crossing Willunga Hill. On takeoff the Tour Downunder was running along the beach at Aldinga..with a sky full of choppers I thought it wise to keep the camera stowed.
8 Dec 14
On the 29 Nov during a cruise flight at 2500′ back to base at around 1800hrs, a momentary miss was experienced at 2850 rpm. Turning to the D180 EMS page to monitor all
engine parameters in detail, I noticed there was a slight variation of + – 10-30 rpm in engine rpm I hadn't noticed before during test flying. CHT and EGTs: hottest CHT
120°C(#3) EGTs around 680-700°C. OAT 18°C. The throttle control was locked. Fuel flow was 18 Ltr per hour, AVGAS only has been used throughout test flying to date.
Up until the miss, I had felt there something not quite right with the engine but couldnt place the problem as everything appeared to be normal. RPM wasnt noticed to be
varying at the time, although it did tend to creep lower from time to time if the throttle wasn't locked properly.
I had experienced 2 idle cut outs which I put down to too low an idle rpm. One on the same day when taxying to the runway hold point, and one 2-3 flights previously on
landing rollout. The idle stop was adjusted prior to the last flight.
On arrival at home base I performed an ignition check at 1500rpm, both systems were working and rpm drop was normal about 20-40rpm per side, limit 100rpm.
Engine shutdown normal but at idle attempted to drop below 800rpm.
Due to time constraints the aircraft was hangared and cowls weren't removed for inspection.
On the 6 Dec I removed the cowls for an inspection of the engine, and in particular the ignition system. I was aware of the Jabiru letter advising operators of the UK LAA's
experience with rotor buttons and distributors caps, with my serial number as number one on the list. Although it wouldn't have taken much time to pull the caps off back in July,
I anticipated they would last until the 50 hour replacement time. If I had, it would have been evident that a problem existed from the get go as the engines are test run at Jabiru on the dyno.
Anyway as logged here, I continued preparing the aircraft for weighing, final inspection, first flight etc.
Inspection:
I removed the LH distributor cap and found the brush deeply embedded in plastic and brass dust. Photo 1
The rotor button had significant wear. Photo 2
The RH distributor cap brush pushed into its housing flush with the edges, and the rotor also had significant wear, but not to the same extent as the LH side. Photo 3
The LH rotor button did not appear to be fitted correctly from installation at the factory, as there is more glue in the top of the rotor button than the RH side, there is
also a void which illustrates that the setting of the button on the shaft wasn't snug. (the hydraulic lock referred to in the installation manual?) Photo 4
Jabiru will be updating the Advisory letter to a Service Bulletin, to capture any of the affected serial numbers that may still be in a non-flying state.

Brush? what brush..? Buried in a plastic and brass dust mix.

Rotor button wear, I know where the missing brass is

Brush pushed back into housing, notice the plastic wipe on the brass, definitely getting hot!

The glue void indicates the rotor button was not fitted by the factory correctly, as the glue is quite thick. This raised the rotor and mashed it into the brush housing.
17 Nov 14
After last weekends effort it was time to perform the scheduled 10 hour check on the engine.
So with the latest manual downloaded from Jabiru I headed out to Callington friday evening to pull the cowls and start removing the air ducts.
Better to start the process then, than try and do it all on Saturday or Sunday before flying. Cowls and ducts duly removed.
It started to get dark and the hangar lighting wasn't too good so I covered it up and headed home.
Saturday was forecast for rain and chance of thunderstorms, good weather to get in and help my long suffering wife with her garden.
That work was all done by about 5pm and with release note in hand, I headed back out to Callington to finish torquing the heads.
By 7pm it was all done. I had 2 bolts move slightly on cyls #1 and #2, (bottom bolts) so retorqued all the respective #1 and #2 bolts at 24ft lbs.
#3 and #4 were fine, which I didn't expect as they have been the hottest during the early test flights.
Everything else looked good around the engine, so I reassembled the ducts and fitted new grommets into the ducts for the plug leads.
This time I used some blanking grommets and cut out the reliefs for the plug leads myself.
The result is a much better fit around the plug leads.
I also took the opportunity to finally fit the wheelpants.
A few weeks ago I made some plastic spacers to go between the brake drum and the wheel pant to position them better over the wheel.
It also allowed me to use the original axle extensions I turned up in the lathe.
These are held in the Tracey Obrien axle tubes by the cotter pin.
I used a liberal amount of antiseize in the axle as I noticed they corrode quickly and I need to be able to get them out for bearing maintenance.
The "Le Pantaloons" look pretty good and finish off the aircraft nicely.
I did notice a little fax-paux with the way they sit but too late now!
By the time I had finished darkness was approaching so left the cowls off ready for Sunday mornings daily inspection.
Sunday I went out to commit aviation, and after another look over the engine, fit cowls, refuel, polish canopy and windscreen, and preflight it was time to go..
After 2 hours of buzzing around, 3-4 landings at different strips, and an anticlockwise trip around Lake Alexandrina guess what happened to the engine..
nothing
performed as expected, no problems but I was mindful of potential landing areas as one should be operating an aircraft.. period.
I also had great fun doing 2 landings on Callington's downhill cross strip 28.
Greased both on as the hillslope matches glideslope, all I had to do was chop throttle over the fence and let it settle…
oh and hope the local farm kids didn't come barreling out of the RH scrub on their ag bikes!
16 hours on the Hobbs to date.

Le Pantaloons fitted. Now cruising at 105 Kts at 2850. Prop is a 54″ x 48″.
#1 done, moving on to #3. I found a set of kinchrome long allen keys online. The 1/4″ only just fits in the lower bolt hole!

Lake Alexandrina looking back towards Strathalbyn. Tolderol point is the little bit sticking out from the shore. Showers were over Goolwa so didn't go in for fuel.

…more of that silly Sonex grin. PS There is shoreline below me.

Looking towards Wellington. This is where the Murray empties into the Lake. Brooklands strip is out to the right.
12 Nov 14
11.9 hours on the Tach, 12.9 hours on the Hobbs clocked up as of Sunday 9th Nov. I guess I'm at the halfway point for the 25 hours.
Not a bad day for flying, clear but wind progressively increased through the day from the south west.
Performed the usual preflight and cowl off checks, and adjusted the aerocarb another 1/8 rich. I did have to drain a bit of oil out of the catch bottle.
Looks like it wants to maintain oil at about halfway between marks on the dipstick.
I topped up last week to the upper level and it appears that's about how much was in the bottle.
I also found the propellor flange had just started contacting the rim of the cowl opening, so I dragged out the dremel that I had fortuitously packed in the tool kit and ground a bit more clearance.
The engine has settled a little into to the rubber mounts.. not unexpected.
Buttoned everything up and off I went for a couple of circuits and a quick trip to YSYN. Not much going on there so flew back to Callington to see if Lynn had arrived.
19-4003 was sitting outside the hangar ready to go so taxiied in to see if Lynn was still going over to Brooklands.
Flew across to Brooklands trailing Lynn all the way.. couldn't catch the bugger without WOT and using up fuel! Stayed for a bit chatting with locals Harry and Shirley then departed for fuel and something to eat.
I had left the mini iPad in the cockpit while we were on the ground, and just after I was airborne I noticed the infamous iPad temperature warning. I put it on the passengers seat and directed the side vent over it. Came back to life after a couple of minutes. Will have to remember to keep it out of the sun when unattended.
Topped up with 30 litres at my favourite refuelling stop, I flew back over Callington, a touch and go at Murray Bridge, across to Brooklands again but didn't land. Scenery getting a bit same same so I swung
south around the bottom edge of Lake Alexandrina instead of going direct to YSYN strip. I climbed to 4700′ to cross the Lake at Nurrungar/Point Sturt. Nice and smooth at that height over the lake.
Engine temps and pressures all good during the day, I played around with leaning to reduce fuel flows and even remembered to go rich for descents.
Made a small deviation over Hindmarsh Island to keep within gliding distance of suitable airstrips.. there are 3 on the Island and another on Goat Island nearby.
I spotted Russell Burzacott's Youngster biplane sitting outside Barry's Hanger at Hindmarsh International.
Russell purchased Jim Lewis's Sonex a few years ago, thought it might be a good opportunity to show off the Sonex and get
Russell motivated to start/finish installing the Jab 2200 on the Sonex airframe. (Not sure if I was successful there but I think he was impressed).
Set up for a glide approach from late downwind, slipped it down on final but had to add a little power to clear some brush at the boundary, but pulled off another reasonable landing. lol
Its a bumpy strip ok?
A coffee and a chat with Barry, Dr Jeffrey and Russel it was time to head back to Callington and put the aircraft away.
Did a couple of small jobs before I left to go home after 6pm.
I am really enjoying learning to handle this aircraft by landing at different airstrips and I am more confident the engine is happy with the adjustments I have made so far.
Its not until you start flying it and putting it through its paces that you really appreciate the design of this little aircraft… very happy I have a Sonex, the 8 years of waiting was worth it ha ha.
This coming weekend the weather isn't looking too good but I need to do the slightly overdue 10 hourly on the engine and check the head bolt torques.
Hopefully they will all be solid at 20 ft/lbs and not move. #3 might be the one that does but I guess I won't know until I do the job.
Took a about 2 mm off the bottom rim of the prop opening. You can also see the opening I made previously to provide more air over the sump to the left.

Nothing else available to drain the overflow bottle, just as long as a finger is kept over the tiny breather hole it will be fine.. this about what I topped up with last week!
On the ground at Brooklands. What a fine pair of birds.
GPS tracks from YMBD to HMI. Glide approach into HMI for practice.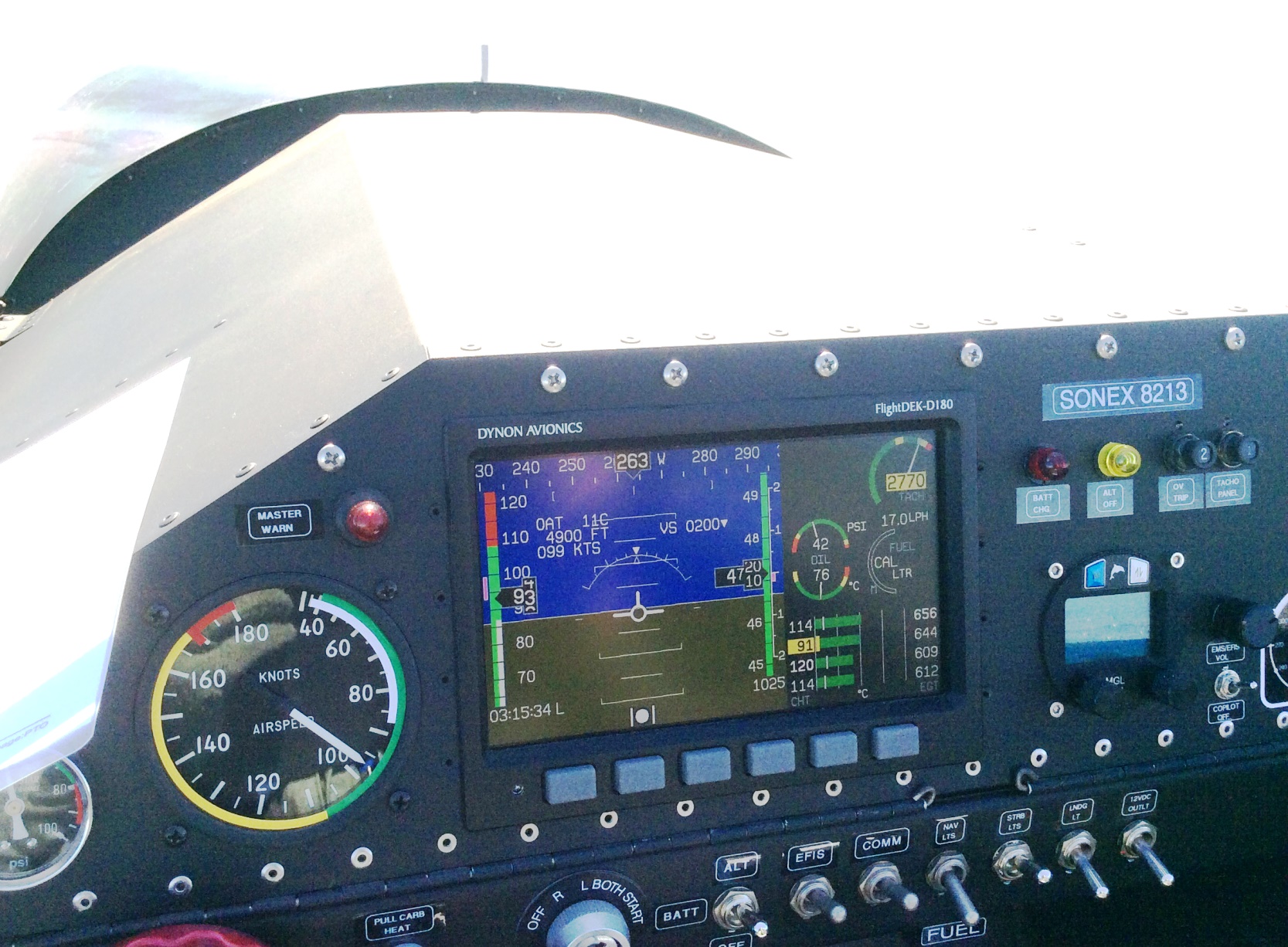 4700′ over the Lake. The Dynon is a nice piece of kit for its age! I've added VSI, OAT Density Altitude and TAS to the display either side of the attitude indicator.

Russell Burzacott with his current love. A Jab 2200 powered Youngster.He does own a Sonex as well but it is a rework in progress.
25 Oct 14
Decided to bite the bullet and chop into the cowl! I opened up the front of sump bump to get some air over the sump and temp sensor.
A bit of measuring and a 22mm hole saw got me started, I joined the dots and with a dremel wheel, then a bit of sanding, viola.. job done.
Looks a wee bit rough but when I get around to it, a touchup spray will pretty it up again.
Well it appears to have made a big improvement in oil temps, the OAT was around 20°C at 1500′ and my oil temps were hovering around 70-80°C during the first climb.
At the end of the day I noticed it still has a slight contact point under power at the inlet, not sure what I can do there apart from make the hole larger.
With the cowls off I also tweaked the mixture another 1/8th turn richer, no dramas there with full rich at takeoff, so possibly could go another tweak.
The idle screw does need adjusting though as on one glide approach it was idling around 680-700rpm, was concerned it might stop.
Head temps were good and #3 did not go over 160°C with hard climbing work, EGTs were around 700 at the same time.
Was a nice day for flying, a south sou' westerly kept things cooler and not too many bumps around. I did 4 flights, 2 hours all up.
Practised landing at Murray Bridge for a pit stop, practised steep turns without dropping or raising the nose (A bit better than when I flew with Peter Anson 🙂 )
and did a few stalls above the strip at Callington.
With a breeze on the nose it didn't want to stop flying, just mushed through the air.
No doubt it wouldn't be kind if I were sloppy on the controls, i.e. used aileron at the stall.. but keeping wings level with rudder.. no problem so far.
Speaking of rudder, still carrying a bit of right rudder at >2700rom so maybe another tweak there as well.
I set the logging to 'on' for Ozrunways. It didnt capture all of my flights.. I guess it went to sleep on me. I flew to Strathalbyn township for a couple of laps around the small srtip there.
Looks too small for a novice in a Sonex at this stage, so didn't even attempt an approach.
Then I went across to Murray Bridge for a landing and a pit stop, finally back to Callington..the iPad went to sleep again on the way back. I wasn't actively using it for navigating.
The track was imported into GoogleEarth, nice feature!
Now that I think I have the oil temp issue sorted I can actually start recording some figures for the test flying schedule.
I notice there is a bit of a discrepancy between the mechanical ASI and the Dynon at 100KTs.
There was a static leak present when Mick did the pitot and static testing, so that may have some bearing there.
The ASI was spot on though. I suspect I need a bit of teflon paste at the tubing T pieces on the back of the Dynon… didn't use any when I screwed them in.
Another job on the list. Just on 8 hours now. Probably could have got more in but my kitchen pass expired at 5pm.
To paraphrase another South Aussie flying identity… "I love this flying shit!!"
Holesaw first, then join the dots. Have a completed photo on another camera, will post later.

On the ground at Pallamana. Boys were getting ready to practice aeros in the aircraft across from mine so didn't stay long.

Some of the tracks recorded by Ozrunways. Callington, Strathalbyn, Pallamana

Scary selfie enroute to Murray Bridge.. I love this flying shit!
20 Oct 14
Update on flying off the 25 hours. Just clocked up 5 hours with 2 flights Saturday, 18 Oct.
Outside air temps at 2000′ were 29°C at 5:30pm. Wind was about 5-8 knots from the North East.
I adjusted the mixture 1/4 turn richer prior to take off. CHTs and EGTs were better, but I still need another 1/8-1/4 tweak richer.
The warm air temps didn't help keeping the oil temperature under 100°C either, at one stage they bumped 104°C after climbing to 1300′ downwind.
Cleared the circuit area and cruised into wind for a bit before it dropped below 100°C.
After an hour I came back and fashioned a temporary air scoop to direct air into the cooler NACA duct. A subsequent 20 minute test flight didn't make any difference to oil temps!!
My cooler exit flap doesn't appear to do a thing either, but it could be conditions in the cowl are masking any changes.
Having a think about it, I believe a large percentage of heated air under the engine (exhaust and cylinders) is coming out via the exit I have behind the sump.
The exit air would be heating up the sump and temp sensor as its quite close to the cowl at that point before goes overboard.
Solution I think will be to make an air inlet at the front, which is recommended anyway.
It will actually solve 2 problems hopefully, one the hot oil temps and a contact point on the cowl where a front corner of the sump is rubbing.
If I make the hole start at the sump corners it will have room to move under engine torque and the inevitable engine droop due to the mounts wearing.
At full power I am getting some vibration through the airframe, most likely from the cowl rubbing I think. We'll see.
Also I might have the oil level too high, hard to judge where it should be with the late model hydraulic and tail dragger configuration. I have the level at mid-point on the dipstick with tail up.
Should place the tail on the stand an check properly too. With tail down it doesn't appear to change much. Not sure if thats due to the sump design and dipstick length changes.
I solved the slipping aerovee throttle handle with a rubber washer between the handle and the mount bracket.
I cut one out of some rubber sheet but I reckon a garden tap washer would do the same.
A bit of judicious filing on the flap stops has made the flaps easier to operate plus I upped my weetbix to 4 per day.
Fitted the rudder trim tab. My initial adjustment is pretty close.. maybe a little bit more to take that last bit of right rudder away at 2850rpm cruise.
Starting to feel comfortable landing the aircraft, seems best with stage 2 (20°) of flap. Can see the runway better. I havent tried full flap yet, prefer a calm day for that.
I did a go around with 2 stages, was ok, retracted to 10° at about 100′, to minimise drag and keep temps down.
Getting the sight pictures right is not quite there yet, a couple of approaches were too flat with 2 stages of flap, had to keep power on a bit in the last 100-200 metres to make it over the fence.
The accidental no flap takeoff was non eventful apart from the extra length to get airborne… I had a breeze down the runway but didnt feel light at the usual point down the runway, a quick look at the wing doh!
Once airborne climbed fine but flatter of course.
Another emerging problem is with headset/microphone/radio, the wind noise in the cockpit is breaking-over to the intercom and transmissions.
I will have to drag out the MGL handbook to see if I can make some adjustments… haven't read the manual for a while..like 2 years ha ha.
If I can get the high oil temps down next week I will be a lot more comfortable!
4 Oct 14
Not the best day for flying but I got there in the end!
As mentioned on the Home page Peter flew over friday hoping to see a first flight, but conditions started to get worse mid morning after our familiarisation flight, so he bolted for home.
It was good to get a bit of stick time and see first hand what it would be like in the circuit. Thanks Peter! I didn't let 6 cylinder envy pervade my thinking at anytime after either.
Certainly the conditions lived up to expectations. Wind coming over the Mount Lofty Ranges meant turbulence in the lee. ie At Callington!
At 12pm it was around 20-25KTS. BOM and Willyweather went off the air so I couldnt get a weather update and see how hard it was blowing at Murray Bridg, 9NM away
So I waited until about 3pm.
Wind was about 15 KTS blowing about 10 deg left of runway 34 Callington. Decided to take the Metal Mistress out for an engine runup and maybe a strip run if I felt it was ok.
Number 3 cylinder got a bit warm about 160C by the time I taxied down to 34 threshold, oil was 80C.
I lined her up and had the fleeting thought about running off the strip trying to do a high speed taxi. I brought it up to 2950 and started down the runway, directional control was good, engine was good.
No balking, pulling strong, the 08-34 intersection went by and I thought bugger it – why chop the throttle and risk an excursion so I kept going!
Let it fly off at, I think at 55-60KTS held low to gain speed and an 80 KT climb. Number 3 cylinder got as high as 181C before climbing out but kept the nose down and it didnt go any higher.
IN between the "shit its rough and wow Im flying my plane" I let out a huge "Whoo hoo!" Unfortunately the camera wasnt on for the first takeoff, otherwise I reckon it would have been on the video!
I strated to turn for my first touch and go but realised I was a bit low for a standard circuit so I extended downwind and climbed up to 1300′, then flew back on the dead side to get a feel for the aircraft.
Too bumpy to work out if I had a wing low or how much right rudder I was holding. The ball was all over the place, then I worked out that was the pink/magenta turn direction bar not a skid ball at all!
I did three circuits, I was worried about sink on final so I had the speed up a bit but I was low. Seems to be a common problem with newbies!
Bounced the first landing but was able to power on and fly out of it.
Realised the camera hadn't switched on for the first takeoff, turned it on again.
Second one was also looking a bit dicey so I went around again.
Third one was passable, that titanium gear works hard.
Apart from the wind and bumps, I had a bit of trouble with the Aerovee throttle friction coming loose, a couple of times I reached for the flaps and the throttle died quickly… gets your attention!
Need something with more bite to keep it in place but allow movement.
Also have to work the flap detent at 10deg, bit tight couldnt get flaps off on one of the circuits.
Peter Anson and 7898

Off we go, that six sounds awesome

Later in the day.. will she fly?

Hell yeah.. click for Youtube video

Taxiing back in after flight

Phew..!
28 Sep 14
Rego card received in the mail but..
Blowout weekend, looks like spring is here with 20-30KT winds saturday and 30-40KT winds sunday!
Wind calmed off about 5:00 pm saturday to 5-10KTs but no chance of getting mine out of plane-lock at the rear of the hangar and in the air for the last hour of daylight.
Did some odd jobs like drain all the PULP ready for fresh AvGas to do test flights with.
Attached some exhaust deflectors to the inside of the exhaust tunnels to stop the fibreglass from getting too scorched. (exhaust pipes run close to inner edges of tunnels)
Set up a camera mount on the rear canopy cross rail, seems to work ok. Just a piece of 1/16″ angle and 2 Adel clamps/bolts.
Fitted new stick boots, made of thinner vinyl.
All revved up.. nowhere to go..

Windsock was horizontal most of the day, started to calm off at 5pm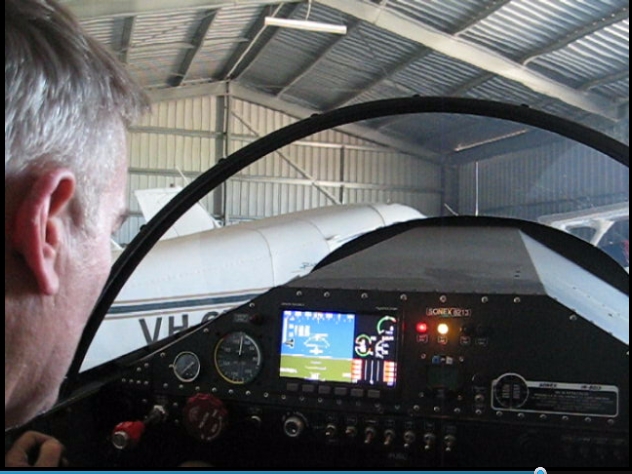 Screenshot from test video. Probably will forget to turn it on come the day.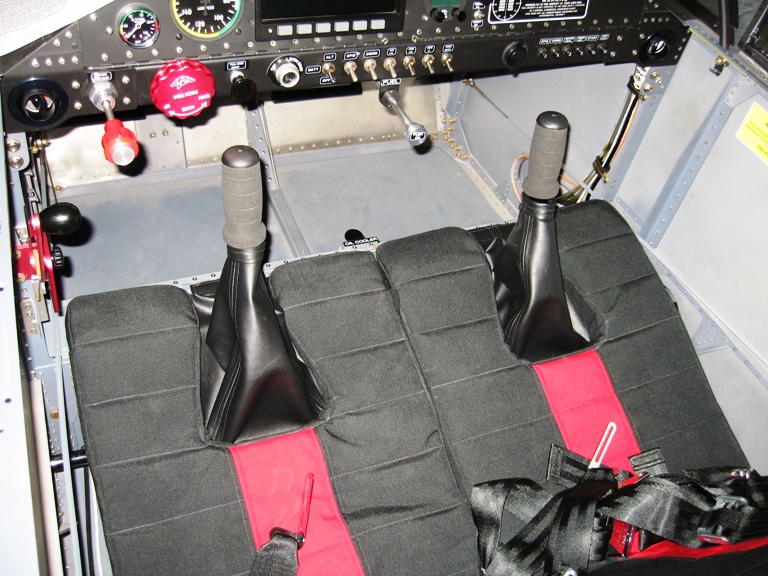 Sewed up some new boots out of thinner material, fit a bit better and less drag on the stick.
18 Sep 14
Waiting, waiting….
Stop Press: Registration processed and certificate on its way in the mail! Notified in an email this morning. Not bad work RAAus – just over 2 weeks to process, was expecting 4-5 weeks. Yeehaaa!

2 Sep 14
Well another hurdle done and dusted, final inspection complete!
Last Saturday I finished off a few things, fuel flow check worked out to be 65 litres per hour. (180ml in 10 secs)
Should've cross checked with the fuel flow meter but didn't think of that!
Lynn assisted with the dual mandatory flight control inspection. Drained the gascolator and checked for debris in the screen.. none found.
I fitted a new regulator rectifier prior yesterday, the battery not charging light came on so I'm assuming its OK.
The old regulator charge light came on with master on, but stopped working after a while. Will know on next engine run.
Took all the necessary photos of placards and under the wing. Turns out you need photos of BOTH sides on the aircraft just in case you sneakily only apply rego to only one side.
Someone probably did that somewhere!
Had to run home (50 minute round trip) and get another photo printed for signing!
As for the inspection, no real problems found, one nut on an adel clamp with no threads showing, and some concern about the brake handle rubbing on the rudder cable.
I had the rudder cable routed between the handles and the cockpit wall. So there was some slight interference with feet on the pedals.
I started to bend the brake to handle clear it but after thinking about it, I just removed both the handles and ran the rudder cable on the cockpit side.
Now with foot pressure on the rudder, the cable is clear of interference. Anything to keep the L4 happy, yes?
While I was fiddling with the brake handle, I fitted a handle stop I made, (as per the simple brake idea aka Simple Park Brake)
Mick the L4 also did an instrument check for me, it appears the mechanical ASI is spot on but the Dynon may be over reading by 5 Knots.
I may have introduced some errors into the Dynon previously when I was checking I had the static and pitot tubes connected the right way from the wing.
I did notice the horizontal attitude changed as I rolled up a piece of tubing plugged into the pitot and was researching if that was a problem.
I read on the Dynon forum you are not supposed to vary pressure on the pitot with the aircraft stationary, and the unit switched on.
What you are meant to do is apply pressure, then power the unit on. Read the value, switch off, then remove pressure. Oops.
Something to do with the accelerometers not reading any values that the aircraft is moving with pitot pressure, introduces a computational error.
I think it can be fixed with an in flight adjustment, which should be easy now that I have a known reference in the mechanical ASI.
Sending the paperwork in today woo hoo, only downside is how long I will have to wait????
Last I heard it was 5-6 weeks.
Test period is 25 hours, within 25NM
Scanned all of the paperwork and saved to pdf… just in case!Sending off today via Express Post.

Ready for inspection, Sah!
25 Aug 14
Completed the pre-inspection checklist and checked a few other items I had earmarked for a revisit.
One was the alignment of the aileron bellcranks at neutral. The bellcrank long edge should be at an angle 25deg from the rib line. Both were spot on, not sure how I managed that!
The risk is having an aileron lock if the bellcrank goes over too far, so pays to make sure its correct.
I found 2 of the tiny cotter pins missing on the inside of the elevator hinges. Better me than the inspector.
Opened the rear spar aileron counterweight holes a little along the bottom edges, now they bang on the wingskin!
I found some 3/8″ plastic tube placed over the aileron stops (on the dual stick subframe) was enough to engage the stop on full left aileron before it contacted the wingskin, but not quite the other.
I was using my iPhone as a a torch so I couldn't quite see where the contact was inside the wing. Might be able to take a little off the forward corners of the counter weight
if that's where its contacting.
Adjusted the aerocarb for another quarter turn richer, taxied out for a run but #4 CHT was getting a bit warm so I chickened out and put it away for the day.
Last night I made a little stainless plate with Sonex 813 and reg number 19-8213 to go under the tail. I also turned up a brake lever spigot as per the simple brake page. (Simple Brake)
I have a photo of the carb tool below in action on the aerocarb, but its still on the camera, anyway a couple of pics of the tool. Makes it a lot easier to reference how far the needle has been adjusted.
Only other thing of note is waiting on a new rectifier/regulator from the USA as its definitely not charging at above 2000rpm, should get here by Friday. $85 including postage vs $262 from Jabiru.
Hopefully I can schedule in the L4 later this week or early next week.
STOP PRESS: L4 booked for Monday 1/9/14 !
Couple of things to complete Saturday, fill and calibrate the tank and check probe works (Good luck with that did you say Peter A.?) Do a fuel flow check, and take some photos,
sign off the duplicate flight control AD, fit the regulator if it turns up.
3/16″ Allen key pressed into aluminium knob. Main reason is to provide an indication of how far the needle set screw has been moved from engagement.

Line scribed into alloy. I marked it with a red sharpie to provide a better visual. The alloy was originally 25mm diameter, but I've turned it down to about 20mm here.
16 Aug 14
Not much to report this week, adjusted the aerocarb another 1/8 turn richer. Tightened the OCA a little more. Taxied out onto the airstrip and ran the engine for about 10 minutes.
My seating position isn't too bad, a bit of weaving and I could clear the nose ok. (You don't know these things until you actually have control of the aircraft and do it LOL)
Air temps were about 10C, with a stiff breeze blowing on the nose. Oil temp took ages to come up but late in the session did a couple of full power applications.
Ran 2950. Azuza brakes aren't very good at holding full power but we all know that anyway.
I tried leaning but didn't take much movement of the mixture before it cut out.. <1/2″. Slight EGT rise so I think maybe a another 1/8-1/4 turn richer next time?
Modified a 3/16″ allen key tool for adjusting the needle prior to coming up to the hangar. It has a 20mm diameter lump of alloy pressed onto one end with a line marked on it.
Helps visualise how far you adjust the needle once engaged in the allen screw. Worked OK but need to shorten it about 25mm to provide a bit more clearance under the alternator X frame.
Didn't take a pic of it, will next time I do an adjustment.
Might leave the next session of engine running until its ready to fly, would hate to do any damage to it at this point.
Number 4 was the hottest, CHT got to 130C/EGT 640C so I appear to be under the limits, but Jabiru warn against ground running the engine.
Started to go through the RAus preflight Inspection Checklist. Got about half done before it started to get too dark in the hangar.
A late start didn't help as I left the bloomin' aircraft keys at home!
Might take a day off to complete the checklist then I can book that L4 check.. onwards.. and slowly upwards.
10 Aug 14
ITS Aliiiiive!!
An auspicious day. I was late arriving at the strip so I only fixed the fuel door southco mount before deciding I would go for an engine start. Ably assisted by Lynn and some suitable tools we double checked the aerocarb needle carrier position (start of taper set level with opening) and wheeled it out of the hanger.
We put 20 litres of PULP in it (ran out of time to get Avgas) checked for leaks, drained the gascolator to get rid of air bubbles.
Chocked and tied to a suitable tree, I attempted the start. Took a few goes as the throttle wasn't quite open enough. Probably a bit of slack in the cable.
Ran nice from where I was sitting, idled at 1200 rpm to warm up for about 4 mins. Didnt go over 1500 rpm. Shut it down and we were done for the day. A small oil leak from the OCA is about all I could see wrong. Lynn suggested we give maybe it a tweak richer, no black smoke from the exhaust during the run so not on rich side.
Idle needs adjusting as it attempted to idle bellow 900 with throttle closed.. very lumpy!
Full power runs will tell us next time which way to go if any with the carb.
Lynn doubled as videographer and safety man, thanks Lynn!
Rolled out of the hangar and ready to start.

Video is on You Tube, click picture for video in new window
7 Aug 14
Time for an update me thinks! Have been slowly getting things ready for weighing yesterday since my last update. Spent ages sewing up the seat cushions, made it way too complicated for a novice but they cover the temperfoam cores. Downside is they weigh a ton, like +10KG! I wont put the final weights here just yet, but I'm thinking I'll name it Bubex or Chubex now.
Most of the decals are on the exterior, I have some Jabiru 2200 decals to go either side of the cowl but need to do a bit of polishing where I scratched it. Perils of hangar rash.
I need a MTOW placard for the cockpit and some airspeed numbers which I can do with the label printer.
I am reviewing the W&B calculations today. The weighing was done by Ted King and his offsider Rex from the Sport Aircraft Club of SA and didn't take too long. I spent a lot of time establishing the datum and the main gear reference arms as there are some inconsistencies with the Sonex weight diagram in the Flight Manual. Interestingly I have a similar problem to Doug Mclean with the published datum being ahead of the spinner point by 13mm. As long as the CG range is in the right areas it should be fine.
Jobs for next Saturday, raise the fuel door Southco 3-4mm.
Fix the aileron stop issue (banging in the rear wing spar)
Check aileron bellcrank alignment at stick neutral. (Forgot before rigging) could mean redoing the aileron circuit again!
Check the mixture throw on the aeroinjector
Check the needle carrier position
Stick some fuel in and see if it leaks
Maybe a fuel flow check if theres time… and maybe a start .. eek!
Weight and Balance spreadsheet for Sonex 813.
Richo_Sonex813_wb_std2200.xls
Seats done and dusted. The area under bum is 2″ thick tapering to 1 inch thick at the front. Cut from conforfoam blue and pink. The back is 1 inch blue. Could be a little thin, but I have long legs and the rudder pedals feel right.

Stick boots are a bit stiff and needs some rework. Pretty comfy to sit in after about 15mins when it conforms to the body.

Ted King from Sport Aircraft Club of SA recording the numbers. One transducer which had to be transferred to each wheel and checked twice for weight recorded.

Working out if the datum was correct by measuring different locations and trying to keep square. Looks like spinner is 13mm behind published datum (53″ from LH LE)
7 July 14
No work this weekend past, spent the whole weekend in bed with flu. Seems this one is not covered by my yearly flu shot.
Don't expect to be back to work until Thursday… and the boss has forbidden me from sneaking out to the airfield if I'm feeling better before then!
28 Jun 14
Putting on the Ritz!
Long cold Saturday at Callington! Had to polish the LH side and vertical fin/rudder where the stripes and reg numbers were to be applied. Took until mid-afternoon to get finished. Started off by taping rear section of stripes to get the position right for the reg numbers, noted but didn't mark(!) the rivet number where the stripes would start and allow for a space between the numbers and stripe. Put on the numbers both sides. Eventually worked out they were in the wrong position. I was going to be a bit short with the stripes running forward to the cowl, as the numbers were 40-50mm towards rear than they should be. Poo.
I put them on dry as I found it to be pretty easy, no bubbles this time as I had a proper squeegee to smooth them down as I went. I used the hinge or butterfly method. Plenty of instructional videos on you-tube on how to do it!
I like the way the numbers seem to float on the fuselage.
Was a bit slack with the camera so only 2 photos this week.
Had to call it quits when it got really cold on dusk and ran out of decent light.
Sent an email off to signwiter to order a metre of red stripes. Should be cheaper than trying to redo the numbers!
Rapidly approaching the 8 year mark since I received the crate from Sonex! – 8 Jul 06 but I'm almost there!!!

Side numbers on. love the 3D effect too. The Sonex decal red is a close match to the fibreglass paint.

Rear stripes taper off. Effect would have been better if I had placed the numbers in the right position! Oh well, it will look great when its all done.
23 Jun 14
Finished riveting on the gap seals. Didn't trim anymore off the edge, figure I can do that if and when the wings come off (if ever!). I have a handful of CCP-42 and CCP-44 left over! No more riveting to do now… yaay!
Some F9 polish arrived from perfectpolish.com during the week, postage was $15 for First Class mail and only took 7 days! Email Tom for a quote if you are only ordering a small quantity of polish, he should give you the option, otherwise $25US.
Did a bit of polishing before I put the wing walk material on but forgot my cleaning spur so didn't attack the rest of the wings.
I spent a fair bit of time with rigging the flaps and ailerons. The plans specify 74.1 mm vertically from the aft LE skin to the straight edge lined up on the flap skin. I placed the rule adjacent to a flap rib so any dips in the skin were minimised. The best I could get was 76mm. A half turn of the rod end either way sent it back to around 80mm or 60 something mm. I figured it was close enough as long as both sides were equal.
I expect heavy wing syndrome although I have fitted flap stops to stop the RH flap from retracting further in flight.
The ailerons were a bit of a problem as I could hear and feel them banging in the tips before the aileron stops on the sticks were met. Closer investigation on both sides showed the arms holding the weights were contacting the rear spar at the holes. Will file or dremel them out next week as I was just about done for the day when I discovered the problem.
Didn't get the to do list completed. Had earmarked rigging, wing walk, canopy and windshield plastic removed, and fitting wheelpants to be done. Didn't finish the last two items.
I placed the wheelpants into position and checked the hole marking to the holes in the brake housings with my home made strap duplicator.. spot on!
Unfortunately the aluminium fittings I turned up for the axles were about 3/8″ too short so I will need to make another set.
Started to pull the protective plastic off the canopy but started getting cold around 4:30pm and I had run out of thermos coffee, so called it a day.
Continued next week.. 28 June 14!
Ran out of time to peel off the protective plastic, should probably leave it on as long as possible while I'm still wielding tools around the airframe!

Gaps seals and wing walk complete

I think they're on straight! Too late now..

A bit out of focus, the aileron counterweight arms contact the rear spar on both sides before the stops are met. Some judicious filing/dremeling here. 🙂
16 Jun 14
Wings on, control surfaces fitted. Gap seal fitted. A good weekend of work completed! Lynn gave me a hand Saturday fitting the wings, was a bit of a job getting the bolts home with only one 3/8″ rig pin, but we got there with some perseverance. The rear bolts were tougher than the mains. The flap connections were a bit of an anti-climax, got the bolts in no dramas. I did remove the forward rib web during the build, so this probably helped. I did have to remove the brake handle for access though. Must be all those years of working on aircraft (P3 Orion and Mirage III mainly) and fitting hardware in really difficult spots. I remarked to Lynn the worst sound you can hear in the belly of a P3 is a washer tink tink tink all the way to the bottom skin. YOU HAVE TO retrieve it, as its a FOD hazard. Trouble is you used to find everyone else's but yours! Anyway, hope I don't have to take them off again… ever!
Sunday was spent doing the gap seals and putting in the Vans root seals. I clecoed the pieces on and used the sharpie and large washer method to mark a constant line to the fuse. Should have taken a photo, but if you have ever marked out a scratch built rib or turtledeck flange, its the method used to run around the form and mark the flange precisely. Its a little bit tight with the gap seal in place, I could probably afford to trim off another 2-3mm. Might also make it impossible to refit the wing if they have to come off. Will look at it again next Saturday. I spent some time adjusting the flaps, didn't have the measurement for setting the surfaces up properly as I left the plan sheet at home. Also had some fun working out which way the aileron rod end bolts go in, as the flap was blocking. Then realised I had to go full flap to get it in the right way.. duh!
The day was interrupted with a Carbon Cub flying in from Aldinga, also Tim pulled his ginormous Stinson out of the hangar next door. What an awesome aircraft, the big old radial seemed to be hardly working on takeoff.
I finished the night reworking the upholstery, I had sewn in the red stripe but miscalculated and ended up with a wider stripe than planned. Unpicked the panels, cut off 25mm of the red and resewed, took a couple of hours but looks better.
Last Friday I finalised the "Rego and vinyl stripe kit" with Brian from Daytona Signs They should be ready end of next week. They will really finish off the look quite nicely.
Need to get the upholstery work done so I can organise weighing, I think its about the last biggish thing to do beforehand. Then I need to go through the whole aircraft with a pre-inspection before booking an L4 inspector.
Happy to have wings back on. They were rigged January 2011 and still fit ha ha

The seal is a bit tight against the fuselage, could make it hard to refit the wing so haven't riveted it on yet.

Received some Southcos from Wicks for the fuel door.. a 300 doesn't fit!! Not sure if its size or I boogered the receptacle when drilling through the cowl. Will check when cowl comes off again.

Took a photo of both flap connections to show they were cotter-pinned. LH here. The job was quite easy with the brake handle out and no centre web on the nose rib.

Another view.. just needed a filler photo 🙂

I sewed these up with a wider stripe just didn't look right so unpicked 12 seams and re-sewed. Looks better now than it did. Can now trim to cushion size and work on the zips for the edge pieces.

Stinson, wingspan is wider than hangar door. Some special manoeuvring to get it out. The motorised tailwheel sled helps, otherwise it would be a multi-person job.

Stinson Reliant SR-9E, epitome of late 1930s executive travel. Beautiful inside as well. Tim was preflighting so didn't want to intrude with a photo.
10 Jun 14
Empty garage syndrome.. that nauseous feeling you get when you realise your project is 20 kilometres away, in a place where you cannot walk into the garage and sniff those unique aeroplane smells of aluminium, steel, fibreglass and paint or run your hands over the airframe whenever you want or just gaze at your handiwork looking forward to the day you fly it!
Finally did the move on Saturday, no major dramas apart from not getting the trailer back to the hire place before 4pm. Wings went over first Both fitted on the trailer bed with lots of foam and cushioning to support them.
On return we loaded the fuselage onto the trailer, just fitted nicely. I had scoped the trailer size the previous week and reserved it. Good choice as it was the biggest one they had. I built a wooden frame for the main wheels to chock them and provide a method of strapping them down to prevent movement. Unfortunately didn't get a pic of the final arrangement as we were pressed for time. Luckily my daughter took a couple of photos of it sitting up on the trailer as I forgot to! I added fore and aft pieces alongside the wheels to the 2 long pieces in the photo, then added two more pieces in front and behind the wheels to chock them. This gave room to pass a tie down strap under the chock pieces and over the axle. Once secured there was no movement of the main wheels at all. The only worry was tipping the airframe up on its nose, so the tail wheel was strapped down, and a safety tie down was passed over the aft fuselage to stop it bouncing up. All worked a treat. It was a slow trip to the airstrip as the tail-covers kept working their way off the tail. 80 klm/hr all the way.
Lynn was on hand to help unload the wings onto my wing-rack, thanks Lynn! We placed the fuselage alongside ready for next weekends assembly and rigging.
Its a bit concerting after having the project occupying the shed almost eight years since it was delivered, and finding it empty… apart from all the flotsam accumulated over the build. Still plenty of work to do but have to keep in mind its a 40-50 minute round trip to the hangar and back if I need to do anything.
A least its another milestone out of the way! Looking forward to assembly and rigging.
Wings well supported with pillows, foam and big cushions underneath. 2 tiedowns were enough to keep them from moving around.

Fuselage rolled up onto trailer, 2 crosspieces were placed on the deck, then I added pieces alongside the wheels. Extra chock pieces front and aft of the wheels. All were screwed together with decking screws. Tiedowns were passed under chock pieces and over axles before tightening. Tail wheell was also tied down and a strap passed over the fuselage to minimise the tail bouncing.

Cowl paint looks pretty good eh? The propeller cover is 3 piece. 2 blades and centre spinner cover velcroed together.

Moveable wing rack and fuselage in hangar. Aircraft behind is a retract Cherokee. Glad I don't have to move it out first, but means the owner will have to move mine out first.
Cherokee Challenger behind, same owner as the retract version. Will have to show him the correct way to move once mine is assembled!

This is where the fuselage was stored during the polishing phase. At least my ute will be garaged from now on!
3 Jun 14
A little more experimentation with sewing last evening. I discovered early on that sewing Velcro can be problematic, the loop side is fine however the hook side has the appalling habit of destroying thread as it passes through the material. It is designed to sew along an edge strip, which has about of 2-3mm clear of hooks. However if your needle wanders or if you need to sew across the strip and you engage the hooks.. it will strip thread back and cause balling at the needle and underside of the work. A little frustrating if the thread is thicker like I have been using. I did try finer thread but still had problems.
I had an epiphany yesterday and sourced some monofilament thread from Lincraft. Viola, no more issues when re-sewing Velcro on the stick boots last night.
Once finished with the Velcro, I fitted press studs at the top to close them together. I could replace the top strip as it was sewn to use a leather strip inside to tie it off. Would look better but I think I might have to redo the boots once the seats are done. Should have used felled seams all round the boot, it would sit so much better!
I also made up a test panel for the seat cushions,
A. to see how a strip of red would look and
B. sort out if putting a thin pad of foam underneath would work to give the top surface a quilted look.
Well not too successful as the cordura is very stiff. It doesn't want to puff up like regular material or vinyl would. I could go thicker foam and backing but not sure if its worth the effort. Will do a smaller panel to check.
A pair of stickboots! The vinyl is marine grade, thus a little stiffer than regular vinyl. Tends to sit up more.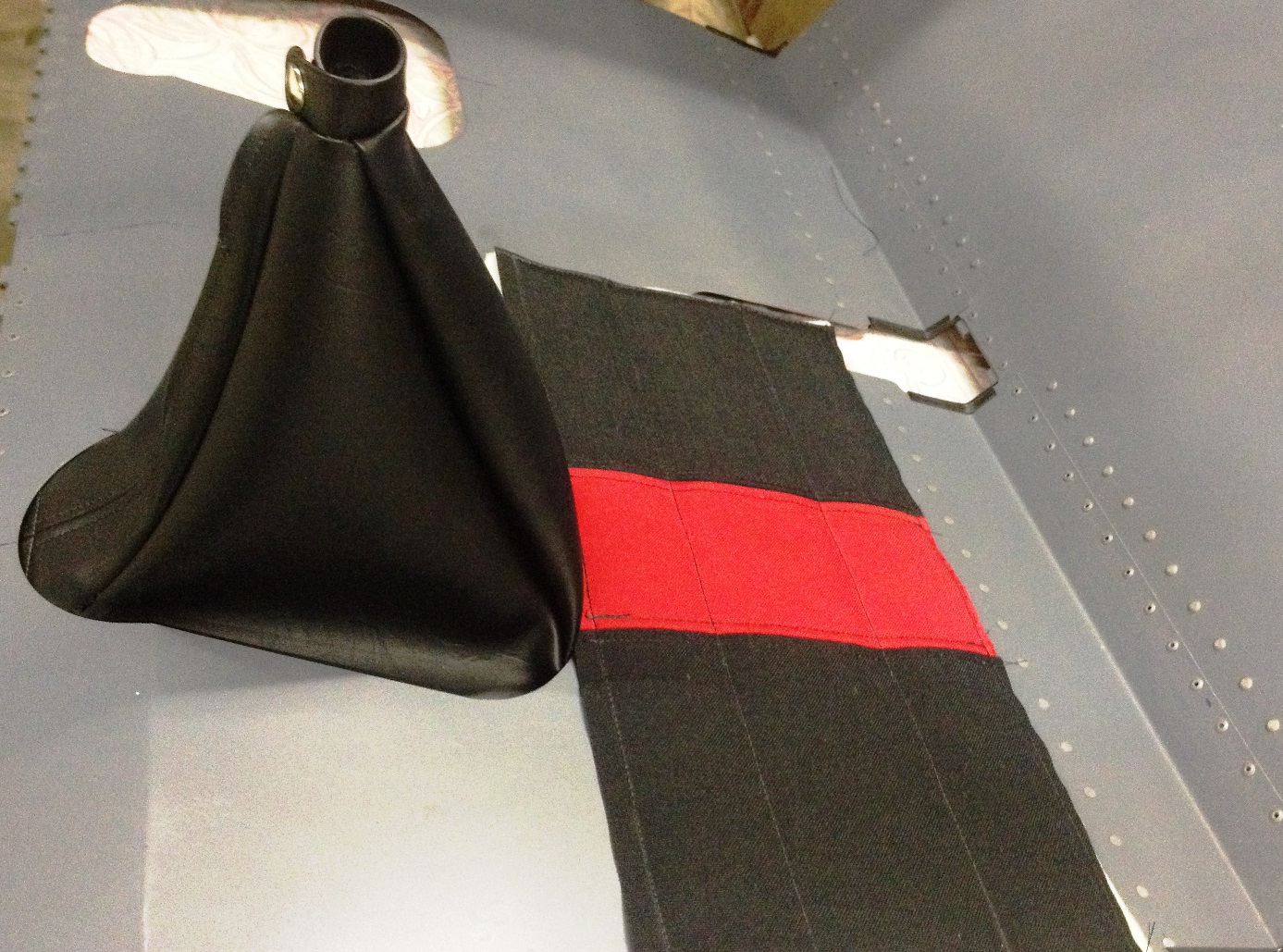 Just checking how it looks. The boot normally sits on top of the seat pan, this looks rather neat fitted from underneath but could interfere with the stick if it came undone

The seat cushions will have a bigger panel. This was to test/check sewing technique and how it looks generally.

Backing piece to stop thread from pulling through foam. Some people use car headliner material but foam and cheap fabric works. The backing material could be stiffer to make the top side more quilted.
2 Jun 14
Since the last update have continued sewing jobs like making prop cover, tail covers and starting on the stick boots and seat covers.
The Confor foam arrived mid week from WA. The people to talk to are Specialty Foams. They were a bit slow in getting the order through, a couple of requests via email went unanswered but a phone call got things moving.
I wont tell you how expensive it is, but it better be worth it!!! I am using 1 x blue, 1x pink @ 25mm each for the seat pad, and 1 x 25mm blue for the seat back.
I was looking for the electric meat carver on the weekend to chop it up to size, but couldn't find it in the kitchen cupboards.. probably just as well.
I refitted the cowling to redo the Southcos Doug kindly sent over. Seems 220's and a couple of 240's fit so much better, if you haven't got to the cowl fitting stage yet, I would suggest ordering those as the hardware kit 180's just aren't long enough.
It would appear I can get my arm up inside the cowling for the oil cooler duct. Just wasn't holding my tongue correctly! So no need to modify the ramps.
Still cannot find the 280 Southco for the Fuel Door I put in a safe place I wont forget!!
I have ordered another one from Aircraftspruce so I expect I will find it any day now!
I went to Callington Sunday to meet with Lynn and pickup some bits of foam and cushioning for this weekends planned move. Last Saturday was too wet to move, and I had a family function late Sunday to attend. Had a look at his exhausts, they sit in the middle of the ducts. We discussed perhaps cutting the exhausts and having them re-welded to get them over to the middle of the duct. Lynn also had a new "Sonex" exhaust from Jabiru which also has the exhaust pipes too close together. Seems their drawing from Sonex is in error! If they were welded 25-30mm further out to the end plates they would have adequate clearance.
Interesting to see the lead deposits on the ramps, and see where the actual exhaust plumes hit the side of the ramps! A simple deflector on the side of the tunnel might be enough if I cannot get the pipes reworked.I have asked around for someone who does TIG stainless so hopefully will get a lead.
Last Friday I dropped into Daytona signs to pickup the 19 numerals I boogered. Had a look at my proposed colour scheme that Brian put together for the side numbers and trims, looks pretty good. Peter Bakker got in before me so they are similar schemes but different as he has red cowling, wheelpants and tail bits. The two aircraft should look pretty striking if and when they're parked together. Will pick those up in the next couple of weeks, then comes the nerve wracking job getting them on!
I started on the LH tailtip edge repair gouge that I made when I was manoeuvring the fuse inside the garage. Sanded out the edges of the ding, put some spot putty in it and sanded smooth when dry. I then brushed on some acrylic primer.. no point if mixing and spraying since it was a minute amount. Sanded that back and shot a number of spot spray coats with the touch up gun.
A little tip I gleaned of the web ages ago, spray through an irregular hole in a newspaper or masking-paper .. it softens the edges allowing you to blend it easier. Whereas if you mask it off with tape you will have a hard edge to sand down, making the repair quite obvious. If we get some dryer days this week I will finish off the clear. (If its too wet it will blush due to the moisture in the air) Then cut and polish any overspray.
Onwards and upwards.. as they say!!
For practice at sewing, I knocked up this propeller cover. Is in 3 pieces. I could have attached the spinner cover to one blade cover I suppose.

Stick boot prototype in fabric. Was a bit floppy but gave me an idea on size and shape. The subsequent vinyl version is a bit big but should work.

Vinyl stickboot parts ready for sewing. Sewing machine bought off Gumtree for $300. Needed some work but is doing a good job, its just the operator who is a bit lacking ha ha

Sewing through 7mm of vinyl to do the neck of the boot. Wound the machine by hand, much safer than trying to power it through! Didn't miss a stitch.

Confor foam as delivered for the seat padding. The black stuff is just padding, but I might be able to use it for extra protection in the protective covers or vent bungs to be made.

1000 Denier Cordura in black and red for the seat covers. The red will be a stripe down the middle of the seat pads. Making 2 separate pads) for pilot and passenger.

Spraying the red metallic through the mask hole to soften the edges. Trick is not to get newspaper fibres in the paint! Proper painters mask paper would be the go here but you use what you have on hand. 🙂 I will spot spray the clear though a bigger hole (say 20mm around edges) to finish. Then cut and polish.

The Tongue'in'cheek canopy breaker tool. You only have to wave the tool at the canopy.. egress is assured
26 May 14
More of the same! Ran out of F9 polish so no more compounding for the time being. The LH fuselage looks a whole lot better after 2 goes at F9 and 1 of C. The RH side hasn't any C yet. Might get that done this week.
I have some cowling mods to do this week, I forgot to make a slot for the top fuel vent so have to hack away a chunk in my nice paintwork. 🙁
Speaking of chunks, I dinged the LH tail tip not long after the photo, didn't make me very happy considering its not even in the hangar yet.
Also discovered I cannot easily connect the oil cooler NACA vent to the duct without making the exhaust ramp exit larger. Gus Schegal made some nifty ramp doors (Gus's ramp doors) so I "could" have a go at those… more of that time thing though to make.
Have to figure out where to direct the 2″ fresh air inlet on the LH cowl. I was going to blank it off to prevent any ram air effects for the aerocarb tuning. It could also be directed at the gascolator to keep it cool. I think I will make some fibreglass tabs attached to the inside of the cowl than I can make ducts/shields at my leisure later.
Made 2 wing covers last night so I have some protection from grubby fingers. Hopefully will get the tail feathers done this week as well.
The fuse will be covered with some old sheets if I don't get to that by Friday. Its going to be a busy week, might have to take a day off Wednesday!
I can see reflections finally!

One of the wing covers I sewed up last night out of calico. Good practice on the industrial sewer I purloined. I have modified it to be able to sew leather if required, runs a lot slower for a novice too
22 May 14
Cracking the Da Vinci polish code!
I had a go at using a half and half technique of daubing a bit more polish on the panel (to save polish) and use the slow pass as shown in the Perfect Polish video. There is a FAQ sheet on their site which also shows this method.
Mixed results, when the pad ran over the polish, it compounded the surface o.k. but as it moved on the polish depleted and no compounding took place. So I have a series of "half moon" shiny bits on the right hand cockpit side.
Well last night I decided to try the video technique of daubing polish onto the pad and applying in a slow-moving, slow speed pass over the aluminium.
I figured if I was going to have to make another 3-4 or passes using the same technique to date, then I would use the same amount of polish.
Well, bugger me, it actually compounded the surface properly and produced a one pass shine, just like the video.. thankyou Perfect Polish and thankyou Steve for pointing me in that direction.. amen!
There was slightly less compounding on the edges where the polish is pushed to the sides but another run down those sections produced the results I wanted.
The only downside is there are more swirl marks to take off but the C grade should handle that. I also used a new Makita pad which helped. (Bought 2 more yesterday)
If you haven't polished yet then have a look at the video and have a go, much quicker and easier than the recommended technique. I would be all finished by now if I'd used it from the start!
Left hand side after one pass using the polish on pad technique. Residue and pad are cleaned off then a quick buff over to see where the dull bits are, and compound those areas with another pass. Buff again and there you have it!
19 May 14
No prizes for guessing what has been occupying my time over the weekend.
Steve W sent me an email of encouragement, also letting me know it took 7 passes to get his polish job up to scratch. Bugga. That was before he found a video on > Perfect Polish They use a slow grind compounding technique. I might have another go on the fuselage tonight and use their method, Sonex instructions are less polish and lots of movement..
Is this getting boring yet?
A couple of hints:
I have 4 wool pads, 2 from Nuvite I bought at Oshkosh, along with their 7.5″ (180mm) hook&loop backing plate. 1 pad from TWM, one from Makita. The Makita and TWM ones are the better ones as they have much longer twills, allowing you to work the surface a lot longer. As the polishing pad moves over rivets and edges it will lose wool, mine have worn quite a bit.
Nuvites ones are too short now and only last about 30 minutes.
Not cheap at $29 but if you see them in your local tool store grab them! Makita part number is 192629-7. TWM is PWB, I think DeWalt also have a similar one.
These things are like a piece of shaggy carpet.
Don't use a lambskin polish bonnet like most car accessory places sell.
To clean the gunk of the pads once they clag up. Dissolve a few of capfuls of Selleys Original Sugar Soap into a bucket of water.
Soak pad face down for a day or more. Won't hurt the pad, and agitate occasionally to make the polish drop to the bottom of the bucket.
Rinse thoroughly under a tap squeezing out the sugar soap solution with your gloved hands until its clear.
Consider eye protection as well, I use goggles.
If you are in a hurry you can speed it up by applying some sugar soap neat on the pad and work it in. Soak for a bit , then rinse.
To dry the pad, mount it on the polisher and start it at the LOWEST speed.
Don't ask me what happens if you start on highest speed.. OK yes.. your pad will fly off across the ground to the nearest dirt pile at a blindingly fast rate of knots.. and you will have to start again or ditch it!
I use K&H wax and polish remover to clean the surface prior and post polishing with micro fibre cloths. Chuck the micro fibre cloths in the bucket of sugar soap too when they get black and gunky
You can wash them after a good rinse in Mum's washing machine but look out if black stuff gets on her white towel wash.. No I haven't been game enough so that one is hearsay 🙂
final hint – Don't do things late on a Sunday night that will cost you money if you stuff them up!!
I find the dust irritates my eyes, and I don't like blowing black snot after polishing. Hearing protection as well, the polisher gets pretty noisy. Must be getting a bit shiny, the polisher has a reflection

Not much reflection here after 3 goes with F9. The perfectpolish video is like a mirror after ONE pass!!! @%$$#*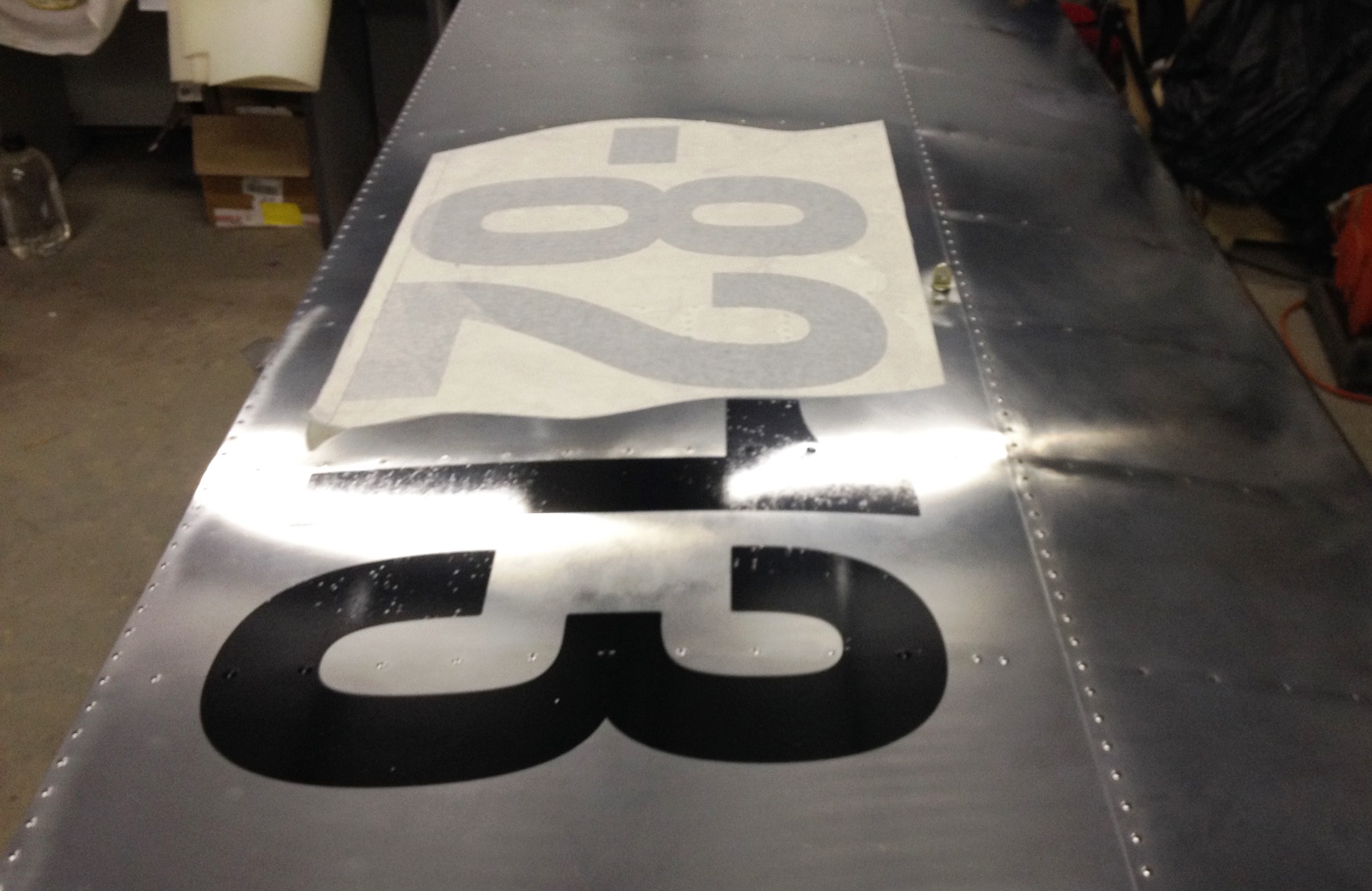 Fatal mistake, perform a complex task late on a Sunday night after 5 hours of physical effort.. human factors?? Yes buggered up the 19..

I cut the backing into 3 places as instructed but forgot to apply the film from the bottom up (direction of curvature) Oh well 2 out of 3 worked!
12 May 14
The good news is some longer southcos sent by Doug arrived, they will solve the cowl attachment problem… not so good..
Polishing, polishing, and not very well!
Don't know how people get a mirror finish with this Nuvite stuff? Lots of black dust and pad wool on the floor but not much difference in the surface finish. I did the bottom of the wings 3x F9, 2x C. As the are hard to see on the ground I wasn't too bothered about a great shine. Have just started the top of the wings. The polish tin is rapidly depleting and I still have the rest of the fuselage to go. Doesn't help when the polisher grabs the open Nuvite can and flings it across the workshop, what a mess thank goodness I had goggles on. Grey shite everywhere.
Met with my hangar buddy and moved his aircraft back where my trailer used to be. According to the tape measure, I will fit in nicely. The only issue being my aircraft will have to be moved out to get his out. Considering mine weighs a quarter of his retract Cherokee, it shouldn't be too hard. Ideally no aircraft should be moved to get the other out. Time will tell if this arrangement is satisfactory.
Hoping to be done with the heavy polishing by Saturday. Still lots of little things to do before moving day. Didn't get the wings on last Saturday as my helper abandoned ship and went to visit the grandchild, much more fun than waiting around for me lol.
Modified my Singer Industrial sewing machine with a much smaller pulley and parts to enable me to sew heavy fabric like suede and vinyl. Unfortunately after relying on the supplier for the correct vee belt I found it was too short, by about 50mm. My original selection would have ok but they substituted my order for what they said was the correct on. hmmpf!
Somehow the whole wing is supposed to look like this?

One pass of F9 on top surface. Who was it that said polishing was easier than painting? Wish I never used scotchbrite after deburring the rivet holes.

Underside has 3 passes F9 at this stage.

Fuselage waiting patiently in the garage for wings to be finished with. The sides still need to be polished as well.
28 Apr 14
Finished painting the cowls. A few hiccups with runs and blemishes, which was really annoying especially one I bumped while it was still soft. Had to sand out and repaint basecoat and clear coats to recover. Not perfect but not really noticeable now. Some slight overspray as well which has dulled the finish in places but some polishing compound will fix that.
The oil door and the electrical connector door are a bit light on red. I started to redo the oil door on Friday with the clear coat still settling and buggered it up! Always fiddling when I shouldn't as my late Mum would remind me from my aero modelling days!
I fitted the tailtips without scraping the paint off… I used some thin cardboard to shoehorn the tips into position. Worked well. I ummed and ahhed about fitting the tips prior to paint, but glad I didn't as the finish on them is really nice. The line of aluminium rivets on the aft ends adds to the Sonex look I think. I suppose I could have painted the rivets separately but past experience with the paint cracking off as they are set had me leaving them alone. I will have to be super careful rolling the aircraft backwards out of the garage as there is only about 25mm clearance either side.
I had a brain wave when fitting the hinges to the fuel and electrical doors.. I was going to use the little cotter pins or ugly lockwire but used a 3/32 countersunk rivet in each end of the hinge.
The pin had to be shortened but it works a treat and looks really neat. See photos below. The rolled hinge does spread slightly but its fine. The fuel door uses extruded hinge which is stronger.
28 Apr 14 – Addendum
Finished making the axle plugs for the axle end wheelpant attachment. The Tracy Obrien axles are hollow, thus there is no meat to drill and tap ala the factory axles. I have seen a top hat with nutplate welded on, but as the nuts are usually cadmium plated welding is a very bad idea. (I have had high levels of cadmium in my body for a while, so cant afford any more!!) So I machined these plugs out of 2024 bar. They are held in by the split pin for retaining the axle nut.
I am toying with the idea of inserting a grub screw into the side of the plug to lock the retaining screw in place. The grub screw would be accessed from the bottom via an allen key. Maybe a small plastic plug ahead of the grub screw so the thread is not "graunched" and easily backed out to remove.
I have started a list of things that need to be done before the hangar move, it is an A4 page long already!

Tail tips on without scratching! Polish doesn't look too bad at this end.

LH cowl on. Some problems with Southco not correct size. I tried Peter Bakkers idea of squeezing up the receptacles a little, but they are still tight, and one is impossible to turn.

Shorten the hinge pin, makes a countersink in the ends, and rivet as SCC 32 rivet in the end to hold.. a great idea if I must say so, ha ha

Both ends riveted and ready to fit to cowl.

Axle plug in place. The end is 10/32 thread as per standard axle. Yet to be drilled through the split pin hole in the axle.

Side view of axle plug. It is a slip fit into axle, a bit of anti-seize will hopefully keep it from corroding in place.
24 Apr 14
Added photos of flap stops. Wing is upside down on sawhorses, stop is mounted in centre of flap hinge line.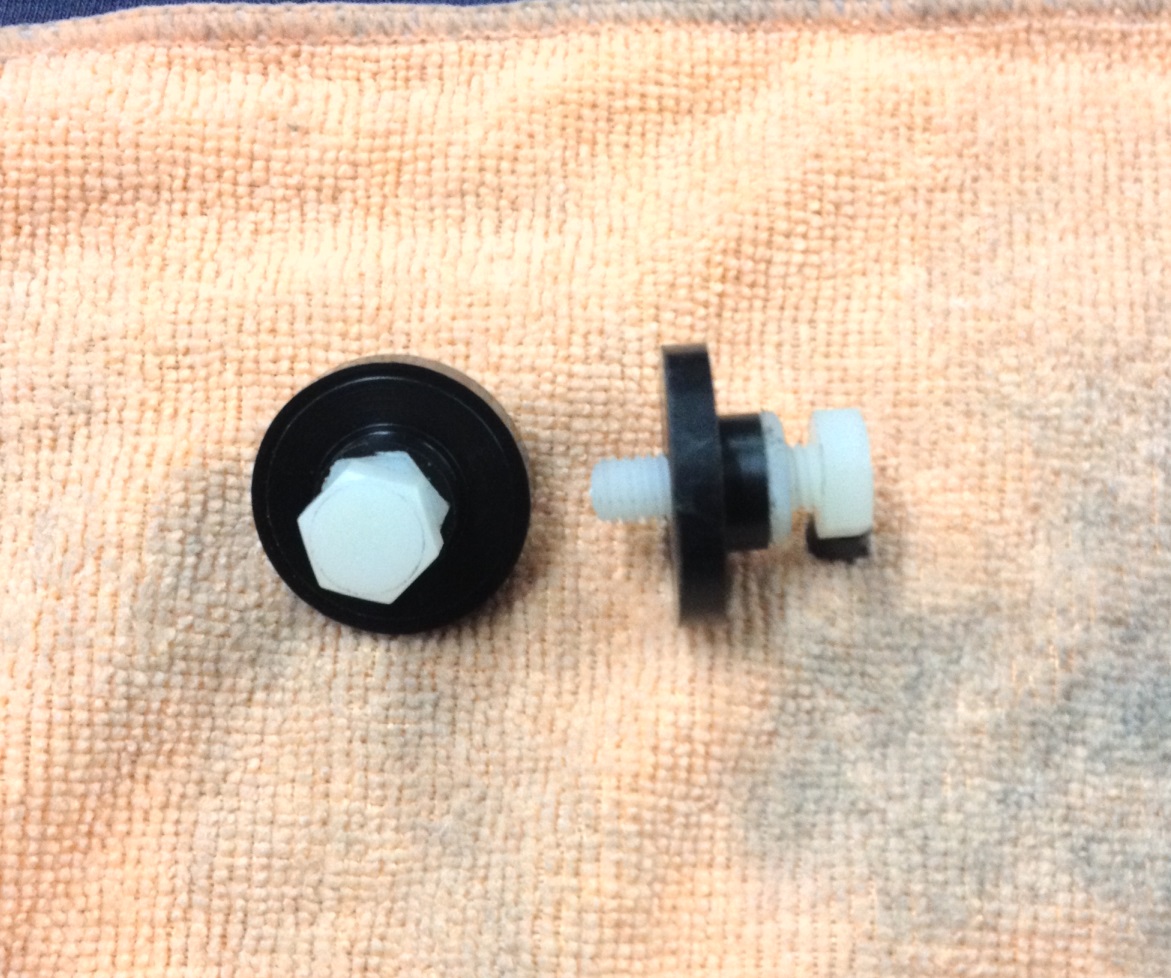 22 Apr 14
A busy Easter with family, spent most of Saturday painting clear coat. Weather was perfect, no wind and 22C. The clear coats went on with no real dramas, a bit of a run on one tailtip and a late fisheye on a wheelpant. Only managed to get one coat one the engine cowls before the night air came down. Monday was far too windy and warm. Too dusty to try and finish off the last few coats. Did a few smaller jobs in the queue, like drill and attach the strobe lights to the mounts. Also turned up some flap stops based on Peter Anson's design, as above. If I can finish the painting this week, and Anzac day is looking pretty good for paint, then I can break out the Nuvite and finish polishing the fuse and wings etc. Looking forward to that… not.
Strobes mounted and ready to be attached to wing tips.

Pretty impressed with the clear on the basecoat, nearly as good as two pack. The metallic looks better in the sun than a photo! I compared it to my ute, looks brighter… probably the white undercoat.
17 Apr 14
Well tomorrow is Good Friday, I have been scheduled to work on my daughters horse stable construction. So no shed tomorrow, and from the sound of it, maybe only Saturday!. The weather has been nice here the last couple of days so I managed to get a couple of base coats onto the wheelpants before the night air got too cold. Next stage is clear coats on everything. Should go a bit faster as there is only a 5 minute wait between coats compared to 20-30 mins with the base coat. I was considering a pearl flake in the clear coats to give that chameleon effect on the colour. Don't know, its looking pretty good as is. I have done some small jobs on the airframe as I go along to finalise, like making the canopy latch a lot smoother in operation and fitting a knob to the outside. It has a key lock instead of the padlock arrangement.
The wheelpants required the square cutout to fit around the Obrien axles. I fibreglassed a panel inside each of the wheelpants rear section to prevent mud accumulation as well. They look ok with colour on but got a few fisheyes in the first coats. I have water trap/filters at the compressor and fitted to each gun I'm using but with the humidity, water and oil still manage to get through on occasion. Should really clean out the air line with a wad of material soaked in solvent, shot through the line with air pressure!
I went up to the hangar last weekend to see where I'm going to fit. When I pull my old trailer out we should be able to rearrange 2 Pipers to fit mine in. The owner of the Pipers sounds pretty helpful on the phone, but we shall see when mines in there.
Once the clearcoats are on and cured I think I might assemble the aircraft and get some of the control rigging and the main wing root seals on. Might be easier at home than at the hangar if I'm squashed up against another aircraft.
Maybe next year I'll get to fly to Natfly, now that I have finished and passed my X country endorsement!
Thankyou Diana! If you need training, a refresher or BFR visit CFI Diana at Strathalbyn Airstrip website with details: Flying Online
Engine cowls basecoat finished. The bump underside on the right hand cowl is for clearance on the Jabiru muffler. You can also see the sump air outlet. May have to make air inlets holes in the bumps if they get too hot. (Heatshield on the inside)

LH wheelpant. The square cutout is for the Tracy Obrien axles. Should stop the pant from rotating around the axle!

RH wheelpant. A few blemishes not visible in the photo, 2 more basecoats required to finish off. Then clear on everything.. at last!
27 Mar 14
Getting some colour on! Finally got some time to finish priming the fibreglass components. Also finished off the wheelpant joins.
A nice autumn day for painting last saturday, calm winds warm day. Experimented with the red metallic base coat and reducer ratios. Painted the wing tips first, but used a small gun so they are a bit streaky. Played around with my HLVP gun and managed to get it operating nice. They don't come with basic instructions for each control, so its a suck it and see approach.
Did a bit more last evening and started on the tail tips. A mist coat first, then second coat after it flashes off. 4 coats seems to be about right.
The white primer really makes the red a nice colour. If it goes on straight over the dark grey etch primer, its more a maroon colour. I tried it over light grey primer as well but its a bit subdued. Hence all the extra work getting the white primer on.
Once all the metallic is done, it is sprayed over with clear coat. I'm using single pack instead of 2 pack acrylic, as I dont have a spraybooth or the right PPE for the 2 pack stuff. The hardest part is keeping the gun perpendicular to the surface, if you don't the metallic grains lay over different directions and the metallic shimmer is patchy. Would be nice to paint the whole aircraft in the same colour but the weight penalty would be huge. Over metal it would be etch primer, white primer then 3-4 coats of metallic base, and 3-4 coats of clear! Maybe if I upgrade to a 3300 one day?
All suited up, areas around the shop look like Texas chainsaw massacre! Didn't cut my thumb just a bit of spillage.

First coat onto tail tips. First one had a few runs as the gun was a bit close to the work surface. A resand respray will get it back.

Strobe mounts screw onto wingtip anchor nuts. Need to find a small connector to plug them into the wiring harness.

Wingtips are still a bit streaky, depending on the viewing angle. I did these first as they are under the tips and not so in your face.
28 Feb 14
The weather has finally cooled down for the last few weeks. Haven't managed to do a great deal on the Sonex but have logged 11.4 hours of dual and solo time in the Tecnam for my cross country endorsement.
Has been a great learning experience to go somewhere 2-3 hours away from home base, and be presented with problems to be solved enroute. I have a final solo exercise on the 1 Mar 14 then sit the theory exam. If all goes well my flight test will be on the 15 Mar 14. When I flew my old buzz bucket, I had 1 hour of fuel, no reserve. So it was 30 mins outbound into whatever headwind, then turnaround for home.. those were the days!
I have been preparing the fibreglass components for paint. I am using a white PPG primer surfacer for fibreglass which goes on very nice. I had a problem with the gun spitting the first time I used it, but realised I had to make the mix thinner than on the instructions. I added another 20% of thinner and all was good. Its amazing how pinholes will show up when the primer is wet. Thank goodness for stop putty! I had to pretty mush sand off the first application on my wingtips, nav light pods, tail tips and parts of the cowlings. I also started work on widening the wheelpants to give a bit more room for the 5.00 x 5 tires fitted. Not sure if I will fit them for the test flying, but I want to have them on for the weight and balance calculations.Probably will do 2 sets of calcs, fitted not fitted.
The cordura material I ordered from the States arrived, so I need to think about sewing up some test cushions and make patterns for the real thing. I am using black with red trim panels in the centre of each seat. It looks good in my head but what it ends up like may be different.
RH cowl part primed. Working to get the NACA duct looking smooth. Has come up not too bad.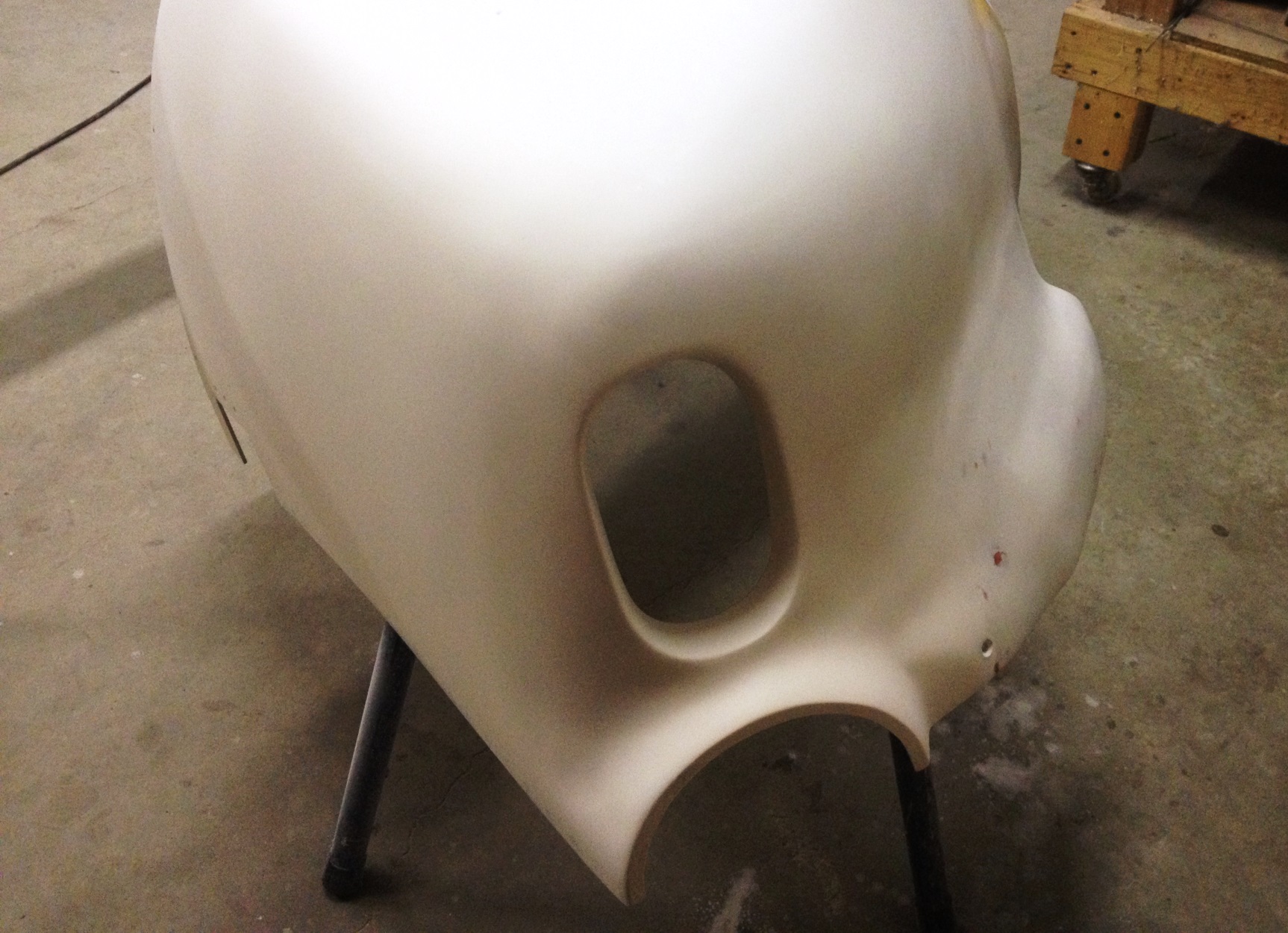 LH cowl part primed. A number of pinholes in the sump bump to be covered. The uneven surface is also showing up. Don't think I could be bothered lathering on layers of bog to get it smooth. Colour might change that LOL

Wing tips and oil filler door primed. Had to sand most of the tips off as the spitting gun made the paint application uneven.

NAV/strobe light pods. Full of pinholes! Grey items are fuel and battery connector doors. Iphone is not good in low light!

Have partially cut the wheelpants to widen. I am considering cutting them apart and inserting a foam spacer to widen them about 25mm. Then epoxy/fibreglass over the foam and remove. Also make a flat piece to enclose the rear inside section of the pant to stop mud accumulation.

Arrived at Naracoorte SA after 2.7 hours. Feeling a bit knackered and hungry. Local time was 3pm, no in flight full service! Note the hat, Tecnams might be nice but I'm looking forward to flying the Sonex.

Tracking south from YMEG to YKIG along the Coorong. Absolutely beautiful! Couldn't get above 1500′ so kept on the land side, rather than the beach.

Another view of the Coorong. A few minutes out of Salt Creek. A little puffy cloud at 1500′ ahead.
17 Jan 14
Not too much happening in the shed this week. Today is the last day of a 5 day run of temperatures over 42C. A change is due this afternoon so hopefully the 18 Jan will be much cooler. Not that I'll be doing much tomorrow as I booked in for a Navigation theory day to work towards my Cross Country endorsement. Would like to get some primer on fibreglass before the weekends out.
I went out last night at about 6pm to see if it was bearable. Nope! I had moved my expensive paint to the laundry, but I forgot about a can of spray putty and a primer. They were bulging and ready to pop the lids off.
Left them where they were and quietly locked the shed door behind me.
6PM – How hot..? D_MN Hot!! (48C or 118.4F)
3 Jan 14
Happy New year! Spent New Years day in the shed, hot and humid but made progress, which is always better than none or going backwards.
Worked on fitting the wingtips, strobelight mounts and started sanding back the gear leg fairings on the cowls.
Also did one pass of F9 polish on the RH lower wing. Still having trouble nailing this process. Could be that you just can't do it when the temps are in the 30"s C.
I found a Makita brand pad that is thicker than the nuvite pads. It worked better than them, longer twills meant it took longer to gunk up. After a while, if the polish goes spotty, tarry and refses to polish off, its time to change pads. Even though I used the pad cleaner spikey thing, it gets to a point where the pad doesnt work anymore. I use Selleys original sugar soap in a bucket of water to soak the pads, gets the muck off quickly. Not so much luck with the microfibre towels, but I dont think it was a strong enough mix.
I hate polishing.
I had to rework the rear wingtip mount angles as they were sticking up too high. Once the angle piece was repositioned I found the original holes for the angle were almost in the bend. I redrilled 3 new holes at the right edge distances. Shouldn't make any difference with 1 rivet less holding the angle on. The centre ones area little proud too, but I'm not fixing those. The fit of the wingtips is not good at the leading edge, but maybe an application of some filler will neaten it up a bit. Great more sanding!
I fitted the wing tip light mounts with nutplates, screws and finishing washers. The fibreglass tips are bowed inwards but the light mounts have pulled them flatter, which is good. Should look good once they are all primed and painted.
I started blending in the cowl leg fairings. I mixed some resin and filler to a watery consistency, and painted the open weave of the fibreglass matt. Theory being it would sand off easily and fill all the little dints and bumps. Did the same with the light mounts. Appears to have worked after sanding down the light mounts to just show the weave. Some primer filler and sanding should make them smooth.
I hate sanding.

Had to remake the attach angles, they were sitting up too high.

The 4 original holes were too close to the bend radius on the angle so I redrilled for 3 rivets.

Mount on the left has been painted with epoxy/filler slurry. The RH one has been sanded back to just above the weave.

Mounted with nutplates and -8 screws. Couldn't find my stainless ones, so used cad plated. Light is a whelan LED strobe/nav combo.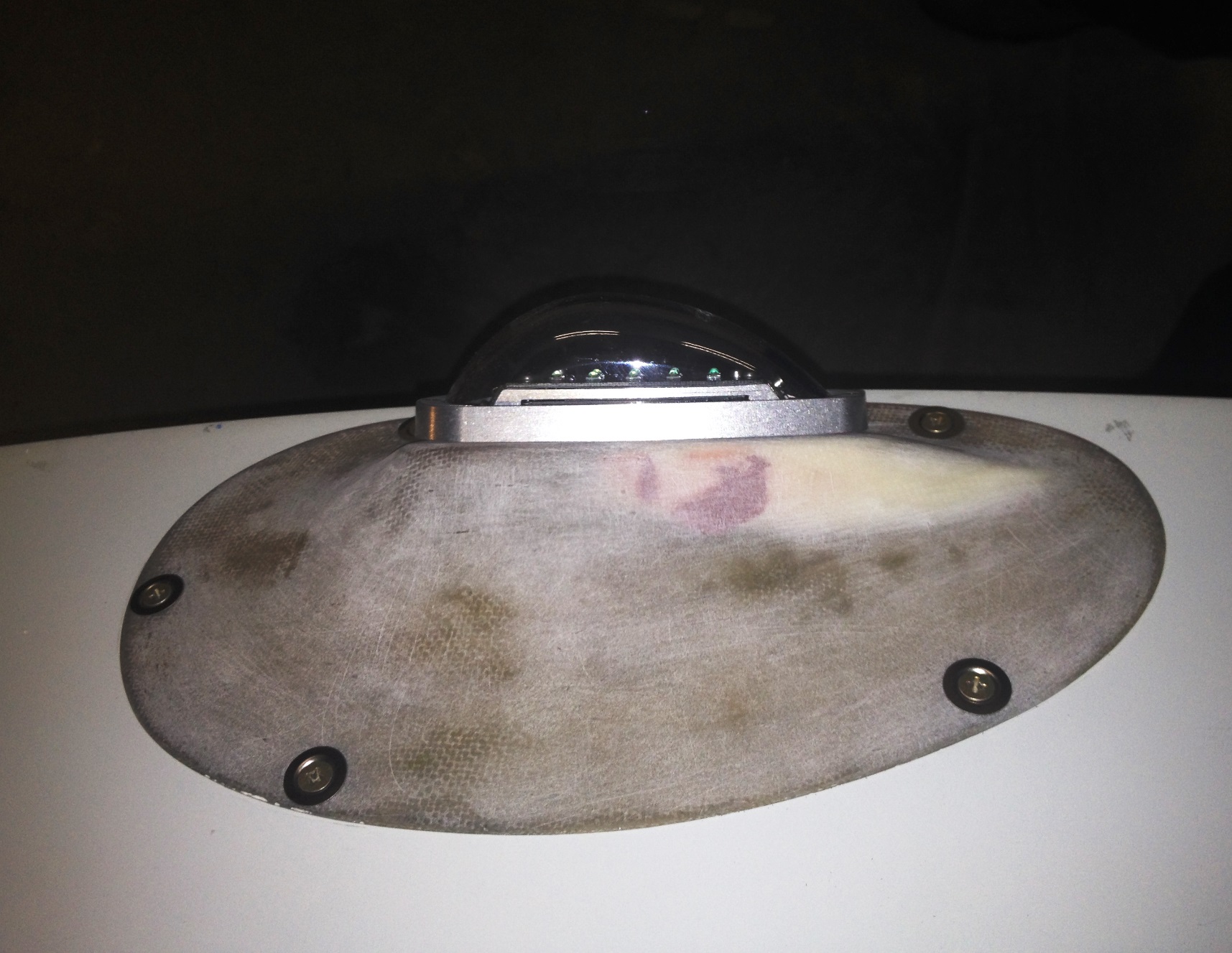 Light is flush with tip so that it can be seen from above. I have some plastic spacer material to push them out further but that then exposes them to damage. Will leave as is for now.

RH side.

Started sanding back the cowl U/C leg fairings. Bit of work to get trimmed and sanded.

Getting there. Need to make a template to get both sides the same. This side is a bit shorter than the other.
30 Dec 13
Well Christmas is done and dusted! Managed to get a little time in the shed but no leave this year as we used it all in October.
Rivets arrived from Peter Anson, owe you a beer or three Peter, especially after giving you the wrong address! Finished the last CP-46 CP-44 rivets for the lower aft fuselage skin, good to get that done.
Cut the lower rear corners of the cowl to allow easier fitment of the cowl over the leg fairings.
Mixed up some epoxy and made some fibreglass farings to cover the larger hole and secure the leg fairings from rotating in the breeze. Copied Lynn's idea.
Still a lot of sanding and filling to do before I can prime the cowling completly and shoot some colour on it and the other bits of fibreglass.
For Christmas I received a pair of wheel dollies. I decided I could use them to manouvre the fuselage to the door opening of the shed without trying to roll it back and forth holding the tail and breaking something. Primarily the propellor. Worked a treat, just swung it around, moved some stuff out of the way and moved the fuselage up into the car garage. The only downside was I was unable to lift the gear leg by hand into the dolly without having a hernia… so I jacked the legs up and slid the dolly into position.
I'm thinking I could modify them in such a way I could make a cut out one end, and add a hinged ramp to roll the wheels up into the dolly.
With the fuselage safely locked in the garage, I placed the wings on sawhorses. Enough room to place them end to end and still work around them. Good decision to build a big shed 17 years ago LOL
I have a Duckworks HID landing light in the left wing, and whelan LED strobe/nav lights for the tips. During construction of the wing I installed a plastic conduit for dragging the wires through.
In a previous life I used to work as a member of the "Mod Squad", carrying out wirng modifications to P3 Orions, so a little recycling of those old skills came in handy. I shot a pull string through the conduit with compressed air, then attached all 6 wires for the LH wing. Pulled them through easy-peasy, but nothing like trying to pull wiring looms through the bowels of a P3 though. LOL.
I found some old protective sleeve material that used to be used on Mirage III's wiring runs. They were full of it. Its not fireproof and melts easily, so I dont know why they actually used the stuff in a fighter jet! It does prevent chafing though and looks pretty. I used some of it on each end of the wing looms. Molex type plugs finish the connections at the wing roots. The light ends will be butt-connected to the hardware.
I bought some fibreglass Vans wintip light mounts years ago. They have been modified to suit the whelan units, probably would have been quicker to make them from scratch.
Once they are finished smooth.. pretty rough still, I will attach them to the wingtips with screws and nutplates.
When the wingtips are done I can start polishing the darn wings. Then I can say they are finished, apart from a bit of wingwalk material I have in a box somewhere in my shed!
Currently looking for an industrial sewing machine at the right price, for some reason South Australians seem to think their second hand machines are worth double their eastern counterparts when you troll through eBay and Gumtree. I intend to sew up a seat and stick boots. Will be fun.. maybe. Sometimes my vision and my execution are vastly dfferent.
Engine start is not too far away, I was waiting on the wheel dollies to get the fuselage out of the shed, now that I can do that easily there isn't anything else holding up that milestone.. apart from TIME!
Aiming to get it into the hangar by the end of January.
My Christmas present was a pair of car wheel dollies. These make manouvring of the fuse out of the shed a breeze. Can stand at the front and push it sideways.

Placed some tape around the top of the fairing and laid fibreglass on to form a nice junction. It serves 2 purposes, cover the holes and keep the leg farings straight. Still need filler and sanding to make pretty.

Wings on sawhorses end to end. Plenty of room to work around. Skins are quite oxidised and one area had cat pee on it! I was always chasing te cat out of the shed in case he did it. Wiley old bugger managed to get one in.

Pull through is hanging out of the wing conduit. Attached all 6 wires and pulled them back through. 2 for the landing light (12AWG) and 4 for the strobe (20 AWG)

In they go. Conduit is caravan water pipe, found some really cheap online.

Finished cable end, with molex style connector. Protective sleeving from Mirage III fighter jet. Not sure how I ended up with it in my spares box as I thought I used most of it on my old 95-10 machine.
10 Dec 13
Finished the brake installation after fitting the cable guides I made last weekend. I was going to use AN100 thimbles on the cable through AN43 eyebolts for adjustment, however there isnt quite enough room to fit all that in between the cable guide end and the brake arm. So I just went with the double Azusa cable swivels. I can see though the cable will fret as the swivel rotates in the brake arm. I spent a fair bit of time on the lathe and mill to make an adjuster at the handle end, didnt get a photo though. It has a small aircraft cable pulley on it instead of a nylon pulley. Only because the mill bit was a bit "rubbery" and cut a 7.5mm slot instead of 6mm!!! Anyway should be able to get an inch or two of handle adjustment as the cable stretches, or redo the swivel ends if it comes to that.
I dragged out the landing fairings and attempted to fit them, once again the T'OBrien axles required some deft trimming to allow for the weldments and the cable guides. In the end I just cut it short rather than trying to work around it all! I will make a fibreglass cover for the wheelpant fairiing join a bit later, for test flying though it should reduce the drag a bit. After the landing gear fairings were on, I refitted the engine cowls… well attempted to fit the engine cowls! They did not want to go on very well with the leading edge of the fairing stopping the couwl from seating rearwards properly. Also the lack of rearward manouvring room prevented the exhaust pipes from slipping into the cowl ducts. Mmmm I will probably need to do a bit of trimming around the holes for the UC legs. I could have trimmed the cowl more to get rid of the overhang when I did the inital fitting but I was concerned I was going to end up with a big gap around the prop hub. I'm going to fair those in with fibreglass to stop the fairing from rotating anyway. If the hole is big enough the cowls should go on easier. I had to push the fairing back down the leg which stripped the paint off the cable guides.. hmmpf!
Last night I pulled the flaps and ailerons out of their respective storage boxes and hinged them on the wing. When I originally fitted the hinges I had some umming and ahhing over the gaps between the aileron and flap and the fact the trailing edges don't line up properly. The left hand aileron fell off the bench just after I had congratulated myself on making and fitting a perfect tip rib. (The kit ones were very poor.) It landed right on the tip end and after taking the dent out, it was 1/16-1/8″ shorter. To compensate I moved the hinge along to get it level with the tip. When the flap went on of course there was a bigger gap.. sigh. Oh well such is aircraft building!
Probably won't make any difference to how it flies but its a bit obvious on the ground. I do remember someone saying the trick is to park the aircraft with a bit of left or right stick lashed in, so the aileron is away from neutral. Could also leave one notch of flap in ha ha.
The aileron control rods are fitted but no cotter pins in the bolts yet as I've run out of those too…better get that Aircraft Spruce order in! The operation is very smooth though, I must have done something right as I had no trouble sliding the flap and aileron the hinge pins in by hand.
I have some LED strobe lights to fit to the wingtips. I bought some Vans fibreglass tip mounts ages ago, but they are a bit small. They are also designed to go on a slightly rounded tip surface. I got out the heat gun and softened the fibreglass to flatten them out on the bench. Looks like it will work out. I did get some delamination, but I will put a layer of epoxy glass over the top and back to stiffen them a bit more. They're non structural so won't matter too much.
Lots of little jobs to bring it all together, just have to keep focus and do one thing at a time, not jump from one thing to another, which is my habit!
I am hopefull of getting it all done by January. I don't have any time off over Christmas but should be able to fit a few hours here and there.
Onwards and upwards!
PS Many thanks to Peter Anson and Doug Mclean who read between the lines and offered extra rivets to get me over the line.
Standard Azusa swivels on the cables. The axles are Tracy OBrien type, hance the four nuts holding the brake backing plate on.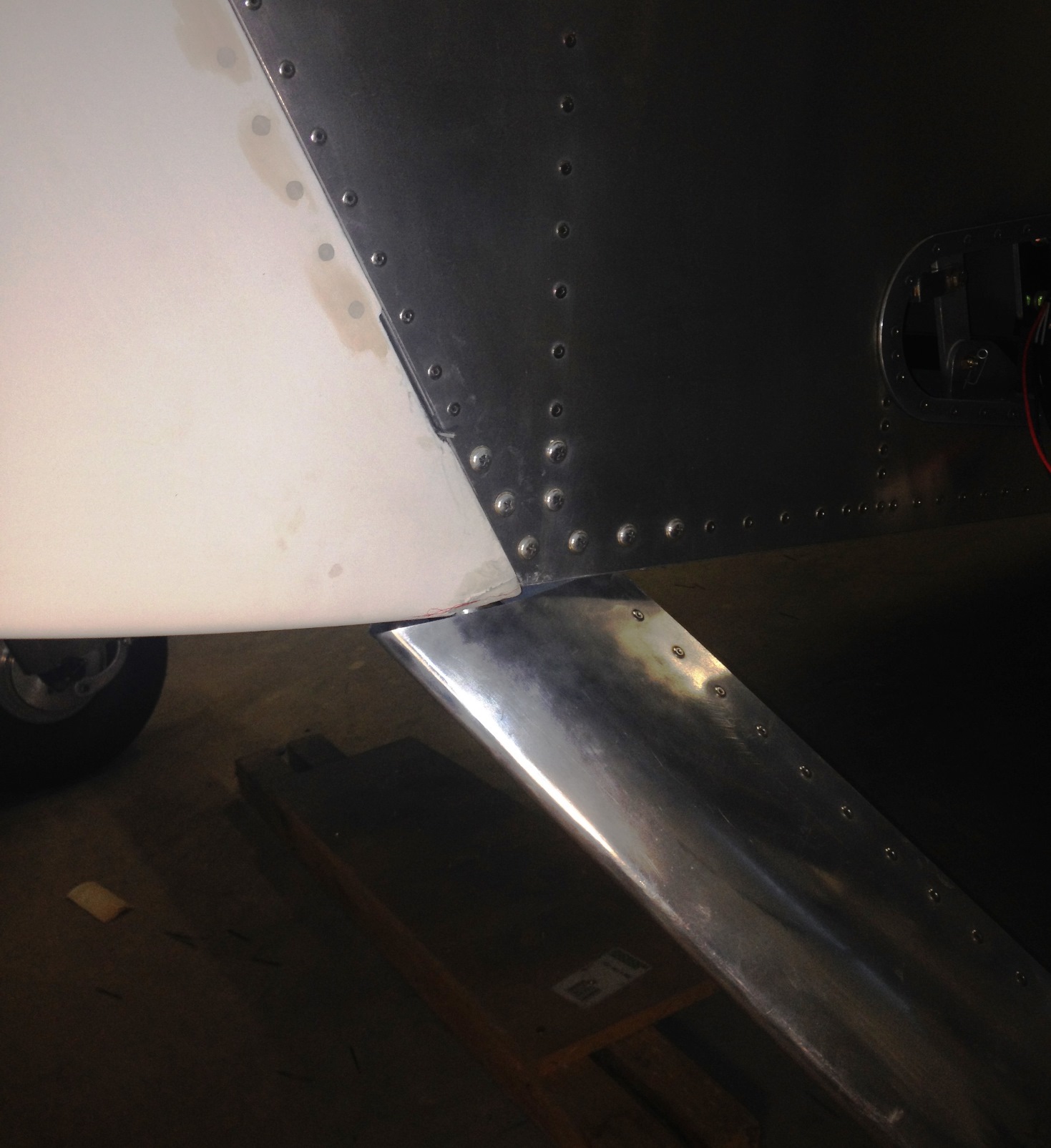 Cowl/fairing interferance. Can just see the red line for trimming. Hopefully that will make it easier to get the cowl on and off.

Cowl almost done, this is the longest part of fitting the engine!

Did I show you my oil door? Should work well for access
2 DEC 13
Finaly got around to making new brake cable guides. One of the last tricky jobs I had on my list. I have postulated on how to jig and weld them for what seems like years! I needed new ones because I have the Tracy O'Brien axles with standard Azuza brakes. The geometry is such that the old guides wouldn't work. The old story change one thing spend ages engineering around it!. To add to the trepidation I haven't used an oxy-acetylene welder for about 33 years. I first learned to use one as an RAAF Engineering apprentice at RAAFSTT Wagga in 1975. I did consider farming it out but seeemed too hard. Anyway, something must have stuck in the brain as I fusion welded the guide to the locating tab no problem, once I had it tacked together. That was a the hard part but using a scrap piece of 4130 tube and a 1/4″ bolt I was able to keep them together, tack then finish weld.
Last week I riveted on the rear aft skin, I can't think of anything else I need to do back there so on it went. I provided two inspection holes, one to allow me to grease the elevator rod guide if required. The other to provide a bit more access the tailwheel weldment if it needs work. Both hints from Lynn Jarvis after his weldment cracked. He also had to crawl into the fuse to grease his elevator guide early on.
After rivetting it on I find I am short 7 x CCP-46 rivets, and had only 4 CCP-44 rivets left. I guess I'll have to order some more CCP44, CCP46 and probably a bunch of CCP42's. There just doesn't seem to be quite enough of them in the kit. I don't recall having to drill out great quantities of any of them, and use more than the required amounts?
I took Lynne for a fly on Saturday as well, I hired the Tecnam Golf from our local school, Flyingonline.biz. We flew down to the Murray Mouth and stooged around there for a while, then flew back to Langhorne Creek to fly over our daughters chicken farm. Was a bit rough below 1000 ft so we stayed high. Sheree took a photo of us but we are just a white speck in the sky!.
I have bought all the paint and primer to do the fibreglass stuff, so once I get motivated, the fibreglass can be final sanded then primed, then painted.
Next construction part of the project is to revisit the wings and get the control surfaces on and rigged… and some polishing… looking forward to that.. not.
Then maybe we can get it up to the hangar! yay!
Bender made up out of scrap steel and aluminium rod. Heated tubing then placed in bender, added more heat to get desired radius.

Tab was tacked with a bolt and scrap pice holding it in desired position. Then finish welded

Guides welded to tabs. Tab material is same size as axle socket.

Guides primed with etch primer, then black epoxy enamel. A bit soft but seems to work Ok to protect the steel.

Comet Oxy set, I bought this around 1985 for buliding my early 95:10 ultralight. Never needed it until now. Was a little concerned the regulators would have problems with seals but all was good to go.

Aft skin stitched on, 2 inspection holes give maintenance access for servicing and repair.

Murray Mouth from the cockpit of Flyingonline.biz's Tecnam Golf P96. Nice day at 2500′, bit bumpy any lower.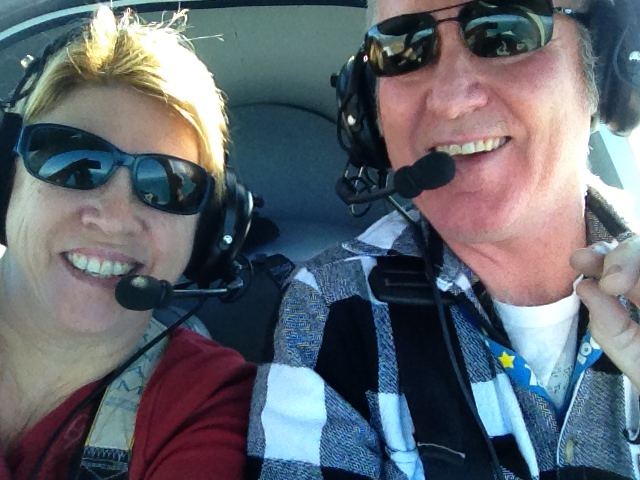 My first passenger after gaining my Pax endorsement. Lynne last flew with me when I had an RPPL 20+ years ago!
12 Nov 13
Who said I was getting closer! Well my BFR was finally signed off, so I am legal again. At least I'm a bit more confident in the air now after about 12 hours of dual and a couple solo. Just need some tail dragger time to hone those skills.
Big delay, had to build a retaining wall thats been promised for about 8 years, kept putting it off as I was working on the Sonex. Couldn't get away with it anymore, so that was done recently. Was quoted $15k, no fill, no ag pipe etc.. just the wall and steps. Did it for less than $5k, including drains etc. Just need a bit more fill behind it.
Anyway back to the project!
Have been doing a lot of fibreglass work on the cowls, filling sanding, filling sanding, filling sanding… how does anyone build a whole aircraft this way! Crazy, LOL!
The sump bump looks quite good,and is fairing in nicely. I have a short piece on hinge to hold it together and its retained by a nifty little clip I made. It also has a bend in it to bias the hinge pin into the clip. So I should not have it back out. I haven't cut an air inlet at the front yet, just want to see how it goes without it.
I installed a 2″ fibreglass NACA duct on the LH side for a cool air inlet to the air filter. I simply molded over a Vans plastic duct. I also made an aluminium box to enclose the filter. I will probably block of the NACA duct and not have the filter box in place for the initial fllights to see how it goes with tuning the carb. Then I will have a baseline to work from as I'm sure the tuning will change.
While I was waiting for filler to cure I started in on all those little jobs that get bypassed during the main construction, like terminating wires to wings with molex plugs that sort of thing.
A fair bit of wing work to revisit, installing control surfaces, rigging. Doing the tips.
I did the lowered seat mod a while back but I have had the trim spring dragging under it and I can feel the seat bottom touching the framework under the seat. The edge of it is right under the coccyx. A hard landing could do some spinal damage so I but the bullet, and cut the seat pan to reduce the amount of drop seat from 40mm to 20mm. I also made some reinforcing angles 75 x 45 to go over the join along the rear bottom hinge line. This should provide a bit more support and stop the seat pan pulling apart in higher G's i.e. a forced landing. I also plan to put some stryrofoam packaging underneath to cushion it as well.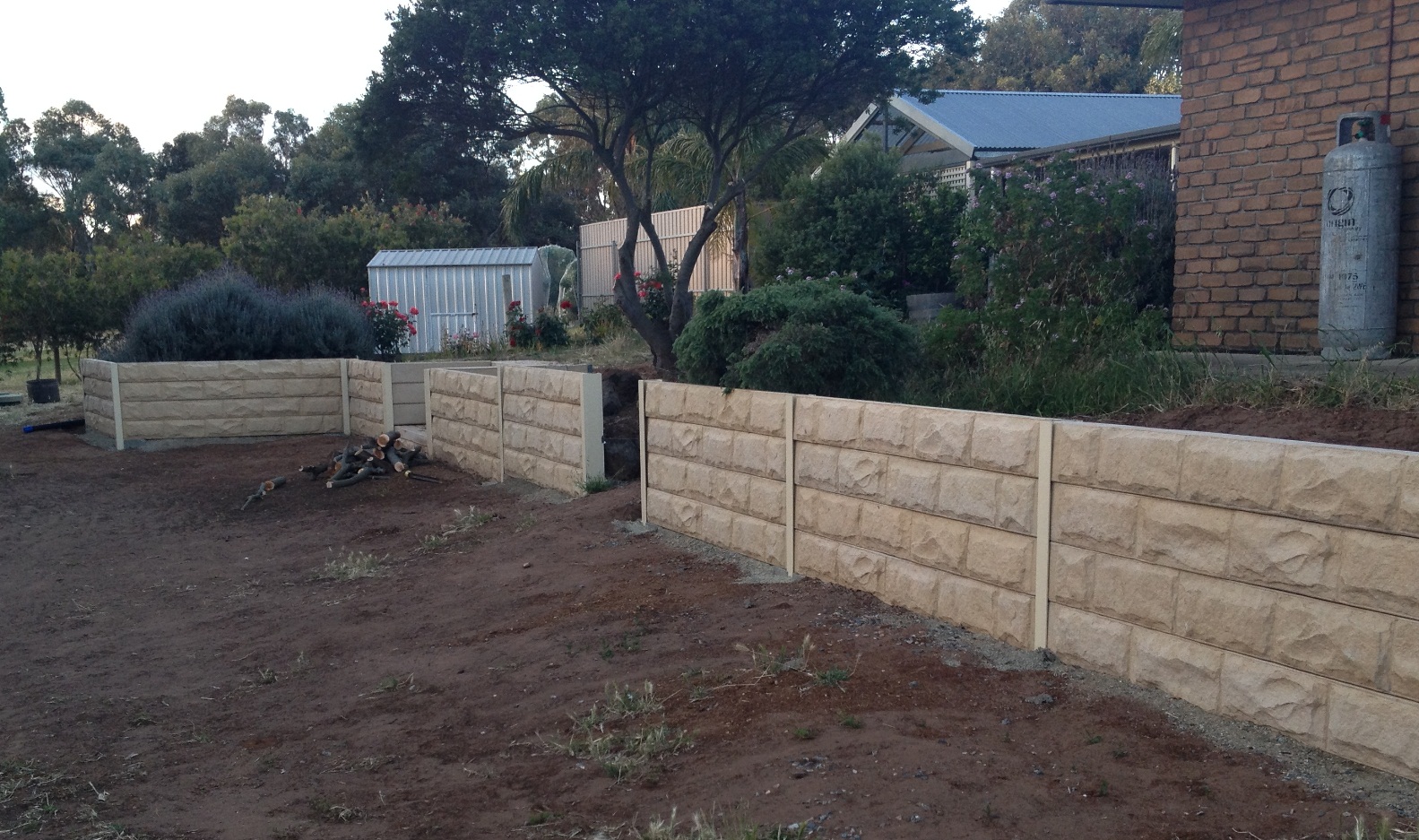 Some things just have to be done to keep the peace Ha ha.

Front view of the sump bump. To the right of it is also a clearance blister for the exhaust muffler. It is lined with heat shield material.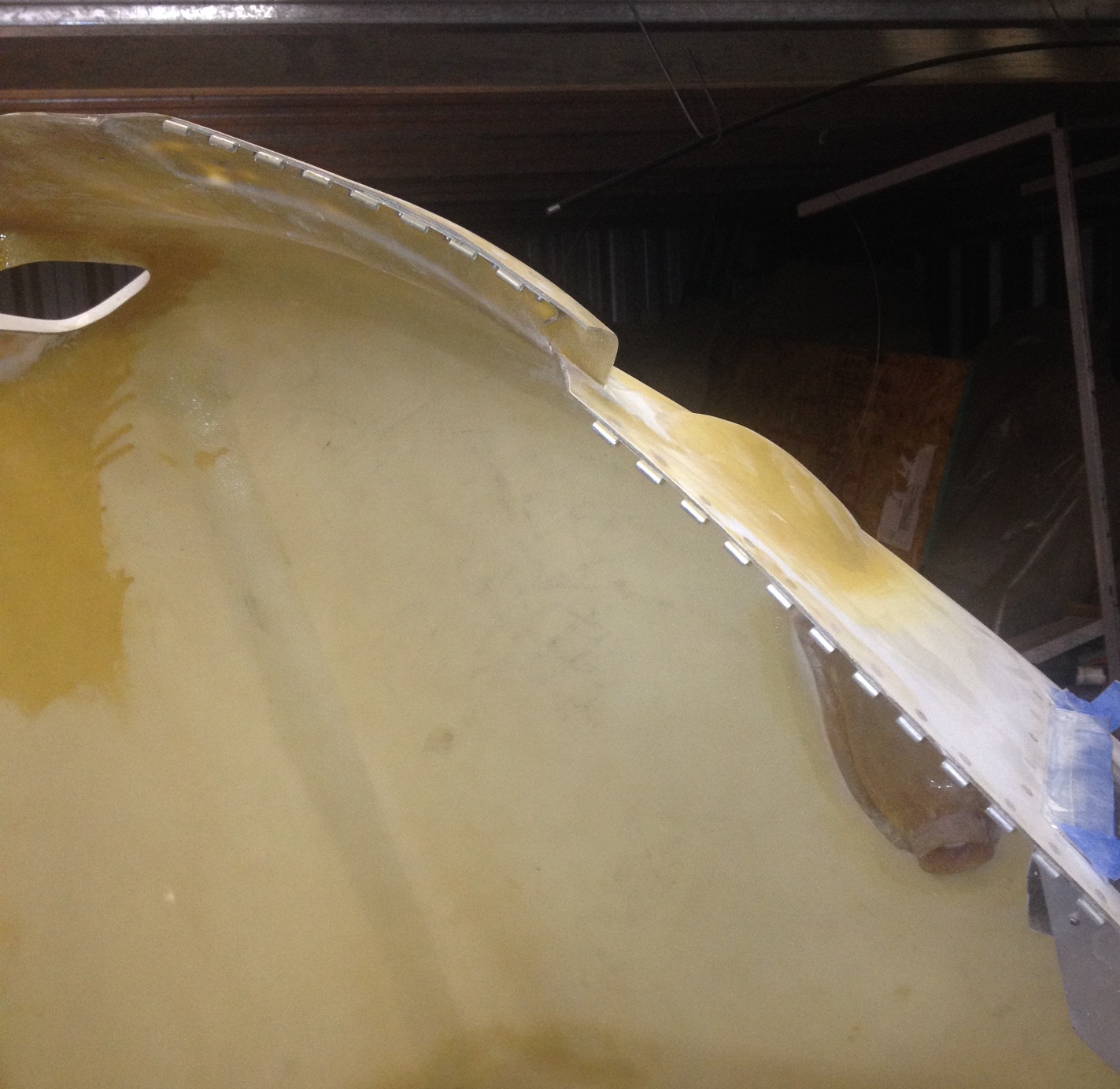 Inside of the cowl bump, this was required to clear the later 2200 sump. In the background is the 2″ NACA duct for cool air.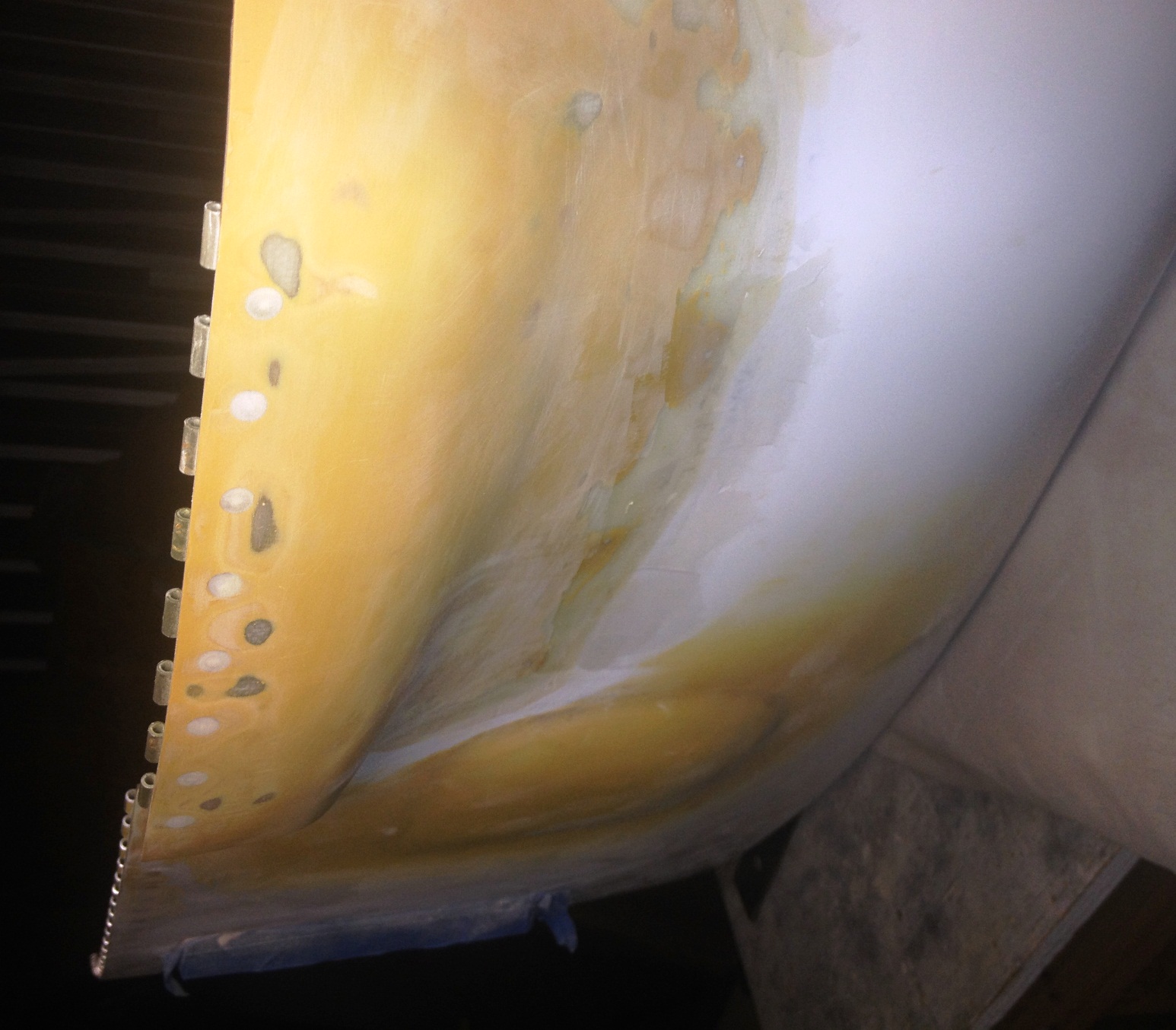 Another view of sump bump and muffler blister

Inspired by the fuel door on my car, I got real fancy with the oil door after mucking about with 5 different metal doors! Camera has filler dust on it, sorry about the quality. 🙂

I have some adjustment via the nutplates for the various screws holding the hinge to the door. Not quite lined up in this pic. But doesnt look too bad.
16 Sep 13
Getting closer, not getting a lot of time saturdays to finish off the engine tasks! I got to say I am enjoying the flying in the mornings though. Last weekend was low level circuit practice which was a bit of a workout for me.
Just need to redo a pre-solo and air leg practice exam for the CFI to see where my knowledge is at and my BFR should be done and dusted. Then I will look at some TW training to get back up to speed with TW ops!
I finished of a hot air muff, although its not required for an Aeroinjector, if I refit the Bing I will need it. Bit of a metalwork jigsaw to make a tube then attach it to the muff body. Should work OK though.
SCAT routes around wiring ok. Elbow fitted to hot air box lines up perfectly. Figjam.

Muff is held on with a bit of wire. Car accessory shop was closed when I went down to fetch some hose clamps! Imagine that on a Sunday!
5 Sep 13
Finished making the oil catch bottle. Turned up a fitting to glue in the bottom with a 1/8-27 NPT thread. Decided to just plug it rather than put in an expensive Curtis tap. Fabricated a bracket to hold it. Last bit is to connect it with breather hose and make the overboard vent. I also drilled a hole for the oil cooler door cable control in the firewall and made a stainless grommet guard to fit over the grommet. Last task for the week was to test fitt the propellor, a 54 x 48 Sensenich wood. Looks tiny, but should give good two-up climb performance. We'll see how it performs before deciding if it needs a coarser pitch. (50-52″). Getting close to a start. Should be able to get the prop torqued and tracking properly and finish off the oil catch vent tomorrow after my weekly flying training session. Lets hope Im better this week, I was crap last week!
The cap has a steel screen to allow oil mist to condense and drip into container. Well thats the theory…

Better shot of inside and cap. The aluminium fitting and steel screen are glued into place with filleting adhesive powder/epoxy

Finished bottle, cap will be glued in.

Oil catch bottle in position on stainless bracket. A hose clamp will secure it as the wrap around bracket is a bit too flexible. The blue npt cap has been screwed into the bottom. The fibreglass attachment to the scat tubing is the oil cooler door assembly.
30 Aug 13
Not much happening this week, after a bereavement in the family. RIP Mum. Made some progress on the control for the oil door. Took all day to make the brackets to attach the cable to the spar tunnel. The main bracket is made of 3/16″ angle, with 2 8/32 tapped holes for the 1/8″ angle piece that has the control knob. This can be unscrewed and removed if the whole concept is dodgy in operation. The 3/16″ piece remains riveted to the tunnel.
The cable will route through the lower firewall, over the oil cooler shroud and onto the door assembly.
Started fabricating an oil recovery bottle, a simple tube of fiberglass with 2 ends glued in. 12mm aluminium pipes will be added in to connect the engine breather and overflow, very similar to the Jabiru factory design.

End cap is a pressure pipe fitting. Tube was molded around an aluminium billet. Could be a tad small but we'll see.

Door is a little crooked as the duct is not attached to the cowl properly. This is full open position.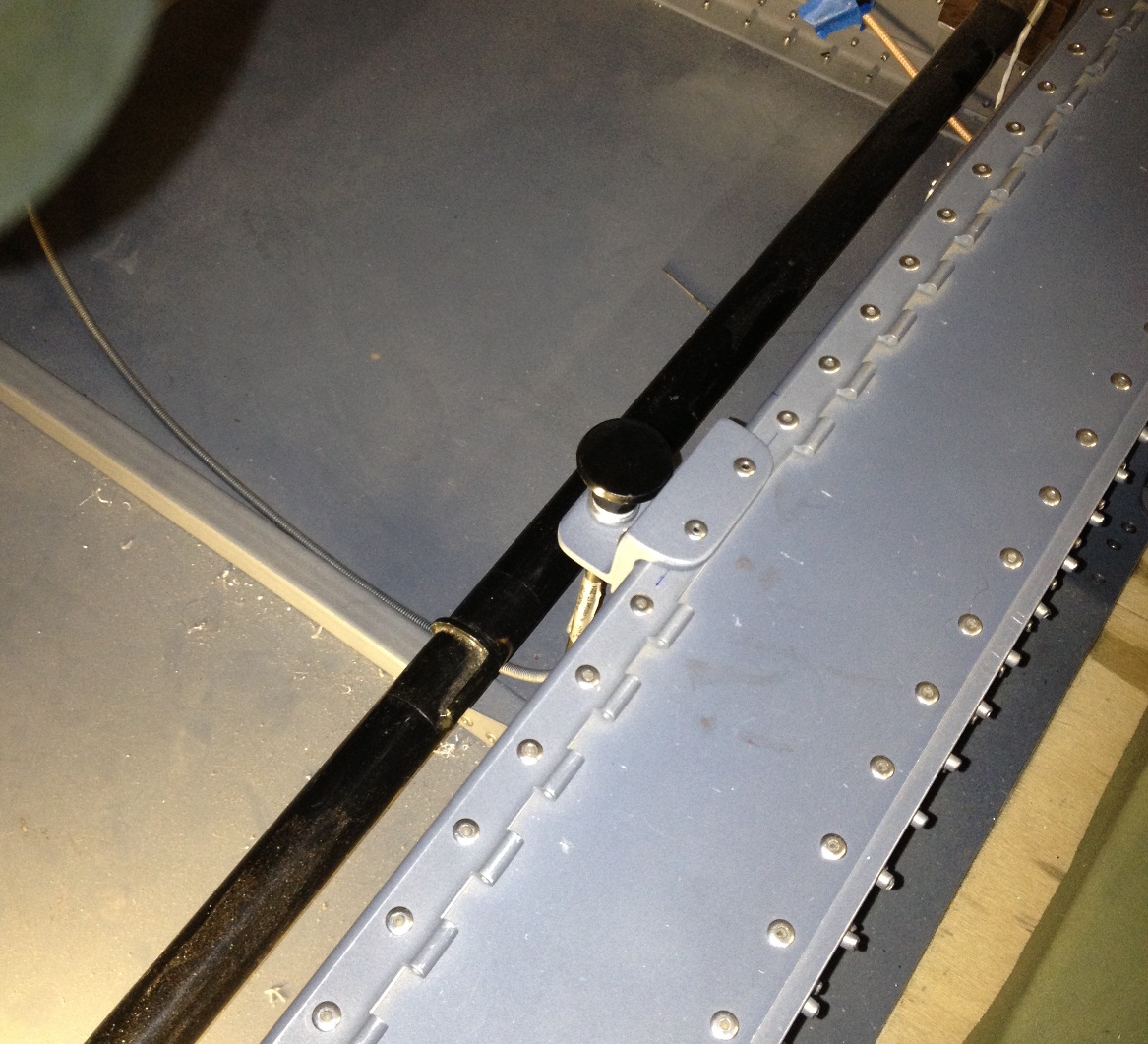 This is the Oil Cooler door control mounted on the spar tunnel. With Knob in door is full open. The smaller bracker is attached with screws to the tunnel bracket.

Knob is pulled to close the door. For take-off the door should be open. Banging the knob to the stop on a go-around should be easier than trying to pull it open.
12 Aug 13
Progress is slow and variable but am making more headway than not! Too many interruptions to the Saturday work routine though. I booked a couple of sessions at the start of this month with my local flying school, FlyingOnline.Biz based at Strathalbyn Airstrip (YSYN) I also updated my RAAus membership and a review of my logbooks showed I havent officially flown since 2003!! Where did the last 10 years go? At the end of the first session I felt I should start all over again from scratch – like ab-initio but by the end of the second, it was starting to come back. Just have to brush up on some operational knowledge and another hour or two flying and I should be right for having my BFR signed off.
As far as the Sonex is concerned, I worked out how I am going to manage the air outlet from the cooler to have some control over the oil temperature (hopefully!). The outlet assembly complete with control cable will stay with the engine when the cowl is removed. That way I won't have to play with the 3″ SCAT duct or control cable when removing the RH half of the cowl. I agonised over where to place the cockpit control. Due to the routing path and the vicinity of the main bus feeds, I am going to route it along the cabin floor brace and out the lower portion of the firewall. If I put it adjacent to the electrical switches on the sub-panel, it would come out of the firewall in the middle of the bus wiring. The control knob will be located between the seats on the main spar tunnel. Not ideal but routes best. As long as I make the bracket beefy and protect the knob from big hoofas it should be OK. If it doesnt work out, I can remove it easilly. The operation will be pull to close a well. That way for startup and shutdown the knob should be fully in (door fully open), lessening the likelihood of catching a boot or leg on it.
Tecnam Golf P96, nose gear, Rotax power but at least it has a low wing. Thought that might help with Sonex flying perspective. It was beautiful Saturday morning for flying!

Components for the oil cooler outlet. Door wiill be cable operated to control outflow air and hopefully oil temperature!

The mold for the lower part was just a styrofoam block, covered in foil tape. The pipe is from a 90deg 76mm pipe fitting, carefully joined together at the right angle.

Door and hinge actuator

Two holes either side of cutout are for screws. Was going to use SouthCos but decided on 10-32 screws. With have to paint them red or something.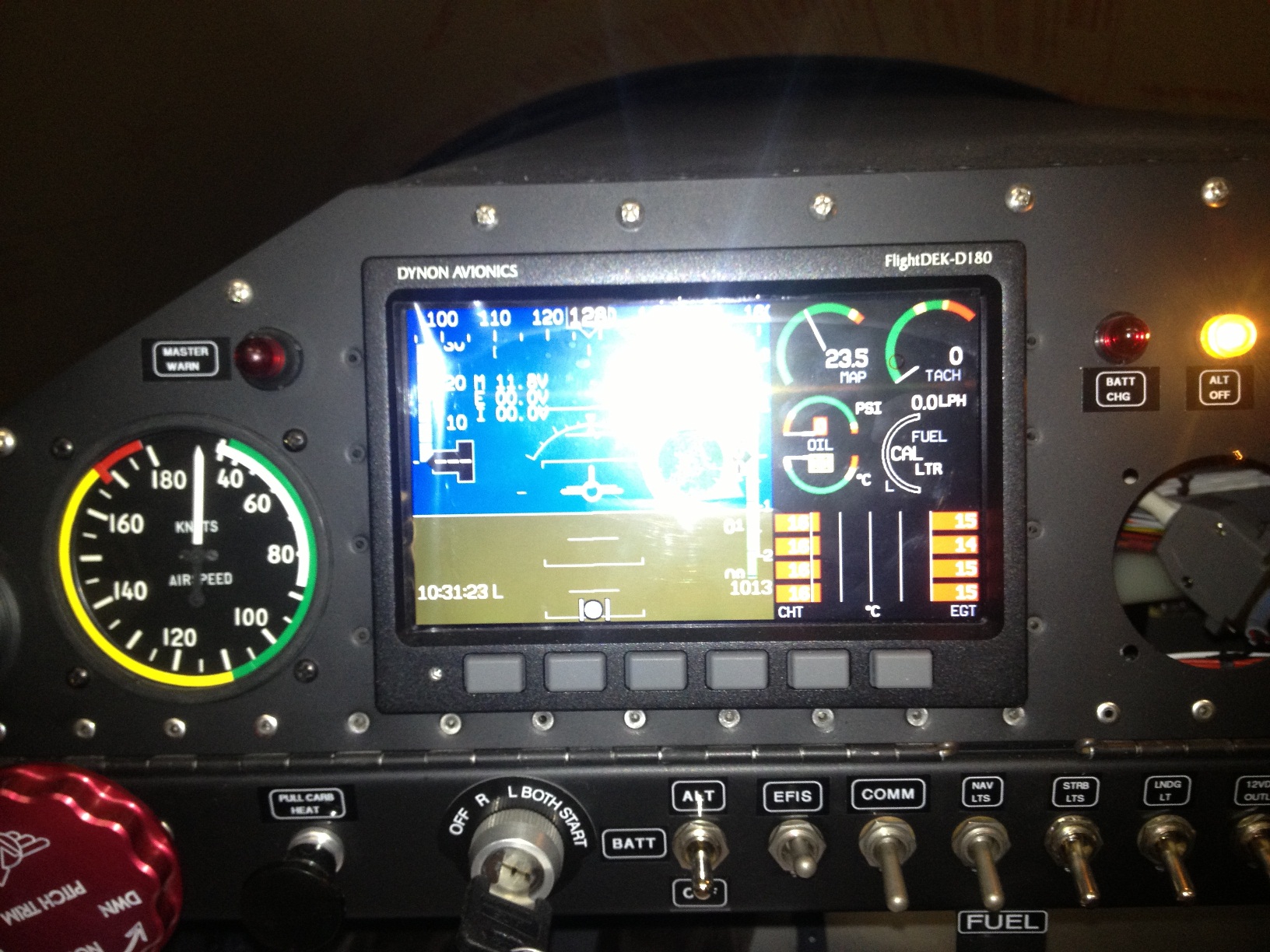 Dyson D180 powered on, needed a 6th picture – so there you have it.
15 Jul 13
Not a lot going on since the last update. I laid up the new cowling blister to cover the sump hole in the cowling. A little rough and not quite the shape I wanted. I have a lot of sanding to do before using it as a female mold to make the final piece. I found that the cowling is not symmetrical and had to make up the difference with modeling clay. It didnt quite smooth out as I would have liked. I made up a batch of epoxy with about 70% filleting compound (West systems product) and spread it on the inside. This will be sanded back and polished. Lots of work yet!
I made a fibreglass copy of the Vans plastic NACA vent in 2 parts. The plastic version is not very heat tolerant so I am expecting this one to hold up well under the hood.
I also made an epoxy fuel tray to catch any dripping form the aero injector. It will sit in the heat shield under the aeroinjector and drain out past the exhaust tunnels. Didn't get a photo of that one though. The mold was made out of some manila folder and lined with packing tape. When it was set I just peeled of the mold. I think I am enjoying making stuff out of fibreglass. Unfortunately I get dermatitus from contact with sanding dust, so I dont think there is a fibreglass aircraft project in my future.

Copy of Vans duct, made in 2 parts then bonded. Flanges will be cut down to fit duct over the hole.

This is the female mold for the cowl blister. Air will exit the rear here to provide some cooling over the sump. I wont be making an inlet at the front though for now.

This is the male form on the cowling. It is a combination of styrofoam, tape and modeling clay. Hard to get the profiles working under the cowl but it had to be done in situ.

Intake fitting and SCAT duct clamped. The big 3″ duct behind is the oil cooler inlet. I extended it with a molding of a drain pipe elbow.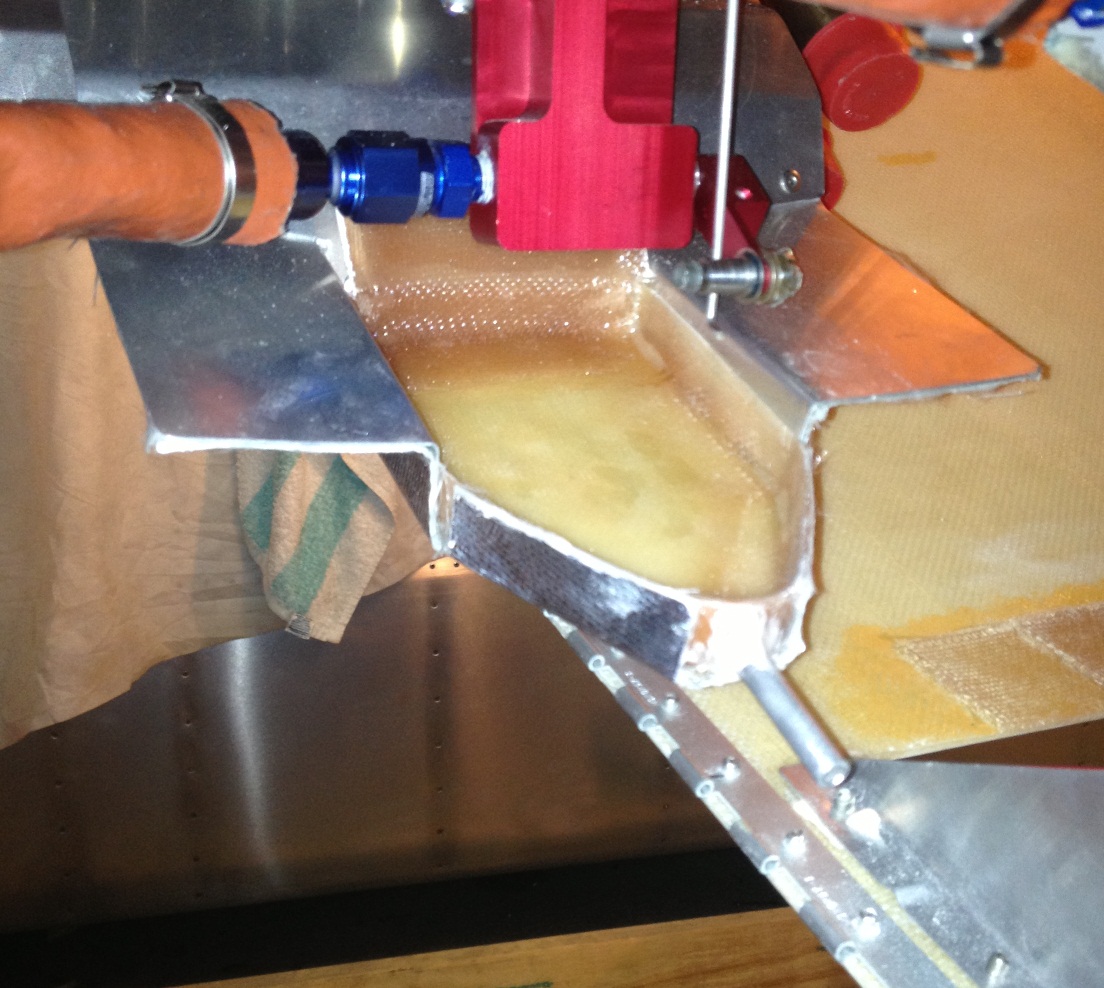 Aeroinjectors can leak fuel if the tap is inadvertantly left on too long. The drip tray should collect any spillage and dispose of it away from the exhaust

The drip tray connects to a drain which exits through a hole in the rear cowl
1 Jul 13
Its almost 7 years to the day since my kit arrived, (7Jul06) where has the time gone?
Finished up the carb intake with some judicious grinding and recoated in epoxy to make it smooth and shiny on the inside. The layup for the scat tubing end was a bit larger in diameter and the scat wouldn't fit. I put some single layers inside the inlet, then ground it down to size. If I use the pipe elbow form again it needs a few mill trimmed off it. The carb end fitted like a proverbial finger up a.. well you know.
I found some 12mm x 1mm wall aluminium tubing at Bunnings for the oil overflow from the dipstick. It looked to be 6063 or similar which is hard to bend free form. I annealed it using a gas flame, to get the bends in it. Worked well, a couple of flattish spots where I didn't keep the flame on long enough, but polished up looks pretty schmick. Unfortunately no photo as I fitted the cowl in readiness for making a sump cover. Something a lot smaller than the ugly blister thing I bought from Sonex.
Fixed the oil cooler shroud problem by raising the firewall end about 12mm. No cutting required!
Had to finish up in the shed early for grandfather duties, so didnt get as much as I had hoped completed.

Top view of duct. have to get some clamps yet and secure the wire sticking out under the duct fabric.

View from underneath. Fit over the carb intake is quite tight, but made cuts to allow worm drive clamp to fix it securely. The shiny stuff in the foreground is heatshield on the carb drip tray.
25/28 June 13
Not much to report, lots of fiddly things to catch up with. The weather has really been too cold for fibreglass work. I persisted though using a PAR38 floodlight to warm up the resin and taking parts inside the house to cure. I fitted the oil cooler NACA duct to the right hand cowl, which didn't go so well. Its not sitting flat on the cowl on one side, but it will take a lot of destruction work to get it off again. Made an intake elbow to the carb out of fibreglass by moulding around an irrigation pipe elbow. Fitted the exhaust tunnels but found the left hand one now contacts the oil cooler shroud. If I lop off about a 1/4″ of fibreglass on the bottom of the shroud I should get some clearance back. I'm sure I had clearance when I measured up!
Added some extra photos of carb intake elbow and new K&N Filter RU-0600 (2.25″ ID flange) ($61 delivered from the K&N factory in the US, over $80 from local suppliers)

Machined a piece of aluminium the same diameter as the carb intake bell. The plastic elbow is a couple of mm's smaller in diameter. Flanges are held in place with plasticine.

Blue stuff is pva mould release. There is a radius on the flange which I have since learned to fill with strands of fibreglass! Once joined the 2 halves will be trimmed.

Bad shot but this is the 2 halves joined together. I have applied some extra layup around the outside on this end. Red colour is due to using the fast set 205 hardener

New K&N filter. Fits better than Aerovee Filter assembly on the heater box, also has more filter surface area. Will make a shroud or box for a fresh air intake later
1 June 13
Yup, more baffle work. Checked fit of cowling over the baffles, had to trim front plates to clear inlets. Bent them down slightly as the fibreglass inlets have some taper on them. I considered cutting the fibreglass down to the cowl skin and re-fibreglassing new inlets to align with the metal work (make them more square, but this cold wet weather is not good for fibreglass work! I had to trim the top angled sections back on each side as the cowl was hanging off the corner. Fitted the baffle material after trimming the metal. I found some large flange 3.2mm aluminium rivets online at RS Components online (http://australia.rs-online.com) Search for stock number 351-3571. $16 delivered next day, (free delivery at the moment). They worked well as long as the holes in the baffle material are about 3.3mm. I used a leather multi-punch. When I used a smaller hole the material tended to bunch up and lift away from the baffle. Might redo some of those.
Still a small amount of work left to make sure there is minimal leakage of air around the inlets and some trimming of the orange stuff to ensure the cowls fit nice. I think they look pretty good for a scratch built effort though.
Once I have finished with those I can complete the cowls with cutting out the tunnels, making a fuel door and also some blister/bumps to clear the muffler corners. Still have to sort out the oil cooler exhaust and what to do with the oil vent line too. I might then be able to declare the firewall forward as done.


Update 25 May 13
Continued work on metal baffles. Last weekend I cut out the .032 sheet, and fitted around the rockers and cylinders. Unfortunately made 2 RH baffles. One was supposed to be the longer LH baffle but I folded it in the wrong direction! Another hour and I had the LH one done…and I often wonder why its taken me 7 years to get this far?
Today I made the end pieces with a small plate to cover part of the plug lead hole. The plate is held in place with 2 x 6/32 screws and nutplates.
Started to fit the cowling and trim the metal sides to give clearance around the inside of the cowl for the silicon baffle material.
The front plates are a bit of a mystery to fit, the cowl inlet has to fit inside the baffle proper. I guess I need to ensure there is a bit of a ramp to funnel the air up and over the #1 head and cylinder. Also need to provide nutplates for changing the size of the plate. Started to get cold in the shed so I called it quits for the day. Winter is going to slow me down a lot me thinks! Not a lot to show for 6 hours work. Oh well.
I also included a picture of the fuel vent. It is made of 2 x 1/4 tubes bent to shape and flared for the AN816 nut. I went a bit posh and used a mill to make a slot at the top of each tube, I then used a piece of thin brass tube that I sqashed into a long O shape in the slots. This prevented the JB Weld from flowing into the slots and blocking the vent when I joined them together.
Baffles cut, folded and fitted. Lots more to do yet.

The grommet will be cut (one) to fit around plug leads, The cover plate slips up into grommet and is secured with 6/32 screws.

RH end plate fitted. Plug leads left out as there are lots of on/off cycles yet.

Baffle material around engine mount.

Trial fit of front plate. Will be trimmed off a lot to fit the cowl inlet.

Fuel vent, drain plate and drain. No ram air to vent though, like the single forward facing type.
Update 15 May 13
Placed Aeroquip Firesleeve on oil lines, Note to self: Ensure oil lines are complete with Firesleeves BEFORE running oil through them. Damn messy taking them off the oil cooler and threading the fire sleeve on. (Even though I made a couple of blanking plugs on the lathe and some AN bits and pieces to plug the line and cooler).
Drilled some 1mm holes in the lower oil cooler bushing/fittings for lockwiring the electric Oil Temperature sender. Lockwired it to prevent rotation of the assembly in a hard landing.
Started work on the cooling baffles. Jabiru supplied some early fibreglass versions, which apart from being fairly rough could be modifed to put the plugs inside and provide a bit of volume for air flow, like the later versions. Decided to make metal Sonex type baffles after all, based on some excellent drawings supplied by Doug Mclean. Made a template out of a manilla folder for the RH side which fitted nicely straight up. The LH side sits back about about 66mm so will need a different template for that side.
Ordered some heat shield material online to fit under the carb and on cowling near muffler. A 500mm sq piece for $64 delivered. Used in race cars so should provide some protection from excess heat around Aeroinjector.
Had to help mover my daughter into a new house last saturday so hopefully I will get a lot more done this weekend.. Onwards and Upwards.. !!
End view of original cooling duct. Plugs stick through grommets. A bit of mucking about still to do, so I'm making metal ducts instead. If they don't turn out good then I can revisit these.

Side view of cut out. The solid red lines are roughly where it will need to be trimmed to fit under the Sonex cowl.

Decided to make metal ones. Manilla folder template for RH side. Fitted nicely but a bit floppy 🙂 Engine is late hydraulic lifter, so no external oil line to heads.

What I'm trying to make. Doug Mcleans RH baffle. You can see the early external oil line to heads here. Doug had some cracking and added a reinforcing plate above the oil line.
Update 5 May 13
Finally received some AN 912 reducers for oil cooler, wrong size!! 2x11D's instead of 8D's, thankyou Aircraft Spruce. Dug through my fuel fittings and found a bushing/nipple combination I could use, saved the day!
Mounted the oil cooler with the standard Jabiru oil pressure sensor mounted on the side. The sensor needs to be lockwired, a heavy landing or 3 could rotate it loose.
Refabricated the oil cooler shrouds as the bottom outlet was touching the exhaust tunnel. Didn't really want it exiting into the exhaust stream. The plan is to vent it via a cockpit controlled flapper. However may just dump overboard to begin with, depends on cooler effectiveness.
Turned the engine over to get some oil through the internals and up to the cockpit mechanical gauge. Took a bit longer than expected to get any oil up the line. Have some concerns with the aerocarb proximity to the exhaust system. Will have to fabricate some heat shields to keep the radiated heat from the muffler under control. The Jabiru supplied muffler for a Sonex has the tailpipes too close together, they should be 25-50mm further apart but I'm reluctant to start hacking it up to make it work. I think I can shield it with some creative metalwork. Bingellis Firewall Forward says no closer than 32mm. Perhaps provide a small cooling supply to the carb bottom from ahead of the muffler.
After mounting the oil cooler I also realised the oil inlet line is right above the tailpipes. I need to consider what happens here in the event of an oil line or fitting failure. Probably another shield/tray underneath, or relocate and remanufacture the whole thing, mmm..
I manufactured a new mixture cable end to align it better with the cable exiting the carb body. A bit smoother in operation than before.
Worked on a few other bits and pieces like the tank vent, took some photos but will post later.
Shouldn't be too long before I can post a video of a first start.
Oil Cooler installation with remote mounted pressure sensor. Mechanical gauge is fed from previous engine location. Will lockwire fittings to keep it from rotating.

Heat city! With the exit pipes close together its going to be warm for the carb. Doug and Lynn extended the factory shield behind the carb. Lynn added a tray underneath. Note the cable end fitting is now in alignment with the cable exit.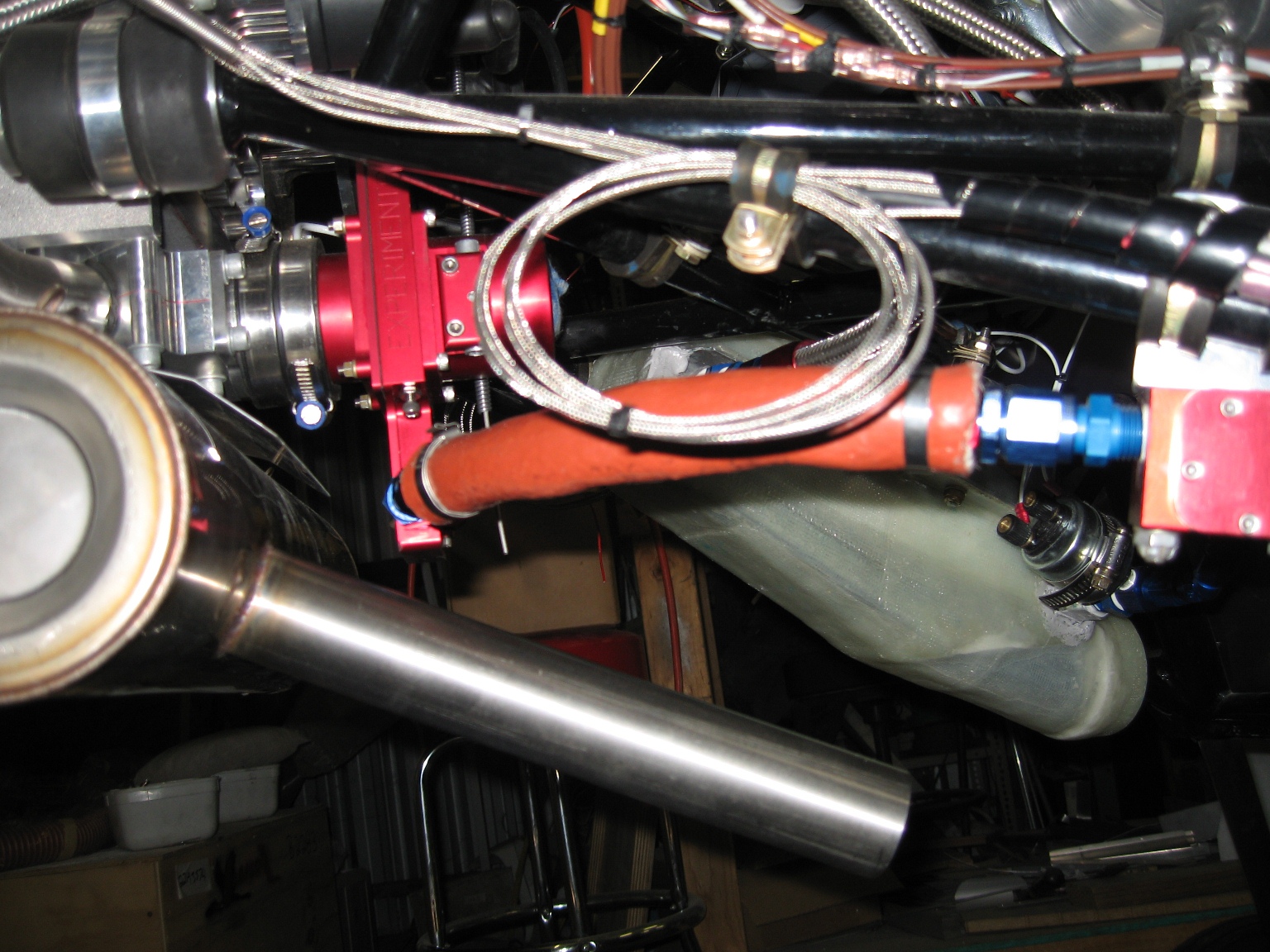 Side view of fuel line in, is about 30 mm from exhaust pipe. Bingellis suggests 32mm or better with shielding.

Another view of fuel line and exhaust. Might cut up another smaller piece of fire shield for the blue fitting and hold with lockwire.
Update 15 Apr 13
Almost done with the cowl, all trimmed and hinged. Spent time connecting the Aerocarb.. er Aeroinjector throttle and mixture controls. A few months ago I contacted Kerry at Sonex with issues aligning the carb body under the Jabiru 2200 "X frame" (alternator mount). With pull throttle actuation exiting the top of the carb, the solid cable would be hard up against the bottom edge of the X frame. The cable guide also contacted the dissy cap mounts. I thought I might make a spacer to move the carb out from underneath it by 10-12mm. However that would then present problems with the air inlet being closer to the engine mount and a fancy cobra head inlet to get around it.
Kerry very kindly sent a new flexible aeroinjector cable inner and outer shroud to help me solve the problem. I borrowed a bit of motorcycle technology and made up a cable guide out of 4130 (same material as the cable brake guides at the bottom of the axles) I cut a 1/4-28 unf thread on one end of the tubing and a piece of tube to receive the cable outer was threaded and screwed on. I used an 8-32 thread for a allen key grub screw to hold the cable shroud in place. The guide was inserted into the standard fitting at the top of the carb body and secured with another grub screw. The standard cable fitting was turned down slightly to miss the distributor cap mount.
The throttle operation is very smooth, and doesn't bind. The slide closes easily, proof in pudding will be with the engine operating at full power though. Can't say the same about the mixture as the cable guide is offset from the mixture arm. Might have to rethink that one. I did modify the cable end though for a more satisfactory arrangement.

Cable guide assembled with flexible cable inserted into slide

Here you can see the standard cable fitting, cut down slightly. The guide is held in place by the lower grub screw. A flat is filed into the tube. The upper end has a grub screw to hold the cable outer.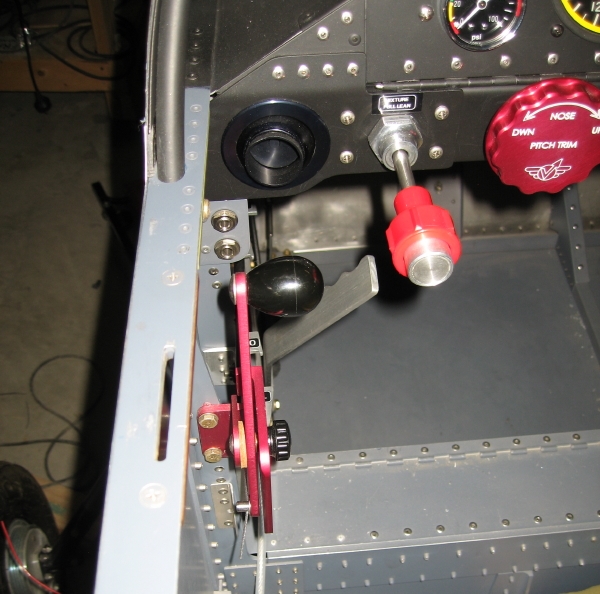 The cable end is secured with a homemade fitting. It uses an 8-32 grub screw (I love grub screws) inserted from the left to hold the cable securely.

Rather than make another cable fitting, I modfied the supplied cable end by drilling and tapping for the ubiquitous grub screw. It inserts from the right, and captures the cable independant of the nut and washers. This allows the fitting to rotate easily but not let go of the cable.
I temporarliy fitted the muffler and checked the cowl clearances. No contact point but is within 6 mm of the fibreglass so I will need some ventilation there. I was thinking some aluminium louvres.
Last big job on the cowl is to cover the sump hole.

Aeroinjector in place, cable clears the X frame and provides a smooth contour for operation.

Checking the fit of the cowl tunnels to muffler pipe. The Jabiru supplied muffler to Sonex specs is good for pipe angle but pipes are too close together on the centre line. The holes for the tunnels need to be as close to the hinge as possile.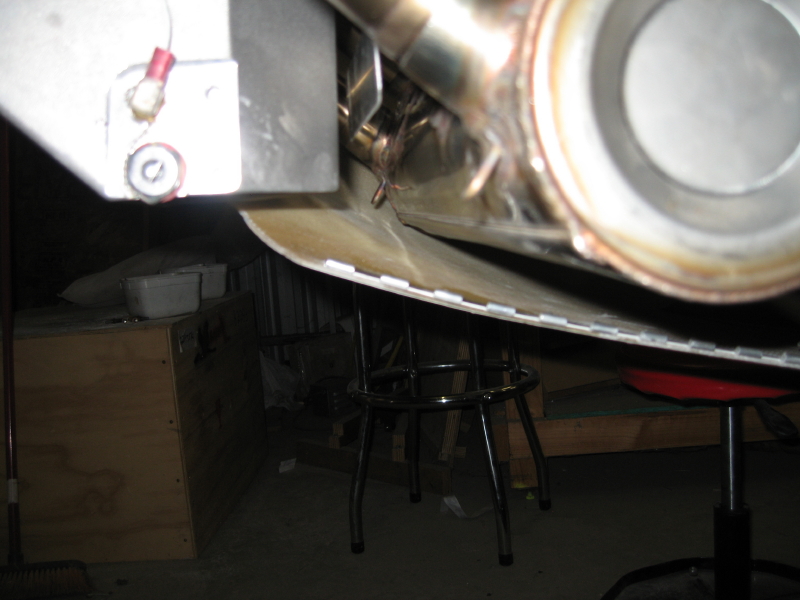 Bottom corner of muffler end is about 6mm from cowl. Will burn without a blister or heatshield of some sort is between it and cowl.

CHT wiring complete, hard to make a neat job with the excess lead. Throttle and mixture cables run over top of engine.

Aux power connector. This is the jumper lead connector plugged into a fixed connector under the battery box. (165A Anderson.)

Oil door number 4!!! Looks pretty crappy, number 5 coming up!
Update 20 Mar 13
Continuing with the cowl trimming process. Photos taken with iPhone so they are a bit fuzzy but you get the idea. Had to file more off number 1 cylinder than I expected.
Very tight for air to flow around that cylinder. I might make a smaller fibreglass cover for the sump.. the blister supplied doesnt really need to be that big.
Muffler fits Ok, will need to make some vents at outside corners as its quite close to cowl internally. Think I can get away with not cutting the corners off the muffler and rewelding.
Yet to make the tunnels, am pontificating on making them a bit bigger to allow for the area the muffler tailpipes take up (around 2 sq inches a pipe).
If I do that it would be around 48 square inches of clear outlet area. (new size 7×3.75ins) Sonex engine installation manual recommends 47-50 Square inches. If you take the standard dimensions
and subtract the tailpipe area you end up with about 43 sq ins. (6.75×3.5-4=43.25)

Pilot side pretty much there. Side hinges not installed yet. Other side stil working to get top seam flush. More sanding the edge!

Just needs another poofteenth off the rear of top join line. Time consuming because I use a 600mm long piece of 40 x 20mm steel tube with sandpaper stuck to it to get the straight edge.

Theres a hole in my cowling Dear Liza.. cutout for late model 2200 sump

Sonex sell a blister to cover said hole, picked this up at AirVenture 2010. Looks like a giant boil but covers the hole!
Update 1 Mar 13
Starting to fit cowls, just wanted to share my pain to come. Since I have the later Jab the finless sump is going to interfere. I do have a blister that Sonex supplied but not sure if I'll use it. Seems like another complication to fit after trimming top, sides and bottom.

About a 1/2 " to trim initially.

Bottom rear corner of sump interfering, will probably cut a hole here for initial fitment. A duct in fibreglass similar to Ian Mitchell's might be the go.
Update 18 Feb 13
Couldn't make it to Yarrawonga so put the time to good use!
Work continues to get to a point where the cowlings can be fitted. Made room for CHT probes (under plugs) by making a jig to drill the cooling fins, down the side of the exhaust sparkplugs. Results were reasonable. Finished by using a ball mill and drill.
Took advantage of 40C+ temps in the shed to finally get he canopy fitted. Went well, this is an a pre-sonplex canopy circa 2006 so not sure if it will go the same way as others. (Don't say the "C" word) I had the sides of the canopy in a jig which flattened the bottom edges over 2 years. Was quite easy to fit in the end.
Some pics of adventures in fibreglass. Made an oil cooler shroud with 3″ inlet/outlet. Could have made these in metal, but wanted to experiment with using West Systems Epoxy.
Also made a 3″ NACA vent using the NACA drawings, if it ever comes off the mold it will be interesting to see if it works without a scoop.
Made a cover for the Dynon current sensing bar, its sits in the engine bay as a bare metal bar. No power with everything off but thought I would try my hand at molding one.
Anyway, feels like I am getting somewhere. Goal is for engine start over Easter… with or without cowls.

Canopy fitted and closed. Still need to fit a handle for the slider to open from outside. Key lock is same key as ignition/start switch

Canopy open, don't like the strain on the cable at an angle. Some redesign here I think!

Cover for Dynon current sensing bar. No power with everything off, however just didn't feel right having it naked under the cowl.

Top piece still being molded over form. Made from styrofoam and metalised tape. Cooler is Jegs type.

Oil cooler NACA vent. First rule of molding no sharp corners, second, no right angles..mold does both! Will have to partially split to remove.

View from other side. Bolts together and mounts in 4 places. Any gaps will be sealed with silastic around the inlet fittings and ends.
Quick Update 21 JAN 13
Working on the engine and associated connections. Trying to figure out where to put an oil cooler without interfering with the cowl exhaust tunnels that don't exist yet! Cockpit side pretty much done, just have to refit control sticks.
Once connections are complete will begin fitting the cowl. Undecided as to go with convention (vertical split) or split horizontally for easy prefilght and inspection. Whats a bit more work!?

Leaving out sticks until I don't have to get under panel again! Small gauge is Oil Pressure

Left side. The more I work on it the messier it looks!

Right hand side. Made a pump cover out of 1/4″ scrap angle I had lying around, looks like a bought one.

Polish needs more work!
Quick Update 25 SEP 12
Picked up new 2200 from TNT Depot, had palpitations when I saw the damaged crate. Fork missed fins, phew! Airframe is almost ready to hang it on!


Fork missed fins by millimetres, engine is securely bolted to crate, sides a bit flimsy.


Bit of work to do before hanging, but firewall is fully wired and ready for it.
Need to get it back on its wheels.
Update 2 MAY 12
Well its been a year since the last update, will I ever get this project done!
I have been reworking items from the tail to the firewall, all the little things I had to revisit to mark off as finalised. Too many to list here, but fiddly things like inserting .005″ stainless shims into the tailspring socket and tailwheel to remove the slop in the tubing. Mounting the tail group and making the tail and rudder horn fairings. Fitting some nutplates for the 2 bolts that go through the bottom skin into the tailspring weldment mount.. and so on..
The last few months I have been wiring the firewall and cockpit ready for the engine and subsequent avioncs. I purchased the Dynon D180 with harnesses and have those pretty much done. Lots of wire hanging loose waiting for termination into circuit breakers and switches. I fitted the fuel tank and glareshield half way through… then I figured out I needed a few more earth wire runs to the earth block located up in the top RH side of the firewall. What a pain to get in over the spar tunnel and runs wires through 2 adel clamps! That being so, I added 2x #20g (gauge), 1x #18g earth wire for future use back to the rear panel area. I also have a couple of spare wires through the firewall to the engine bay.
Speaking of the tank, I had it in position and straps done up when I thought "bugga I haven't flushed it out with fuel to get rid of shavings etc.." I then decided no.. it'll be fine and carried on working with wiring.
The next weekend the little nagging voice cut in several times telling me I should flush before it gets too hard to remove it.
Well, I finally listened and grumpily pulled it out again and flushed it. Imagine my surprise when I flushed out a large piece of rag that had been a cap stop at one stage. Somehow it ended up in the tank and was forgotten. That could have ruined the day well and truly!!
Some pics:
Dynon D180 sitting in panel. ASI to the left, MGL V6 radio to the right. I think the hinge is a waste of time, should've used screws all around the panel!

Some of the switch wiring to be terminated. Looked worse when the harness wires were hanging down!

To support the Dynon harnesses I added a crosstie made of .032. I added nutplates at various points for clamps and accessories behind the panel.

B&C specialty earth block. All earth wires run to here. I made a mini-block for the engine side bolted to this one.
Update 29 APR 11
I have been working on the cockpit, placing controls for comfort and operation (without catching on anything!). When operating the throttle lever I found I kept
rapping my knuckles, so I remade it with a bend. Allows me to rest my hand comfortably and not take off skin. My fingers reach the mixture knob and am
able to make fine adjustments without taking my hand off the throttle. The vent placement keeps the ducting out of the way and the flaps and brakes can be
operated without any knuckle rapping on the sub-panel. The key switch allows me to control throttle in left hand and start with right. May put the fuel shutoff lever between the key switch and the trim knob, could be a bit out of the way for a linkage though.
The sub panel is removable for access as is the panel. The panel is inclined at 15 degrees to be a bit more friendly towards the standard ASI jewel bearings. Don't know if I would bother with a hinge if I did it again. The trim knob has to come off to drop it, and most likely the Dynon D180 will have to come out. Still quite a bit of room for radio and GPS, and any other gadgets I might stick in there. The plates holding the vents are only .065″ 2024-T3 as I didn't have enough .090″ 6061 material. Will probably remake when I get hold of some .090″, and extend them along the sub panel for a bit more strength.
With the late burst of warm autumn weather I have just about completed the canopy. Just need to tap a bunch of holes and rivet up the frame. Drilling seems to have gone ok, but the proof will be when I start torquing those screws up. I have had the canopy sides compressed flat over summer in a fixture I made. You can just see it in the picture above. The sides still bulge a bit though when fitting to the frame. I allowed the front and rear hoops to float while I trimmed and fitted the sides. It seemed to come together reasonably well, without any big bulges or overlaps at the rear. If anything its slightly undersize. But it all depends on how it finally screws to the frame!
My engine mount is now repaired after the hand held drill went crazy during the drilling of a titanium leg in the mount. Darn thing chewed out the mount hole and went throught the titanium at an angle.
It will be good to get it on its feet again!
Richo
General layout of controls

Remade throttle lever for more side clearance
Won't be long now.. ha ha!
The Journey to aviation Nirvana..
How did it come to this?
My first homebuilt put together from a fruit box, couple of chairs, an old bike wheel and a drum (for extended range).I was 2 years old!
I went the control line model aircraft route in primary school building many models with my paper round money.
It was character building to spend a month or two building a model, only to crash it on 5 minutes! Like so..!

I never had the Osama look in my younger days, as I was an RAAF apprentice.
Here is one of my last stunt models, it pretty much met its end at the hands of a removalist who didn't bother to pack it properly when we shifted back to SA.

I eventually went on to start GA flying in 1981. I was posted to Williamtown in 1983 where I received my Restricted PPL at the Maitland Aero Club. That was an interesting place with lots of Tigermoths and a Jackaroo 4-place conversion under restoration in the main hanger. I spent more time poking around than flying there.
About this time I heard about Ultralights, and met a young RAAF bloke, Bradley Mohr who had a Cohen Condor. It was a rag and tube design powered by a Fuji Robin 440cc with belt reduction. Another local bloke, Terry Warner had built a copy but designed a wooden Clark Y wing for it. It was powered by a little Rotax 277 and flew beautifully. I decided I'd build a similar one, with solid wings, so set about measuring up Bradley's machine. I bought the first tubing in 1984 and bent up the tailplane. I built it in the single carport and attached toolshed of my married quarters at Raymond Terrace. Weather proofing was a large piece of canvas wrapped around the posts. I spent many Saturday mornings at another local flyer's place, Ron West, to do various tasks and generally annoy him! It was also pretty handy having the expertise of the local RAAF metal bashers, welding shop, machine shop at my disposal. Cost me a lot of blood, sweat and beers but I had it ready for its first flight in 1987.
The Fuselage Frame 1984. Ever tried bending tube filled with sand?

The "work area" open to the elements pretty much! Thats why I built a BIG shed
I had lots of trouble with the engine, a Robin 440cc, mainly the tuned exhaust and belt re-drive. I melted pistons, twice, and had the propeller and main pulley depart the aircraft after 12 hours. Eventually we fitted a Rotax gearbox and rebuilt the tuned exhaust to the correct dimensions. I still have the "buzz bucket" was registered in 1988 as a Kestrel MK1 (not a Lea Kestrel of about the same period) and had over 130 hours of fun in it. We flew most of the time out of the old Williamtown drop zone near Salt Ash/Oyster Bay. My most memorable flight was along the Stockton sandhills early one Sunday morning just above the beach and water break, a little diversion here and there to avoid a fishermans surf rod, throttled back to about 70% pure magic. Eventually in 1989 I was posted back to Edinburgh SA and it had a home at various airfields. (Strathalbyn, Murray Bridge, Truro Flats)
Wing rigging on the front lawn 1987, seems familiar

Sunrise at Truro 2005
Towards 2005 I was itching to get a bit more range than 60mins out and back, at a constant 55 Kts! To bring a passenger,and a bit of protection from the wind, were also high on the agenda!

Looking foward to greater than 55Kts!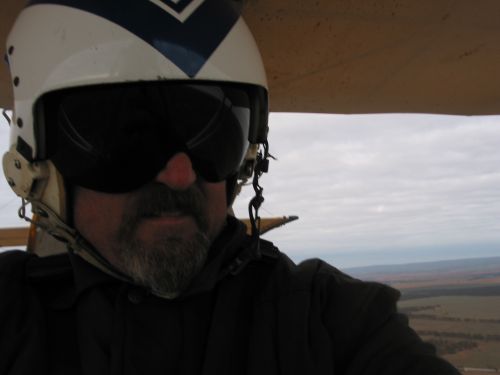 ..and a warmer cockpit!
Around 2001 I saw a Sport Aviation article on Tony Spicer's first customer built aircraft. I thought the Sonex was a bit ugly at the time, but was impressed with the write-up and performance of the 3300. I didn't think much more about it until I read about Lynn Jarvis and his project. I saw it in the flesh at the Barossa Birdmen 2005 fly-in, Truro Flats and was hooked, all homeliness forgotten!
Lynn Jarvis' Sonex at Callington SA
Ordered the plans in May 2005, straight after the fly-in. I decided I would build a bunch of components, and eventually put it all together to resemble an airframe. I also ordered 2 sheets of .025 and 1 sheet of .032 from Airport Metals in Melbourne. It didn't get touched for several months.
After much consideration, I ordered a kit in January 2006, with a view to fast tracking the assembly. This was delivered in July 2006, payback was an overseas holiday that delayed getting started for a few weeks.
Delivery day, my crate was in bad shape but the contents were safe.
I built a few benches and a mezzanine floor in the shed for storage.
Mezzanine Storage

Bingelis bench, Drill press, Grinder, Brake and Hydraulic press
I started with the rudder, then the vertical stabilizer. Once that was done I moved on to the horizontal Stabilizer.

Aft fuselage was next, then forward fuse, canopy frame, then the wing spars and onto the wings proper.

IF its got a tail it must be an aeroplane!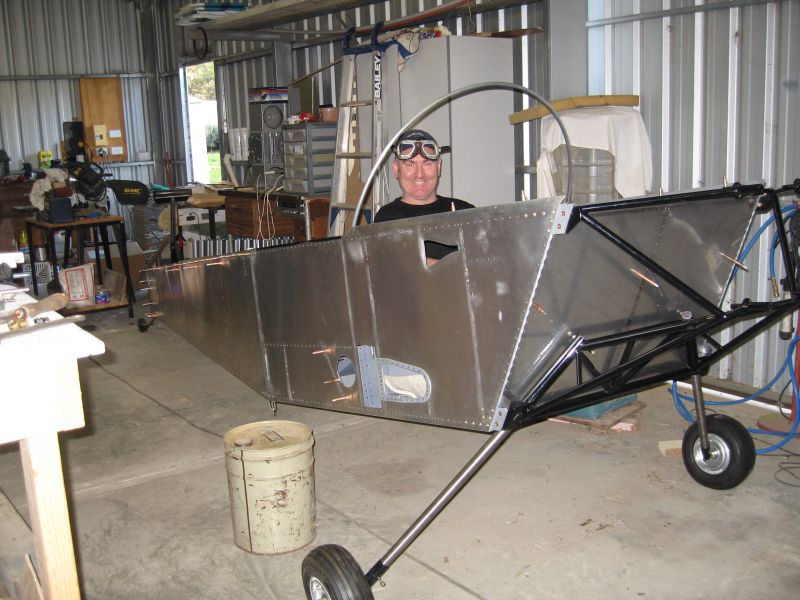 If you're going to make noises you need a helmet, besides I don't need no stinkin canopy.. or windscreen or turtledeck!..
Windscreen fitted and canopy trimming started
C'mon everyones got a picture of their spars mated!!

I love dimpling more than deburring..
Duckworks landing light detail. It is mounted in the left wing. It has a High voltage power supply for the HID bulb. I decided I didn't want it bouncing around the wing, so I fabricated a mount that would allow replacement and securty of the components.
Secured to the spar and mount with nutplates

Reflector assembly fitted.
Wings substantially complete and placed in wing rack ready for rigging day. (Control rods left out) The wing rack is similar to plans I found on the Internet for an RV3. Works well and is movable, just hope the mice stay out of them!
Friday 7th of January 2011 was a milestone, wings were rigged.
Hope this works!

Rear spar was a lot of work!
A couple of points that helped the process.
I levelled the fuselage and prepared everything beforehand. I built a small platform to go into the seat area to support my weight. It can be stood on. I modified a sawhorse to make sure the fuse didn't move. The block of wood has hinges to make it self-levelling.
I made sure the area was clear around the fuse to allow the wings to go in. I had the necessary tools on hand. A right-angled air-drill from Gasweld had the torque to do the job.
We did everything as per the plans. We ticked off each paragraph on the plan sheet. We are lucky to have an excellent rigging kit, available from Stuart when needed. It has an awesome 4 flute pilot drill, (looks more like a modified mill bit) to updrill from ¼ " to 3/8".

Wing Rig Kit from the Tool Pool
I wouldn't worry about updrilling the spar blocks to 3/8" when you mate the spars and then sourcing a 3/8" sleeve to pilot drill the brackets through, waste of time really with the rig kit. The pilot drill leaves a smooth finish, is accurate, fairly quick and the 3/8 bolts slide right in with a bit of lube. You must regularly clear the chips (about every 10-12mm of drilling) and relube with cutting fluid, as the chips do not clear like a standard drill. We used Trefolex cutting oil.
Easy does it, frequent chip clearing with rag (Note:standing on work platform)
The most time consuming part of wing rigging is the rear spar work. We slid the first wing into the spar tunnel at 9am and sat down to a beer at 5pm. Had lunch and couple of breaks in between as it was topping 40 degrees in the shed!
It was great to have a fellow builder to help out, thanks Greg! He's hiding behind the canopy on the bench.
Wings on at last.. where's Greg (in the rh corner)
Murray River off the port wing, flyin' with Lynn

Looking forward to the day I'm PIC.. thanks for the inspiration Lynn!
Discussions