SonexAus – Stuart Trist's Camit Powered Sport Trainer My tri-gear Sport Trainer Sonex #181 was the 200th Sonex completed and is currently hangared at Mangalore Airport, a couple of hours north of Melbourne just off the Hume Highway. In 2016 I replaced the original Jabiru 2200 with a Camit solid lifter 2200 engine.
My Sonex story started way back in the early '60s when I was a typical 'hangar rat' at Moorabbin Airport, washing planes and scrounging rides whenever I could.
My passion for all things aviation led me into modeling, which I enjoyed passing on to my three sons as they grew up.

.
(no, that is not Osama Bin Laden below, that is me with a groovy 1980s beard)

Eventually I had the time and a little discretionary income and decided to get my pilot's license. Inspired by the exploits of Jon Johansen, I aspired to build an RV, but decided on a little rag and tube Supa Pup ultralight with a Rotax 503 2stroke engine. Before I had ordered the kit I found out about a finished one for sale and so I purchased it and flew it for 2 years. Soon after buying the Supa Pup I came across the Sonex website, found out about Lynn Jarvis who was building one and made contact with him.
I was bitten with the bug, and in late 2004 my Sonex kit arrived at home.
The journey began. I am greatly endebted to a number of Sonex builders who went before me and documented their work on their websites. Any prospective builder should take some time to go through the sites listed on the Sonex website and to identify the ones that can provide comprehensive step by step illustrations of various elements of the build. Take ALL this advice with a grain of salt. I have come across some ideas that were a little bit 'idiosyncratic' or perhaps even eccentric.

My two car garage was already full of high quality junk, an aircraft kit had to be opened up and stored in a way that enabled me to find the bits I needed as work progressed. I built several overhead storage shelves and a 12×4 foot workbench with a storage area for flat sheet components underneath. Give the bench a good overhang, reinforced by steel, to enable you to clamp to the side of the bench as required. Like most builders, I started with the tail and developed my basic skills in measuring accurately, cutting and drilling exactly as required and completing small parts efficiently.

Following Tony Bingelis's advice I built two large mobile stands for the main tools. My drill press was barely the minimum required, a more easily adjusted platform would be an advantage.

The linisher is essential to making accurate parts. You cut to close to the Sharpy line then accurately finish off straight edges using this tool.

You come to love your scotchbrite wheel.
My el cheapo band saw was adequate for most jobs, but a wider throat would have been handy at times. A reasonably fine tooth blade is good for aluminium. I bought a cheap table saw from Bunnings, fitted a good reverse angle blade for aluminium and had great success doing the many long rip cuts in 1/8 and 3/16 angle.
My second Labrador pup joined the family and endeared himself in the first week by discovering a bundle of rolled up plans for the tail which he managed to tear to shreds. These minor set backs occur when you are building!
I had the good fortune to have a number of fellow builders around and we still keep in touch. Ron Olson lived alone not far from my home, and he had the advantage of being able to turn his lounge room into his workshop.
At one stage the main spar ran across the floor of the kitchen. Now there is single minded dedication to the task. At the end of November 2010 Ron had the airframe built and engine on.

Darren Barnfield from the SAAA was kind enough to drop by from time to time to check on progress. Darren is a LAME and SAAA Authorised Person. Periodic inspections are not actually the role of the AP, but should involve your local Technical Counsellor in this. I had visits from a number of TCs in my SAAA Chapter at Moorabbin.

The spars were a real challenge to me and I would encourage any builder to take up the current option of buying them pre-built. This would avoid the need for the specialist skills and tools involved in solid riveting. On the other hand, if you want to chalk up another area of learning, do it yourself but allow several months and some frustrations to achieve a good end result. The rest of the wing construction was a breeze, except perhaps for getting the aileron and flap hinges on correctly. I had a lot of trouble driving my hinge pins through when final assembly was carried out.
Much of the work involves turning this kind of raw material into accurate parts. I enjoyed it and am not sure if I would now buy the pre-made small parts. This was one part of building I got good at as I went along. My parts were all lovingly de-burred, cleaned, etched with alumiprep, allodined and painted with very sexy BMS1011 two pack primer.

They look like REAL aeroplane parts when they are done. This was the process for every single bit of the whole aircraft. All the skins were treated on the inside only. It added nearly 25% to the time required to build the aircraft. On balance, a waste of time I think. Get it built and go fly it. Unless you park it outside it will be living a very pampered life in a hangar and is unlikely to require such treatment on the inside.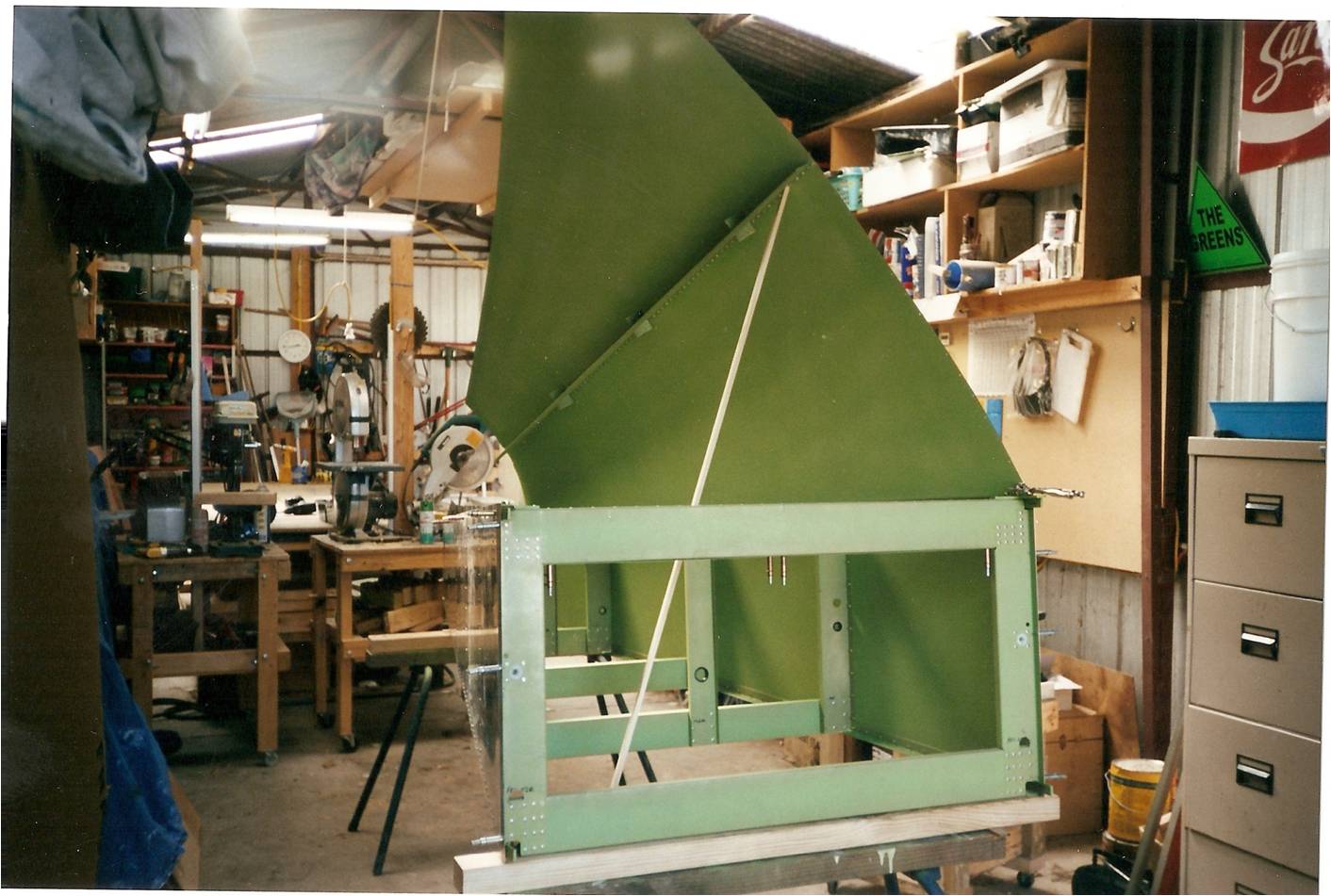 Turtle deck going on. Not easily done on your own, but with some head scratching you can usually work out a way to do almost anything solo.
Outside for a couple of days to rig the wings. Ron Olson, Shane Fewings and Jon Flynn gave me a hand. We have a set of pilot drills designed to assist this critical part of the construction. Contact me when you need them and I will send them to you. Bruce Towns from the Moorabbin SAAA recently sharpened them and they are ready to go. They were donated to Aussie Sonex builders by Pat Main from Kansas.
Time for a builders visit from the Lightweight Aircraft Association. Bob Eliot, Paul Donovan and the late Leo Powning gave me great encouragement.

The Labradors watched every rivet go in, waiting for me to down tools and take them for a walk. Tully would ignore even the loudest construction noises, but Willow would slink away nervously as soon as I put on the goggles or hearing protection.

It was fun to plan your own panel. I chose steam gauges for altimeter and airspeed, but the GR EIS provides a good package for engine instrumentation in a small space. Note the Vans air ducts. Essential in the Australian summer.

I relied on some expert advice from Jake Jansen in Adelaide to plan my wiring and I had him fabricate the audio cables and connectors to ensure I didn't introduce noise into my radio installation. Doing the wiring was good fun and very satisfying.
The Jabiru 2200 engine installation was pretty easy following the Sonex instructions. Lynn came over from Adelaide and gave me some on the spot help. I had regularly called him, usually late at night, when I struck trouble.

The cowl was more challenging. I came to enjoy working with composites once I discovered West Systems resin and used the plastic sandwich method to prepare the cloth for laying up.

My canopy was done in the middle of winter with an industrial heater putting the temperature well into the 30s. Shane Fewings and Ron Olson generously donated many hours to assist me in getting the canopy finished with only a few minor cracks around a couple of screws. Three years later those cracks have not increased.

The final frontier was painting the aircraft. I had access to a disused workshop up the street from my home and with the expert help of Bruce Towns from the SAAA I managed to do a fairly decent job with the two pack automotive paint.

My son put up with some strange looks as he helped me wheel the painted fuselage home. Comment from my Greek neighbor Mary. 'Eh, whada that you got dere Mr Stuart'. 'Its an aeroplane Mary, I built it in my garage' 'Oh yes, as if I believe dat'.

The 7-11 store owner was also pretty surprised when I pulled up at 3am en route from Mordialloc, a southern bayside suburb of Melbourne, to Mangalore, a huge country airport an hour north of the city.

Fellow Sonex builders Shane Fewings and Brian Ham made the long trips out to Mang to help with assembly, weight and balance and engine tuning. Darren Barnfield granted the CofA early January 2008.

The big day arrived a month or so later. Mick Poole agreed to do the first flight, and I promised smugly I would buy him a beer for each fault he found in the aircraft…'no, I will buy you a slab for every fault' I confidently bragged. I forgot that I had hastily removed a flap and aileron the day before so after he completed his meticulous pre-flight inspection I owed him 7 slabs for some missing cotter pins and other details I had not gotten back to complete.

It has flown beautifully from the start and after 230 hours the only real hassles I have had have been related to making changes to the Jabiru engine. I have gone through the Aerovee and Rotec throttle body carbs, a period without a muffler, moved the gascolator and installed a blast of cold air on it. I now have solid lifters in my hydraulic lifter engine because it was one of the first hydro lifter engines and it still has the old solid lifter cam. Solid lifters are better suited to this particular early cam and the engine is remarkably smooth with them. I am now back with the Bing carby as installed by the factory. All of my 'experimentation' proved to be a waste of time and money for me. Someone with a better understanding of engines and experience in how to systematically improve them might have done better with the alternate carbies etc but it didn't work for me.
I am endebted to all of the people mentioned above for the amount of time they gave to me to assist me to get the aircraft to where it is and have enabled me to enjoy it so much.

The Sonex Grin. Shane Fewings in the right seat, with Brian Ham in Shane's Aerovee powered tail dragger in the background.
A view of my Melbourne office from my weekend vantage point.