SonexAus – Peter Bakker
Peter Bakker #peterbakkersonex1430 Peter Bakker Sonex 1430, Registration 19-8464 Tri-gear,Duel Control, Aerovee 2.1
Sellicks Beach, South Australia.
I have upload the first flight video on youtube.
www.youtube.com/watch?v=2k5MH9rri7Q&feature=youtu.be
After having problems with the Nikasil cylinder, Sonex is replacing them free of change with the normal steel one arriving the middle of this week.
Sonex 10-84-64 have been in the air for 3hrs. More test flying next week/
First flight Sonex #1430
After 3 years and 10 month building, last Thursday 9 of October 2014 my Sonex #1430 registration 19-8464 flew for the first time by Steve Nelson as test Pilot. The Aerovee 2.1 Perform well but the flight have to be shorted due to a low pressure alarm about 7 minutes into the flight. Steve did an excellent job in landing it safely. Steve said the plane flies very well with light controls.
Today 14 of October after solving the low oil pressure problem Steve did another 1.5hrs of test flying. The Engine is running lean and therefore cylinder temp are still about 200C while the exhaust gas temp went as high as 720C. The Engine start to run better during flight and all cylinder head temp are about the same now but still about 200C, Oil temp 95C. After bumping up the oil pressure a bit, it now reading 23psi on low and 32psi on high power, adjusting idle a bit higher and riches it a bit more using a 2.5 number needle Steve is planning to do more test flying on Thursday.

I long time between post
Yesterday 01 July 2014 Sonex registration number 19-8464 arrived at Aldinga Airfield Hanger.
The move to the Airfield went well using a Car trailer. In few more months it should be ready for the first flied, what will be done by someone with much more flying experience than me.
I have been building for about 3.5 years in total about 2800hrs. I for sure took my time because I want the Plane to as close near perfect as possible.
I also took my time because I was enjoying the building of this Aircraft so much.
I keep you postage on the first flied.
Update 20 December 2012.
I have finished both wings, installed both Wing Tips and Navagation lights.
I am planning to rig the wings in February 2013 hopefully the Wing Rigging Tool Kit is available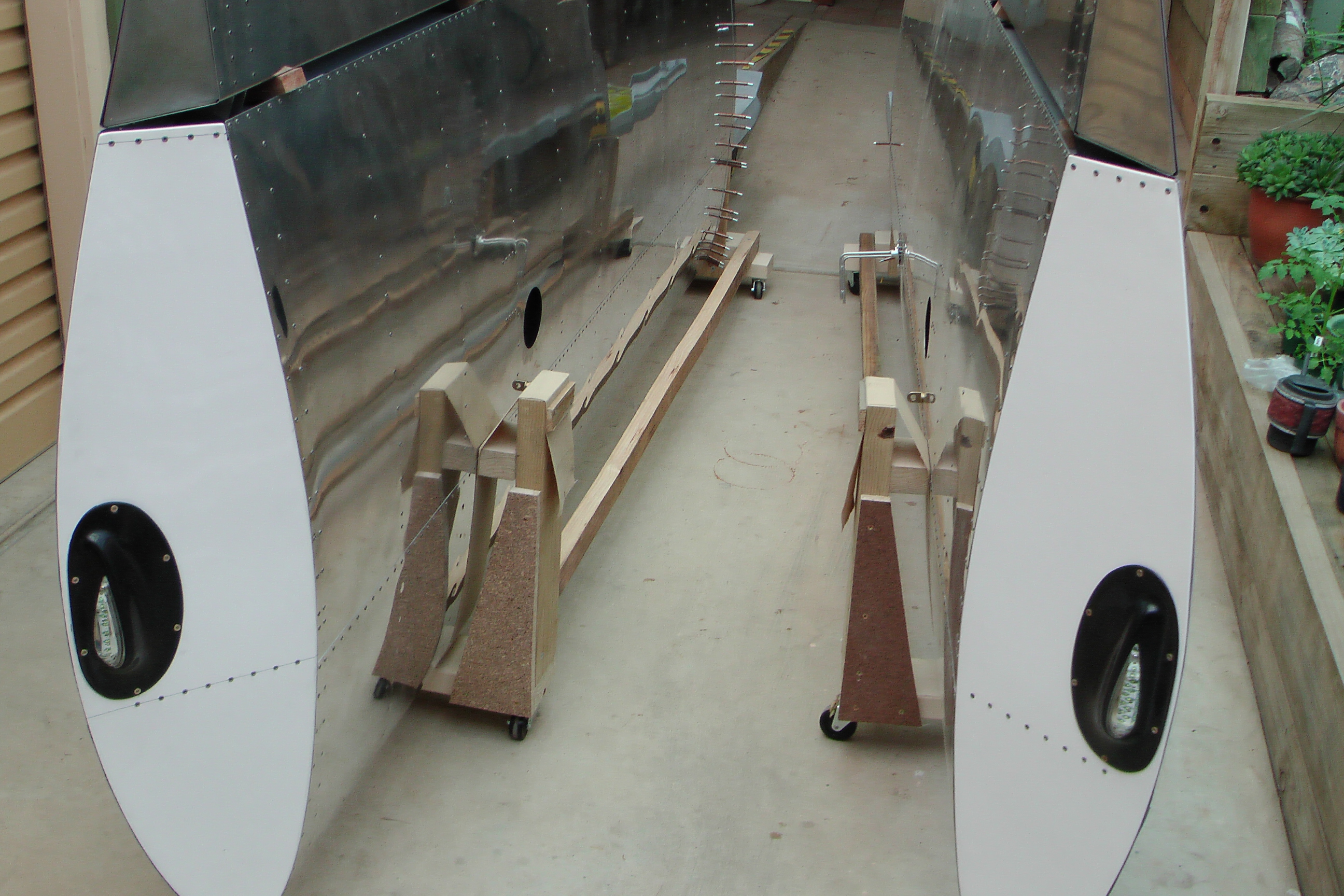 Update 29 June 2011.
The whole Tail end of mySonex is finished. I started the beginning of this year.
It took about 500 hrs to do the Vertical and Horizontal stabiliser and another 250 hr for the AftFuselage. Before riveting the Skins I polish it first with the F9 Nuvite polisher also I prime the inside using Wattle Aluminium Self Edging Primer spray packs.
16 September 2012
My last update was a long time ago. I have finished the RH wing and assemble the LH wing at the moment
Next month I can rig up the wings and finish the Fuselage.
I am using an Expercraft building log.
The website is:
http://websites.expercraft.com/bakfly/
Discussions