SonexAus – home current
SonexAus
This is NOT an official Sonex website and is not moderated by Sonex. It is contributed to by owners and builders of the Sonex family of kit built aircraft in Australia. Read on and feel free to ask questions of us or get in touch through this site. The best place to go for current information on the Sonex aircraft, or technical issues for builders, is the Sonex website at www.sonexaircraft.com
THIS SITE IS CLOSING DOWN
We have had this site on Wikispaces for many years. Initially it was free, then we were charged a modest yearly fee, covered by subscriptions to SonexAus by a few paid up members. The hosting platform is being shut down mid 2018 so our site will disappear, but several members are working on transferring as much content as we can to a new site. Watch this space.
Stuart
Lake Eyre Trip
Stuart, Brian and Peter are heading off to Lake Eyre for a few days in the week commencing 23 July. Any other aircraft are welcome to join the trip. Contact Stuart at stuart.trist2@gmail.com
LEETON Fly-in September 15-16 2018
Make sure you pencil it into your calendar for later this year. Warren Kirkup and the Leeton Aviators Club will host a relaxing weekend at Leeton for all Sonex builders and hangers-on. No big program, just a great chance to catch up and talk Sonex for a few hours.
Contact Warren at warrenkirkup@bigpond.com for further information, but we have only just set the dates at this stage.
Goolwa Fly-in January 2018
We enjoyed an informal get-together Sunday 14 January at Goolwa in South Australia. An opportunity to meet with a few other Sonex owners and builders and have a chat. Thanks to all who made it a great afternoon. More pics in the Past Events section.


The Goolwa flightline: five Sonex, one Xenos and one Onex.
Sonex Tyres
Scott Taylor from Composite Services in Wentworth NSW can supply 11×4.00×5 8ply Aero Classic tyres suitable for Sonex. They are a bit more durable than the Shen Chin supplied by Sonex. Contact him on 0458 948 092.
SONEX CANOPIES
Douglas Toppazini is seeking expressions of interest for Sonex canopies up for sale.
He currently has an advert on Facebook in Aviation Buy and Sell…
Facebook Aviation buy and Sell – Sonex Canopies
(but you may not be able to get to it without a Facebook login so this is a snapshot of the ad)
Contact Doug through Facebook, via email "dougtoppazzini at gmail dot com" or via Contact Doug for more details
Doug also does fibreglass wheel spats and plastic moulded fairings

Sonex Aus Clothing – Now updated with size charts and ordering information
Click on CLOTHING to see the full range of clothing with the Sonex Aus logo.
The Embroidery company is prepared to do one off orders, so if anyone wants any clothing in the future contact me through this link Contact Cliff.
Arkaroola – Flinders Ranges SA
I did this trip in early October and somehow contrived to fly the complete round trip against headwinds. Here's a link to my blog: Arkaroola trip
If you get a chance I'd recommend the Flinders Ranges as a great place to fly; the scenery is fantastic. Here's a photo as a teaser:


This is Lake Frome, east of the Flinders Ranges from 8500 ft. The white bit you can see is about 60 km long.
Peter Anson
Propeller Balancing
There has been a bit of mis-information (alternative facts?) spread recently about dynamic propeller balancing. Here's a link to an article written by Brian Rebbechi for the SAAA's "Airsports" magazine which should help clear things up a bit. Propeller Balancing – Airsport Winter 2016.pdf
Peter Anson
Alternate Canopy for Sonex/Onex
Ian Linke from South Australia is seeking comments/preferences regarding an alternate canopy for the Sonex fleet.
He is interested in making either a single piece or two piece as per current design.
Canopy promises to be better quality and made exactly to the airframe dimensions, therefore easier to fit.
You can read/post comments on the SonexBuilders website or contact Ian directly via email (preferred) or phone.
You can also follow/post comments on this site at the Discussion Page:
Moulded Canopy
Ian Linke
Aviation Acrylic Mouldings Pty Ltd.
South Australia
aamoulds at internode.on.net (removed @ to prevent bot-spam)
08 82513780
mob 0414251378
I got a nice surprise in the mail a couple of days ago. While the Sonex builders and fliers were dining at the Narromine Hotel. There was an official dinner at the aero club where they were handing out these.


See Brian Ham and his Sonex on The Flying Show – Channel 31 Click on The Flying Show and select OCT 5 2016 to hear an interview plus some nice flying shots.

Ozkosh at Narromine 7th to 9th October
There were only two Sonexes at Ozkosh, although there were a few builders and non-flying owners there, and we managed to get together for a very enjoyable dinner at a pub on Saturday night. The weather forecast kept a few people home and if anyone had come from South Australia they probably would have had difficult conditions on the home run. Those that drove had a pretty long trip because of detours around flood waters. There was pretty good attendance by SAAA and RAA aircraft but no war-birds and only a couple of vintage aircraft which was disappointing.
Cliff Jarvis displayed some samples of a range of clothing, polo shirts, jackets and caps, all with the Sonex Australia logo. They look great and I hope he will have something on this site soon.

The Lachlan River near Forbes
What happens when too much spare cash meets excess spare time – a Merlin motorcycle
Everybody was pretty anxious to get away early Sunday because of threatened turbulence, but I had a good flight home with smooth conditions at 4500 ft and a gradually increasing tailwind as I flew South so that for the last 100 miles the ground speed was around 150 knots. When I descended to circuit height at Kyneton the turbulence was severe, the roughest I have experienced. Fortunately the wind was straight down 36 but it was still a difficult landing. Didn't need to use any power to back-track the runway as the Sonex was getting blown along by the strong wind, in fact I had to hold it with the brakes to keep the speed down.
Peter Anson
August 2016: VH-BST back in the air with a new CAMIT 2200 engine My Sonex has been out of the air for 18 months, and giving trouble for several years before that. Now back in the air with a CAMIT 2200. Major mods to cowls allowed me to use the CAMIT supplied ram air ducts without changing them to suit the tight Sonex cowl. Result, nice even cool heads. Key stats: 2850 rpm, 115kts, 600fpm climb. At cruise 1350EGT 220CHT. Running a 54×54 Sensenich prop. Runs like the proverbial swiss watch! That CAMIT alternator is a tight fit under the fuel filler.
Contact me for further details. SMS 0410 561 371. Stuart Trist. Sn. 181 The 'Bug Eyed' Sonex.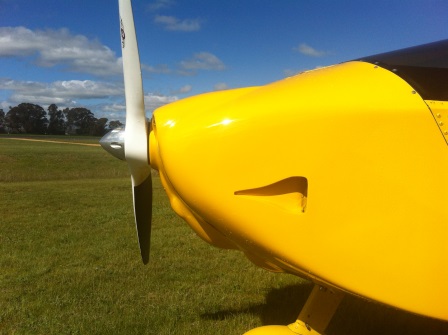 Kyneton to Rockhampton in a Sonex If you ever thought that a Sonex was too small to do useful long flights, here's a link to my blog on a flight from Kyneton, Victoria to Rockhampton, Queensland, a distance of 930 nautical miles. The photo below shows the estuary of the Fitzroy River, just south of Rockhampton. For part 2 of the trip visit Rockhampton to Kyneton, my 970 nautical mile return trip. I really enjoyed the trip and I'm looking forward to trying something a bit more adventurous.
Peter Anson
.

SonexAus Annual General Meeting Comrades,
I have to confess your SonexAus Executive Committee have been very slack over the last couple of years. We failed to have a proper AGM for the 2014 calendar year, but have cobbled together enough information from an informal meeting in Yarrawonga to lodge our annual return to Consumer Affairs Victoria for 2014. Now we need to have an AGM for the 2015 year, and a few dedicated souls have agreed to link up for an AGM on Wednesday 29 June 2016 at 8pm EST via Skype. If you would like to participate send me an email and I will forward a link. You need to be a Skype member, but it doesn't cost anything. Get it set up well before the night.
Stuart
stuart.trist2@icloud.com
Yarrawonga Update 4/5 June We were defeated by the weather on this weekend. It was fine in SA but got progressively wetter towards the east. Rumour has it that a bit of rain fell on the east coast.
The Rumours were true! – first flight by Paul Westman's Xenos Paul has completed and flown his all flush-riveted (that's a lot of dimpling) Xenos.

AAAA (Antique Aircraft Association of Australia) Fly-in Echuca, April 2016
No fewer than five Sonex variants made their way to this fly-in. The Sonex doesn't qualify as an antique of course but a few of the owners did so we were most welcome. Those flying in were: Greg Tabe in the new South Australian Sports Aircraft club-built Sonex, Chris Dearden in the Xenos from Goolwa, Tony Richardson from Callington, Brian Ham from Mangalore and Peter Anson from Kyneton.


The SA club sonex was being antisocial and Brian Ham's Sonex was PARKED IN A HANGAR! Come on now Brian, that's not what we do at fly-ins.
I feel pretty good about myself for building and flying my own aircraft, but the work put in by some of the aircraft restorers really puts things into perspective. They were just beautiful. They included a good range of warbirds and a couple of beautiful old passenger carriers. Here's a LINK to my blog if you'd like to read more.
First Flights And another one!
Brett Ahearn from Geraldton WA takes to the skies in his turbocharged steed..
Congratulations Brett!


Screen grab from YouTube video here
First flight report SonexBuilders
Phil's Bird flies!
Phil Bird from Mittagong NSW took to the skies recently in Sonex 759.
Congratulations Phil !

First Flight report: SonexBuilders
Screenshot from Phil's photos posted here: GooglePhotos
Builders Log Corby202
Previous first flights by Michael De feyter – see his first flight on youtube. and first aerobatics (Michael's Sonex is #145 – there must be a story behind that) and more recently, the tri-gear Aerovee-powered Sonex #r 1631, built by the Sports Aircraft Club of South Australia. I think that Chris Dearden and Steve Nelson (Xenos #35) might have had a bit to do with that one.
Update: At Goolwa in South Australia, Peter Lovell has finally flown his Onex, 28 Dec 15. Reported at Recreational Flying

If it flies half as well as it looks it should be a great little aircraft
Only a short trip but there are a few photos of big holes in the ground for the geographically inclined.
Ausfly – Narromine, September 4,5 and 6 There were five Sonex aircraft at Narromine. Those who made it were Ian Mitchell from Benalla, Brian Ham from Mangalore, Doug McLean from Goulburn, Steve Woodham from Port MacQuarie and Peter Anson from Kyneton. There should have been six of us but Keith Jeffs had a major taxying oops at Griffith and had to complete the journey by car, a pretty gutsy effort in itself. It was a good chance to catch up with people and we witnessed a good airshow. My favourite was Paul Bennett flying a Wirraway. Who'd have thought you could throw an old aeroplane around like that? It was capped by a great display of precision aerobatic formation flying by the Roulettes. A couple of their fast break manoeuvres had the crowd gasping. I managed to fit in a hangar visit to Paul Westman at Temora on the way up. Paul is doing a very nice job building an all flush-riveted Xenos. I think he's just about at the 90% down, 90% to go stage. As a bonus, I even had a light tailwind both ways.

Hmm….must polish my wings
Heading home from Narromine.
Peter Anson
Lake Mungo Fly-In 8/9 August
This was a fairly exclusive affair but enjoyed by all who attended. We opted for fairly Spartan dormitory accommodation, but lounged and dined in luxury in the Mungo Lodge, where a large open fire burning mallee stumps was part of the attraction. I'd recommend the Mungo Lodge for a flying visit. The service was efficient, the meals delicious and the atmosphere welcoming. Checkout Richo's report at Mungo Lodge Flyaway 2015
Peter Anson

The flight line at Mungo Lodge airfield – the Sonexes of Peter Anson, Tony Richardson and Doug McLean together with the honorary Sonex of Mark Howlett.
VALE Jeremy Monnett CEO of Sonex Aircraft and son of the Sonex designer John Monnett, died in an accident at Witman Field Oshkosh on 2 June 2015. Sonex builders will know him as a friendly voice at the end of the phone or email, ready to provide advice and assistance. Jeremy was a 'force of nature', a bundle of fantastic enthusiasm and an inspiration to the wider Sonex family of owners and builders. Our thoughts and prayers are with his parents, John and Betty, his wife and family, and all associated with Sonex and experimental aviation. He will be very sadly missed.
Stuart Trist
Links:
http://www.aopa.org/News-and-Video/All-News/2015/June/03/Sonex-CEO-Jeremy-Monnett-killed-in-aircraft-accident
A crisp winters morning, 3500′ over the South Australian countryside, on my way to the Sunraysia Sportsaircraft flyin. RIP
Saturday 2 May 15 saw four Sonex aircraft gather at Yarrawonga under calm blue skies.
Doug Mclean from Goulburn, Keith Jeffs from Ballarat, Brian Ham from Templestowe and myself from Callington SA.
There to greet them were the intrepid drive-in attendees Cliff Jarvis, his friend Jim and Peter Anson. (who is rumored to love driving his Mum's old car so much, he left the Sonex at home)
It was good to catch up with all and have a look over the other aircraft, especially since I hadn't seen Doug's or Brian's up close before.
Brian wasn't staying overnight and departed later in the afternoon.
Catching a lift with Peter, we retired to the Bourkes hotel for our overnight stay. Rooms were comfortable and light breakfast thrown in.
After a few drinks in "Bourke's Front Bar.." could that be a song?), the six of us joined the Megafauna Fliers at their pre-departure dinner.
Dinner was very nice after a long day, although I'm not sure about Keith's cholesterol levels after seeing the mixed grill piled on his plate!
After dinner we were regaled with tales of Megafauna derring-do and general mayhem by Peter McLean.
There was also video evidence of this from the 2008 Megafauna trip. Looked like a lot of fun.
I got the feeling we should have been tagging along on this trip instead of heading home the next day.
Sunday morning it was time to preflight, repack and refuel for me before heading off. Weather was perfect with calm winds on the ground and a smallish headwind for those heading west.
Aka me.
I taxied down to the caged bowser tanker thing as aircraft departed overhead, along with a few of those mossie trike things.
Luckily the refueller was coming through the gate as I made my phonecall so I didn't have to wait long until I was ready to go.
I arrived safe back at Callington with 4.6 hours on the Hobbs.
Cheers
Tony Richardson
PS for more details on the flight over : see here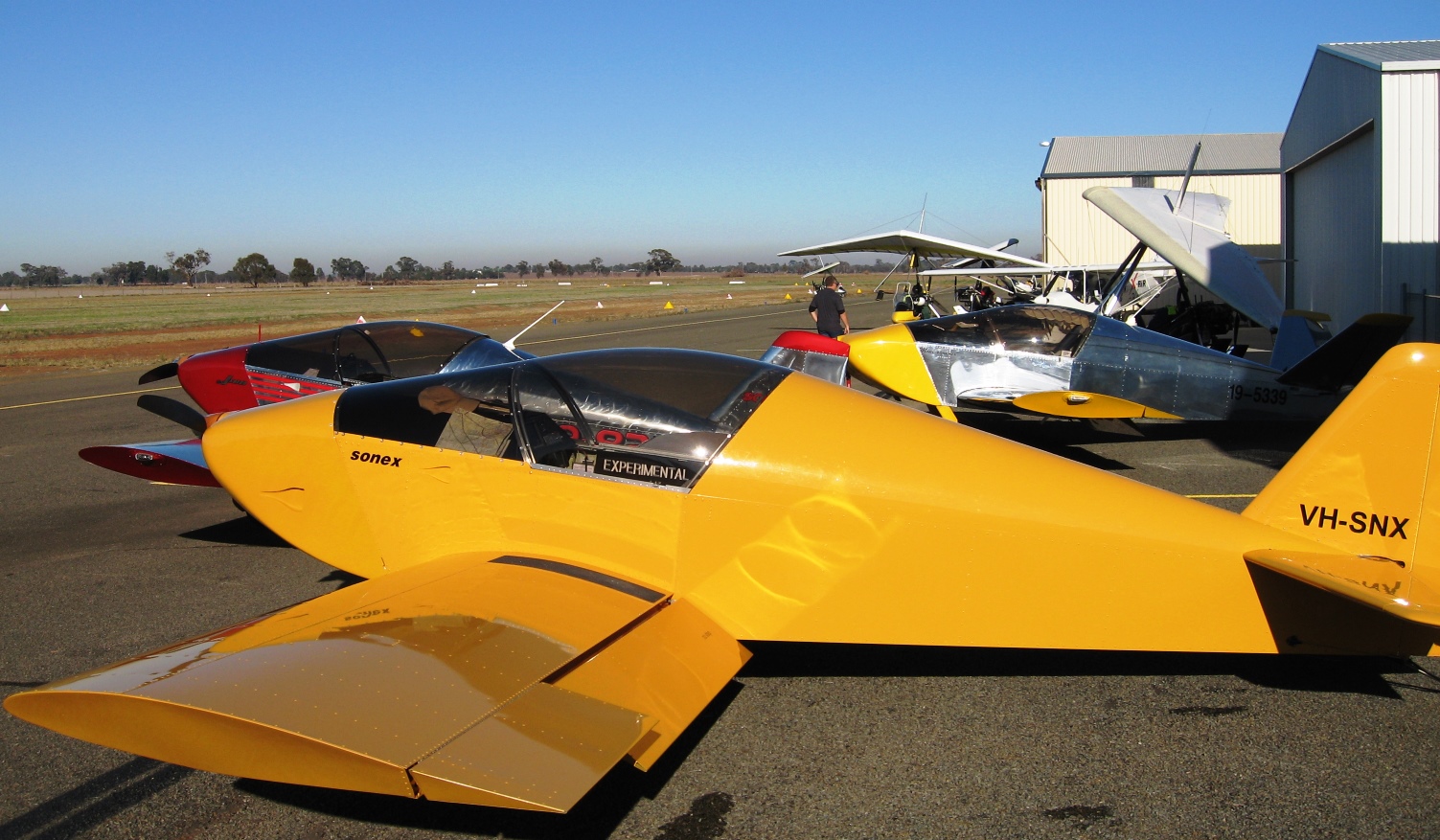 Dougs 2200 Sonex. Nice paint, nice rego Doug

Keith Jeff's Waiex, has a nice sunshade I was envious of on the way back to SA! Richos Sonex.

Brians 3300 powered aircraft. I dont know why I didnt get more pics doh

Camera had moisture on the lens from being in the aircraft overnight
Sonex tyres: Peter McLean at Yarrawonga has obtained a supply of Sonex tyres and tubes (11×4.00×5) for us and has them in stock. Support your local guy and contact him for your tyre needs. He is hosting a fly-in for us 2-3 May 2015. Contact him at wft@yarrawongaflighttraining.com.aufor details of the tyres.
---
Welcome to the site for Sonex builders in Australia
First Sonex in Australia built from scratch by Lynn Jarvis in Adelaide
If you are building or flying a Sonex in Australia, or interested in finding out more, this site is designed for you. This is a wiki, meaning members contribute the content to the site themselves.
Existing SonexAus members, go to Whats new on this site for the latest news and events.
Why not grab a couple of recent snaps of your aircraft and tell us what you are doing on your own page on this site.
If you are new to the site, go ahead and browse. Those who are at this stage just toying with the idea of building a Sonex are welcome to make themselves known through this website and to make contact with their nearest Sonex owner.
Send an email to Stuart Trist at stuart.trist@esa.edu.au to join up and keep in touch. You can join SonexAUS for $10 per year.
Roger Barlee's Sonex is one of two based at Latrobe Valley
Stuart Trist's Sonex over Lake Eyre in 2009
How to join in with this wiki?
Follow the instructions on the site to join up. Then you can just add a short comment under this home page, or comment on someone elses comments. If you would like to make contact with a Sonex builder in your area or have a question about the Sonex for one of our builders or owners you can lodge these on the home page below.
Better still, if you have a Sonex in the air or in the workshop under construction, why not add your own page. Just click on the 'New page' button on the left side bar. You can add a link from your page to your own website or elsewhere if you wish so you dont have to recreate content you have posted elsewhere. Go to it.


Discussions